HARRISBURG – In January of 2012, Reading and Northern Railroad Lieutenant Matthew Johnson approached Senator David G. Argall (R-29) asking for the senator's help on strengthening the state's scrap material theft prevention law.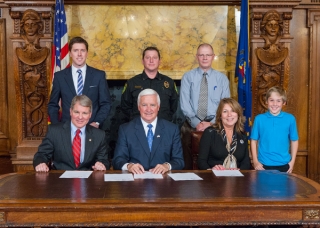 More than two years later, Johnson stood next to Argall and Governor Corbett during a ceremonial bill signing on Monday afternoon at the state Capitol.
"I would like to thank the Reading and Northern Railroad, Senator Argall and his staff for their constant support in our efforts to get this bill passed," Johnson said.
Argall's Senate Bill 1077, now Act 79 of 2014, adds railroad materials to the list of items that may only be sold to a scrap processor or recycler through a commercial entity. Pennsylvania's scrap material theft prevention law mandates that certain items, such as beer kegs, detached catalytic converters, metallic wire and construction materials, cannot be sold by an individual.
"Pennsylvania is one of the first states in the country with this type of law," Argall said, referring to the specificity of railroad materials. "Considering the amount of material that is transported on our railways each day, the human and environmental impacts of a derailment could be catastrophic. I applaud Lt. Johnson for bringing this issue to my attention and I'm pleased to see Governor Corbett sign this reform into law."