CRESSONA – Local business leaders and state officials highlighted several important highway and bridge projects and new jobs for Schuylkill County due to the recently enacted comprehensive transportation funding law during a news conference on Thursday afternoon.
Local officials touted the benefits at Northeast Prestressed Products, LLC, which specializes in bridge construction. The state legislature passed a bipartisan bill two weeks ago to provide an additional $2.3 billion annually to improve the state's infrastructure.
"The Schuylkill Chamber of Commerce, representing 845 members and over 16,000 employees, has been on an advocacy mission for many years for comprehensive transportation funding reform legislation," said Bob Carl, Executive Director of the Schuylkill County Chamber of Commerce. "The Transportation Committee of the Schuylkill Chamber of Commerce worked tirelessly in conjunction with the statewide Keystone Transportation Funding Coalition to lobby for this legislation. Thanks to the leadership in the Senate and Senate Bill 1, co-sponsored by Senators Rafferty (R-44) and Wozniak (D-35) and the leadership of Senator Dave Argall in the 29th Senatorial District, Senate Bill 1 became the template for the eventual legislation passed in the House bill."
Senator David G. Argall (R-29) thanked the Chamber for their support and noted the local impact in the six counties he represents.
"We are all here for two reasons: We want to keep Pennsylvanians safe and we want to grow jobs in Schuylkill County," Argall said. "Ensuring the safety of Pennsylvanians is a core function of state government, which is why we had strong, bipartisan consensus in the Senate by a vote of 43-7 for this bill. Pennsylvania leads the nation with 24 percent of our bridges deemed 'structurally deficient.' This funding will provide an additional 26 bridge projects, 106 road projects, and 6 safety improvements across this Senate District.
"The state's commitment to fix our roads and bridges will create thousands of new jobs across the state, including right here in Schuylkill County," said Tom Koons, President of Northeast Prestressed Products, LLC. "I am thankful for Senator Argall's leadership on this issue to see that the state ensures the safety of its residents. This will make Pennsylvania's infrastructure a priority."
"Adding $2.3 billion annually to much needed transportation improvements for Pennsylvania's deteriorating roads, bridges and mass transit systems is critical to protect public safety, because without this funding legislation Pennsylvania faced a crisis for a growing number of bridges in deteriorating and unsafe conditions resulting in a mounting number of bridge closures and road detours," Carl added. "This legislation also will provide employment for tens of thousands of people, shorter commutes, reduce significant road damage to our personal and business vehicles and will make Pennsylvania more competitive economically.  The Schuylkill Chamber of Commerce wishes to express our sincere gratitude to Senator Dave Argall for his leadership and statesmanship to assure this critical legislation was passed for the positive impact to all Pennsylvanians."
Also speaking at the news conference was PennDOT's Deputy Secretary of Administration Brad Mallory.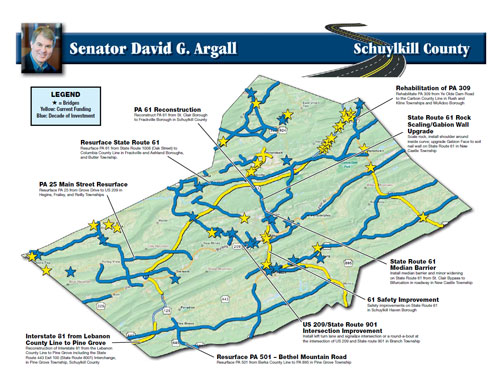 A map of the local projects can be found here: http://www.dotdecade.pa.gov.