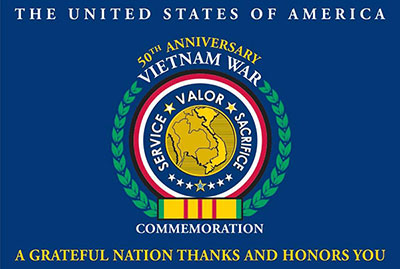 Senator David Argall
Presents
A Vietnam Veterans' Commemorative Ceremony
Thursday, November 17, 2016
6:30 p.m.
Senator David Argall will recognize and honor the Vietnam Veterans of the 29th Senatorial District for their service and sacrifice on behalf of the United States, with a special Commemorative Ceremony on Thursday, November 17, at 6:30 p.m. The event will be held at the Hamburg High School Auditorium, 701 Windsor Street, Hamburg, PA

In Accordance With Public Law 110-181 SEC.598; the 2008 National Defense Authorization Act authorized the Secretary of Defense to conduct a program to commemorate the 50th anniversary of the Vietnam War and "in conducting the commemorative program, the Secretary shall coordinate, support, and facilitate other programs and activities of the Federal Government, State and local governments, and other persons and organizations in commemoration of the Vietnam War." A special Vietnam Veterans' lapel pin has been produced as part of the commemorative program and will be distributed to attending veterans.
For additional information regarding the National Events to commemorate the Vietnam War, please visit http://www.vietnamwar50th.com.
If you would like to request information related to the valuable state benefits, programs and services offered by the Pennsylvania Department of Military and Veterans Affairs, please visit https://register.dmva.pa.gov/.