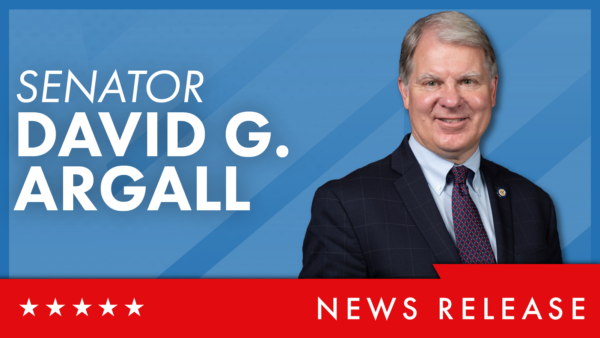 HARRISBURG – Projects to develop the economy and communities of Luzerne County were awarded state grants totaling more than $1.6 million from the Local Share Account Program today, according to Sen. Dave Argall (R-29), Rep. Dane Watro (R-116), and Rep. Mike Cabell (R-117).
"These highly competitive state grants will be a huge boost for Luzerne County by redeveloping and improving the sites of community organizations, improving the operations of local governments and first responders, and tearing down blighted buildings," said Argall. "Thank you to Reps. Watro and Cabell and all our local partners for working with me to bring these important projects to life."
Bear Creek Township was awarded $165,936 for the purchase of two new trucks that will be fitted with super duty plows to improve the township's efforts to clear away snow.
Bear Creek Township was also awarded $100,000 to reconstruct and repave the roads and improve the stormwater management of the Forest Park Development. The project will upgrade Parkway Road, Woodland Road, Forest Road, Crescent Road, and Sylvan Road.
Bear Creek Village Borough was awarded $225,000 to replace a damaged bridge along Beaupland Road that crosses Sand Spring Run.
Foster Township was awarded $209,445 to acquire and demolish blighted buildings located in their business district. The site was formerly an auto service station and residential home but has been vacant for many years and is now inhabitable and a public safety hazard.
"I was happy to advocate for this funding with Sen. Argall," said Cabell. "This money will help remove blight and clear the way for further economic development in the Freeland area. I know the funding was a priority for Foster Township officials."
Hazle Township was awarded $277,000 to purchase two new dump trucks to assist with maintenance and snow removal.
"I am pleased to see this necessary funding approved for the City of Hazleton and Hazle Township," said Watro. "These projects will benefit the residents of these areas for many years to come."
The City of Hazleton was awarded $116,670 to purchase 50 self-contained breathing devices to help protect the emergency responders of the Hazleton Fire Department. The current devices owned by the department are out of date.
The City of Hazleton was also awarded $157,335 to continue renovations at the Hazleton LaunchBox building, a small business incubator. Downtown Hazleton Alliance for Progress (DHAP) has been renovating the formerly blighted building for years. The current phase of the renovations will add 5,000 square feet of leasable space for business startups.
The City of Hazleton was also awarded $100,000 to continue the renovation of the Hazleton One Community Center. The center provides recreational, educational, and cultural programs for disadvantaged children and families and is run by the Hazleton Integration Project. The building is outdated and require significant updates.
The City of Hazleton was also awarded $75,000 to renovate the first floor of the YWCA building at 75 South Church Street. The building, which is currently not in use, will feature a childcare center on the first floor once construction is complete.
The City of Hazleton was also awarded $100,000 to make improvements to the playground at Heights-Terrace Elementary and Middle School, including purchasing new equipment. The existing playground is closed due to safety hazards.
The City of Hazleton was also awarded $50,000 to renovate the J.J. Ferrera Center, a downtown landmark and key piece of DHAP's Arts and Cultural Strategic Plan. Funding will be used to make substantial improvements to the lower level of the center.
The City of Hazleton was also awarded $100,000 to purchase and renovate a new property for La Casa Dominican de Hazleton, which provides daily services to the Hispanic community of the city. The organization was recently required to vacate their previous property due to health concerns.
CONTACT: Jim Brugger (Sen. Argall)
Andy Briggs (Rep. Cabell)
Jordan Walters (Rep. Watro)