HARRISBURG – Senator David G. Argall (R-Schuylkill/Berks) was named "Friend of the Association" by the Pennsylvania Moving and Storage Associates (PMSA) for his efforts to protect Pennsylvania consumers.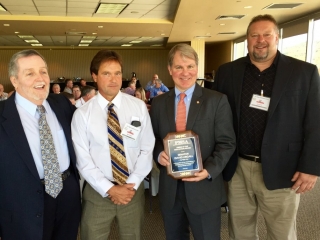 At their annual conference in Harrisburg on Thursday, the PMSA recognized Argall for his efforts in the state legislature to draw attention to illegal household goods movers taking advantage of unaware customers.
Senator Argall is sponsoring a proposal to increase penalties on illegally operating commercial household goods movers. The bill recently received the unanimous support of the Senate Consumer Protection and Professional Licensure Committee.
Senate Bill 857 would make it a punishable offense to perform an illegal move in the state with a $5,000 fine and a third degree misdemeanor. Vehicles used in an illegal household goods move would be confiscated and registration would be suspended. Repeat offenders would be subject to a $10,000 fine.
The Pennsylvania Public Utility Commission (PUC) regulates the industry, ensuring for hire household goods movers carry adequate insurance to protect property being moved and workers compensation for their employees. Movers are skirting the law by not registering with the PUC. Oftentimes, they do not carry workers compensation or maintain adequate insurance coverage to protect the goods moved. They solicit business over popular websites, including Craigslist and Angie's List.
The bill only applies to commercial, for hire entities.
According to Argall, it is cheaper to pay the fine levied by the PUC than it is to comply with the law.
"We have a real issue when it is cheaper to pose as a licensed business while operating under the law," Argall said. "Families trust household goods movers with all of their possessions during these moves. Unfortunately, several outfits across the state pose as legal entities, but are anything but legal. The goal is to get everyone in compliance with the law so consumers and their property is protected."
All revenue generated by the fines would be used to assist with the PUC's motor carrier enforcement efforts.