HARRISBURG – The Senate Transportation Committee unanimously approved a proposal on Tuesday that would remove a serious burden from the Pennsylvania State Police by allowing qualified private companies to facilitate transportation of super-sized loads, according to the bill's sponsor Senator David G. Argall (R-Schuylkill/Berks).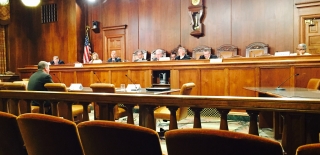 Under current law, any tractor transporting a load greater than 201,000 pounds, over 160 feet, and/or 16 feet wide requires a police escort. Argall's legislation, Senate Bill 748, would allow super loads to be attended by certified pilot escorts.
The legislation would require the Pennsylvania Department of Transportation (PennDOT) and the State Police to approve routes for super-sized load vehicles, which often carry bridge beams, steel structures and other large items. PennDOT would also create a certification program to ensure safety standards are met when escorting these vehicles in Pennsylvania.
"With the state's increasing investments to fix our deficient bridges and roads, this legislation allows for a more efficient system to deliver products needed to improve our infrastructure," Argall said. "This removes the increasing burden from the State Police, which is already stretched beyond its usual capabilities."