HARRISBURG – A Wilson Area High School exchange student from Norway, Sander Nygaard, spent Tuesday shadowing Senator David G. Argall (R-Schuylkill/Berks) at the state Capitol.
Nygaard joined Argall for a scheduled Senate session day in Harrisburg and participated in a range of events with the Senator, including meeting with local constituents advocating for legislation, a press conference where the Senator introduced a proposal to provide relief for architecture students, speaking with students from a local school district, and a meeting to discuss property tax reform. Nygaard met Sen. Argall at his inaugural Berks County student government seminar at Penn State Berks on November 19, 2014.
During the day, Senator Argall introduced Nygaard to his colleagues during the Senate session.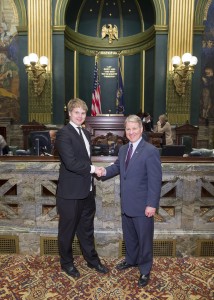 "Coming from Norway, Sander has a unique perspective and I hope today was both fun and informative for his continuing studies of how Pennsylvania's government functions," Argall said.