HARRISBURG – Standing with medical professionals, Senator David G. Argall (R-Schuylkill/Berks) introduced legislation this afternoon at the state Capitol that would limit insurers' ability to retroactively deny reimbursements. Argall was joined by his colleague and bill co-sponsor Senator Rich Alloway (R-Franklin).
"Senate Bill 554 will put safeguards in place for medical providers," Argall said.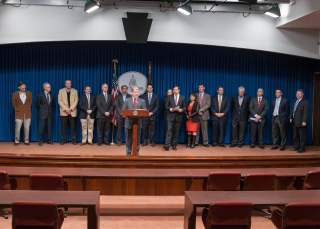 Insurance companies may retroactively deny reimbursement to health care providers at any time and unilaterally reduce future payments to recover the denied amount. Senate Bill 554 will limit that time period to one year.
Representing one of the groups at the news conference, Pennsylvania Orthopaedic Society President Thomas Muzzonigro, M.D. noted that the insurers currently enjoy an uneven playing field.
"Insurer contracts generally provide that a healthcare provider must submit a claim within 12 months of treatment," Muzzonigro said. "This seems to be a reasonable timeframe in which to submit a claim for payment.  Insurers, on the other hand, reserve the right to retroactively review claims with no limit."
"Due to advances in technology, a one-year period of review should not create an undue burden on insurers," Argall said.
The legislation would also require a written statement from the insurer specifying the basis for retroactive denial.
"What Senator Argall and Senator Alloway have initiated is an attempt at parity, leveling the playing field and most importantly, putting the patient back into the center of the equation," said Pennsylvania Chiropractic Association Vice President Edward L. Nielson, M.H.S.
Also attending were representatives from the Pennsylvania Medical Society, the Hospital and Healthsystem Association of Pennsylvania, the Pennsylvania Chapter of the American College of Physicians, and Fresenius Medical Care.