HARRISBURG – History was made during this afternoon's swearing-in ceremony at the state Capitol when two Schuylkill County legislators formally began serving in their leadership roles for the 2015-16 legislative session in the General Assembly.
Senator David G. Argall (R-Schuylkill/Berks) and Representative Neal P. Goodman (D-Schuylkill) will serve in leadership roles for the two-year session in their respective chambers, marking the first time a Schuylkill County Senator and Representative will hold leadership roles at the same time in over 100 years.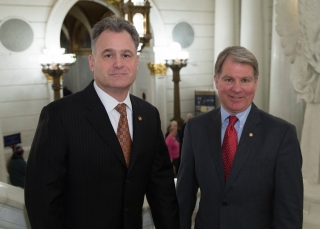 Argall, who became the first Senator from the county since the 1860s to serve in a leadership role, will lead the Senate Majority Policy Committee while Goodman will serve a second term as Caucus Administrator for the House Democratic Caucus. Goodman is the first House Democrat from Schuylkill County to hold a leadership position in the caucus since his uncle, James Goodman, served as chairman of the House Democratic Policy Committee from 1977 to 1980.
"I'm honored to serve as Majority Policy Chairman for the new legislative session," Argall said. "I'm looking forward to shedding light on issues important to local residents, working on legislation important to the people of Pennsylvania, as well as having a seat at the table during each Senate leadership meeting."
"I'm thankful that my colleagues have again put their trust in me," said Goodman. "I'm looking forward to continuing to carry out my responsibilities as caucus administrator, and continuing to represent the interests of the people of the 123rd Legislative District."
The Senate Majority Policy Committee works with Senators to develop legislation important to their constituencies. The Caucus Administrator is responsible for ensuring caucus operations run smoothly and assisting with the development of caucus initiatives.