MAHANOY CITY – State and local officials announced a state grant today that will aid in the redevelopment of the former Kaier's Brewery property in Mahanoy City.
Senator David G. Argall (R-29) and Representative Neal Goodman (D-123) said that a $420,000 grant from the Pennsylvania Department of Community and Economic Development (DCED) will help finance the demolition of the building and redevelopment of the site into a community park and playground.
Argall praised Mahanoy City officials for an aggressive approach to fighting blight. According to the Housing Alliance of Pennsylvania, Mahanoy City is the first municipality in Pennsylvania to have a dedicated blight-remediation fund set aside.
"It is a shame that this piece of local history has fallen into such a dangerous state of disrepair and could not be saved, but it is heartening to know that the property will remain in productive use for local families for generations to come," Argall said. "This grant was the direct result of bipartisan teamwork between state and local officials, and I appreciate all of the individuals and organizations who helped make this plan a reality."
"This project will address an issue that Mahanoy City and many communities across the state face, and that's blight," Goodman said. "The park, which will be dedicated in the memory of all men and women from the Borough of Mahanoy City who have served in the U.S. military, will have a positive impact on the borough for generations to come."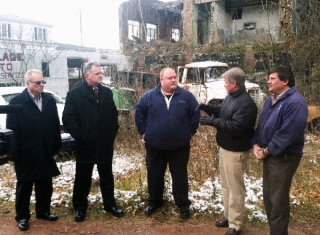 Argall and Goodman were joined by a number of local officials for the announcement, including Borough Manager Dan Lynch and former DCED Deputy Secretary Champ Holman.
"This project is just the start of redevelopment in the borough.  It was critical, not only for the health and safety of our residents to demolish this building, but it is equally important to use it as a stepping stone to future redevelopment projects in town," Lynch said
"This is an opportunity to rid this neighborhood of blight and repurpose it in a way the community can utilize.  Mahanoy City Borough Council and Dan Lynch should be commended for taking an active role in seeking funding for this project and I was happy to advocate for it while at DCED," Holman said.
The borough, which has declined in population from 15,000 to less than 5,000, is working to increase pedestrian safety and revitalize the downtown to attract new businesses to provide more opportunity for local residents.
A portion of the funding comes from the Marcellus Legacy Fund, which is generated by the impact fee placed on Marcellus Shale gas drilling in Pennsylvania. The large state grant is due to the fact that the building is one of the most blighted properties in the region.
The borough plans on having the brewery demolished and the community park completed by November of next year.