HARRISBURG – Standing with small business advocates, Senator David G. Argall (R-29) was named a 'Guardian of Small Business' for his 100 percent voting record, according to the National Federation of Independent Business.
 
Citing Sen. Argall's consistent advocacy for small businesses during the 2013-14 session of the General Assembly, the NFIB presented the lawmaker with a statue commemorating his perfect voting record.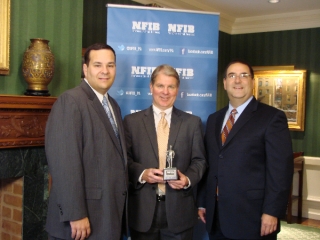 "We continue to lead at the state level on how to grow local jobs," Argall said. "I hear from small business owners across the six counties I represent who continually give me feedback on how state government should work for them, not the other way around."
Sen. Argall received the same distinction in the 2011-12 legislative session, and has one of the highest ratings in the General Assembly over the last four years from the NFIB.