SCHUYLKILL HAVEN – In its fourth year, Senator David G. Argall's (R-29) 'Senator for a Day' program was a rousing success according to attendees. More than 80 students representing 11 local high schools converged on Penn State's Schuylkill Campus on Thursday morning to debate mock legislation, which mirror similar proposals currently being debated by the state's General Assembly.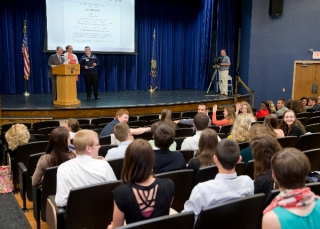 "The students grasp the concepts pretty quickly and run with it in their debates," Argall said, who plans on hosting a separate program for high schools in Berks County this fall. "By the end of the program, every student is jumping into the discussion and offering their opinion why a proposal is a good or bad idea."
For four hours, students turned into Senators and experienced first-hand how the inner workings of the legislative process works. The students, or Senators, were split into four separate committees – Education, Finance, State Government and Transportation – to consider and debate two bills in each committee. Legislation considered by the "Senators" included drug testing for welfare benefits, a plan to sell off the state-owned liquor stores, banning cell phones while driving along with several other proposals.
Similar to the state legislature, bills that cleared each committee were then discussed before the full "Senate."
The most contentious debate centered on school bus seat belts. The proposal the students approved in the Education Committee would require only smaller buses to be equipped with seat belts. The bill was overwhelmingly rejected during the final vote, but not without an intense debate.
During the debate for school property tax elimination, many students referenced the burden on their parents and fear of property taxes when they are ready to purchase a home.
"I'm encouraged each year with how fast the students can form an opinion on issues. Many of the key debate points are the exact same points made in Harrisburg on these reform measures," Argall said.
Also on hand were Representative Jerry Knowles (R-124) and Schuylkill County Commissioner Gary Hess.
Rep. Knowles pointed out the difference in opinion between the students is a microcosm for difference on issues with representatives in Harrisburg. "You have different perspectives, backgrounds, cultures and ideologies all across the state represented at the state Capitol."