WYOMISSING – Business leaders from across Berks County and state officials highlighted the local impact of the recently-enacted comprehensive transportation funding package on Wednesday afternoon at Great Valley Consultants.
The General Assembly and governor approved Act 89 of 2013, which will provide an additional $2.3 billion annually to improve the state's infrastructure. The funds are long-overdue for major transportation projects, according to business leaders.
no images were found
"Transportation infrastructure has long been a priority for the Chamber. It is an essential link to commerce, economic development and our quality of life," said Ellen Horan, President/CEO Greater Reading Chamber of Commerce & Industry. "Passage of this transportation funding bill was essential for the safety of our citizens and is an investment in our economy. Jobs will be created as roads and bridges are repaired, maintained and improved. The Chamber continues to advocate for our #1 priority road project for Berks County, 222 North and reconstruction of the West Shore Bypass along with other identified projects that are critical to our business community and quality of place in Berks County," she added.
Senator David G. Argall (R-29) highlighted several infrastructure improvements on the way for Berks residents, including the much-needed Route 222 widening from Reading to Allentown.
"A number of local organizations led the way in pointing out the need for transportation funding in Berks County and across Pennsylvania," Argall said. "The Senate does not always agree on everything, but when it comes to investing in our infrastructure, the entire Senate delegation from Berks County supported this package. The jobs are important, the improved highways and bridges are important; but there is nothing more important than the safety and the lives of Pennsylvanians. From Route 222 and 422, to the Penn Street Bridge, to Route 61 and Interstate 78, these projects will improve the traffic flow and safety of Berks motorists."
"This transportation funding legislation will help fund almost 750 projects in Engineering District 5, with 240 of those in Berks County," PennDOT District Executive Michael W. Rebert said. "This would not have happened without the legislators who voted for the funding, and the motorists of Pennsylvania will see the benefits of this starting next year."
Municipalities will also realize positive effects.
Act 89 included increased amounts to municipalities to repair and maintain local roads and bridges. Berks County's base allocation for the current year is $10 million. Municipalities across the county are set to receive a cumulative increase of over $19.2 million over the next 5 years to upgrade local roads and bridges.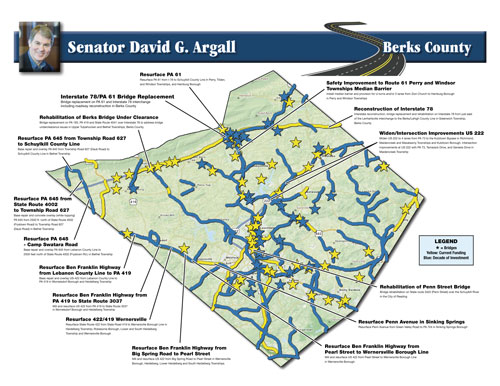 A map of the projects can be found here: www.dotdecade.pa.gov.