JIM THORPE – This month's local TV report by Senator David G. Argall (R-29) features a hearing on the future of Main Street and Elm Street programs held by the Senate Urban Affairs & Housing Committee earlier this year.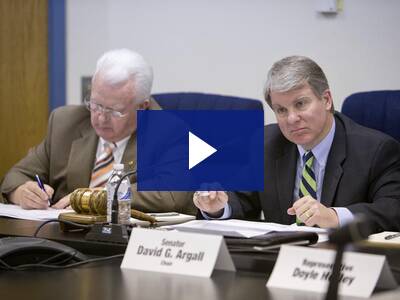 Main Street and Elm Street efforts provide state grants that are mixed with local and private funds to improve the business district and surrounding neighborhoods in older communities. The goal is to rebuild downtown commerce, create opportunities for small businesses and provide affordable and convenient housing.
The hearing's intent was to shed light on the current strategy used to revitalize downtowns, provide new local economic opportunities and improve the quality of life for nearby residents.
"Jim Thorpe was an ideal location for this hearing since it is a model downtown that many communities across the state try to duplicate," said Argall, who chairs the Senate committee. "These state efforts are key ingredients for our older communities seeking to turn into thriving and vibrant downtowns."
The hearing held at the Carbon County Courthouse featured Micah Gursky, Tamaqua Borough Council; Representative Bob Freeman (D-136); Jeff Feeser, Director of Housing and Community Development at Schuylkill Community Action; Elissa Garofalo, President and Executive Director of Delaware & Lehigh National Heritage Corridor, Inc.; as well as officials from the Pennsylvania Department of Community & Economic Development, Pennsylvania State Associations of Boroughs, and the Pennsylvania Downtown Center. Representatives Doyle Heffley (R-122) and Jerry Knowles (R-124) participated in the hearing.
"My goal is to work with the leading advocates to strengthen these important efforts in the future years," Argall said. "We have seen tremendous success over the last decade; I want to see similar success in the future."
The program will air on:
Blue Ridge Communications (Channel 13) every Monday at 10 a.m. and every Wednesday at 10:30 p.m.
Comcast On-Demand on Channel 1 – Get Local – Government – State Senate.
Reading (Channel 21) and Hamburg (Channel 19) every Monday at 3 p.m. and 8:30 p.m. and every Tuesday at 9 a.m.
Service Electric (Channel 19) the 2nd and 4th Wednesday at 7 p.m.
The program is also available on Shen-Heights TV, Hazleton's WLYN TV 35 and MetroCast Communications Channel 10. Please check local listings for air times.