HARRISBURG – This month's local TV report by Senator David G. Argall (R-29) features a recent visit to the state Capitol by the fourth grade class from Trinity Academy in Shenandoah.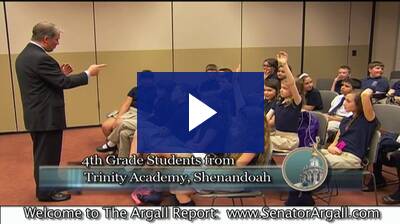 Senator Argall describes a typical day in the Capitol with the students and explains the makeup of the 29th Senate District.
"These visits from local schools are always a great event for the students to learn about their state government," Argall said. "This show highlights a well-informed group of local fourth graders, who asked several questions on important state issues. I would like to thank the students, teachers and advisers for taking the time to have this interaction."
The fourth graders met with Argall as part of their visit to Harrisburg, which included a tour of the Capitol building.
The program will air on:
Blue Ridge Communications (Channel 13) every Monday at 10 a.m. and every Wednesday at 10:30 p.m.
Comcast On-Demand on Channel 1 – Get Local – Government – State Senate.
Reading (Channel 21) and Hamburg (Channel 19) every Monday at 3 p.m. and 8:30 p.m. and every Tuesday at 9 a.m.
Service Electric (Channel 19) the 2nd and 4th Wednesday at 7 p.m.
The program is also available on Shen-Heights TV, Hazleton's WLYN TV 35 and MetroCast Communications Channel 10. Please check local listings for air times.
no images were found