HARRISBURG – Senator David G. Argall (R-29) hosted local Eagle Scout Michael Potts today at the state Capitol.
Michael is a sophomore at Schuylkill Haven High School with an interest in politics and law.
Senator Argall introduced Michael and his father, Kevin, on the Senate Floor.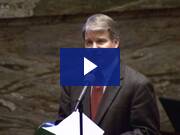 "Forty years ago as an Eagle Scout, I was able to job shadow someone," Argall said during session. "Today it is my pleasure to provide an opportunity for another Eagle Scout to shadow me."
You can listen to Argall's entire introduction of Michael Potts here: http://j.mp/13Zovi1.
During his visit to the state Capitol, Michael had the opportunity to participate in regularly scheduled meetings with Senator Argall, including a meeting with Department of Community and Economic Development officials, a discussion on the sale of the state-owned liquor stores, a meeting with Philadelphia Mayor Nutter, and several constituent meetings.
no images were found