Senate Finance Committee Public Hearing Agenda
HARRISBURG – The Senate Finance Committee, chaired by Senator Mike Brubaker (R-Lancaster), convened this morning to review a proposal sponsored by Senators David G. Argall (R-Schuylkill) and Mike Folmer (R-Lebanon) that would eliminate the school district property taxes and replace the funding for public schools with a new mixture of expanded sales and state income taxes.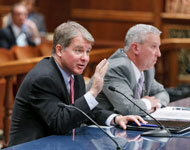 "An overwhelming number of state residents feel that the property tax system is unfair and should be eliminated, but we cannot take away the main funding source of our public schools without a careful, thorough study of the alternatives," said Brubaker. "This hearing offers all stakeholders in this process an opportunity to both accentuate the positives of this plan and address legitimate concerns that have been raised regarding its implementation."
The legislation, Senate Bill 1400 and House Bill 1776, was drafted by a statewide coalition of taxpayer organizations, the Pennsylvania Taxpayer's Cyber Coalition, during the past year, based on a series of public meetings and input sessions convened by the PTCC and HB 1776's prime sponsor, Rep. Jim Cox (R-Berks).
Argall and Folmer opened up the public hearing by sharing their unique perspectives on school district property taxes.
Argall mapped out how classrooms have evolved while the same funding source from 1834 is still in place.
"While today's students benefit from state-of-the-art technology in the classroom, it is absurd that taxpayers are stuck with the same school financing model that was used in the days of the one-room schoolhouse and the abacus," said Argall.
Folmer discussed the need protect homeowners from the possibility of losing their homes due to skyrocketing property tax rates.
"Pennsylvania's Constitution guarantees 'certain inherent and indefeasible rights, among which are those of enjoying and defending life and liberty, of acquiring, possessing and protecting property and reputation, and of pursuing their own happiness,'" said Folmer.
Various statewide organizations, including the Pennsylvania Association of School Board Officials, Pennsylvania Association of Realtors, the Pennsylvania Bar Association, the Pennsylvania Farm Bureau, the Pennsylvania Taxpayer's Cyber Coalition, the Pennsylvania Retailers' Association, and the Pennsylvania Budget and Policy Center, testified in front of the committee to share their opinion of the proposal.
Argall and Folmer contend the current model is outmoded and archaic. Argall encouraged the Finance Committee members to send the bill to the Floor of the Senate for a full debate among all 50 Senators.
Argall concluded with his goal to "drive a stake through the heart of the property tax beast so we can kill off this hated tax once and for all." Folmer agreed, adding that it's time to reinforce Constitutional rights by eliminating school property taxes so that people own their properties and not just rent them from the government.
Contact: Jon Hopcraft
(717) 787-2637
(570) 773-0891