POTTSVILLE – Senator David G. Argall (R-29) and Representatives Neal Goodman (D-123) and Mike Tobash (R-125) today joined John E. Simodejka, President and CEO of Schuylkill Health System, to announce a $500,000 grant award through the Redevelopment Assistance Capital Program (RACP) for the Schuylkill Medical Center towards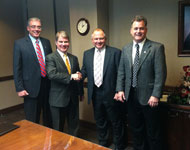 infrastructure improvements.
This $500,000 investment, combined with local fundraising efforts, will more than double the impact of the state grant.
These funds will aid mechanical and electrical upgrades to both Medical Centers, formerly known as the Good Samaritan Regional Medical Center and the Pottsville Hospital & Warne Clinic.
"Maintaining and improving our local hospital's infrastructure is vital to our quality of life as a region," said Argall, who played an instrumental role in securing the state funds for the Schuylkill Medical Center. "Schuylkill Health plays a major role in our county's economy and I'm pleased to see this grant award assist our area's largest employer."
"This grant is an important shot in the arm for our area," Goodman said. "Not only is the Schuylkill Health System vital to the health and well being of the region, it's a leading employer that is an important part of the local economy."
"This is a valuable investment by the Commonwealth in the well-being of our citizens," Tobash said. "An efficient and effective infrastructure is vital to meeting the health care needs of our community."
Simodejka noted, "Schuylkill Health is very pleased to receive this grant award which will allow us to move forward with mechanical and electrical upgrades at our Medical Centers"
RACP is administered by the Office of the Budget for the acquisition and construction of regional, economic, cultural, civic and historical improvement projects.
Contact: Jon Hopcraft
(717) 787-2637
(570) 773-0891