MCADOO – Senator David G. Argall (R-29) and Representative Jerry Knowles (R-124) today announced a $200,000 grant award for the St. Luke's Health Center in McAdoo from the Pennsylvania Department of Health with Bill Moyer, President of St. Luke's Miners Memorial Hospital and Andrea Ulshafer, Physicians Assistant at St. Luke's Health Center.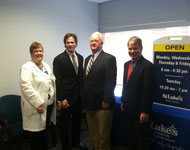 A highly competitive grant, the Pennsylvania Department of Health's Community Primary Care Challenge Grant Program expands access to primary care by assisting patients with little or no insurance, as well as patients on Medicaid.
"St. Luke's Miners Memorial Hospital has a proud tradition of providing quality health care services," said Bill Moyer. "Senator Argall, I am grateful for your support for our community and our hospital. With the assistance of this grant, I am proud to say we will be able to continue providing the best patient care close to home at St. Luke's Health Center in McAdoo."
"With the grant funds secured, we are able to expand hours and days of service at our Health Center," said Andrea Ulshafer. "We will be better able to accommodate patients in their community at times more convenient for them."
Senator Argall noted the partnership that made this grant possible. "This competitive grant will expand primary care for local residents. I am appreciative of Bill's leadership to spearhead this local health facility to assist Pennsylvanians in need," said Argall. "This facility is also another step in the right direction for revitalization and ridding our communities of blighted homes and businesses."
"I'm pleased that this competitive grant was awarded to St. Luke's McAdoo," said Knowles. "Not only does this grant provide residents with better primary care facility close to home, but it helps establish a better vision of hope for those who need it most."
St. Luke's Health Center – McAdoo, located at 14 North Kennedy Drive (Route 309), recently began offering extended hours. The facility will now be open to patients Mondays, Wednesdays, Thursdays and Fridays from 8:00am – 4:30pm and on Tuesdays from 10:30am – 7:00pm. Laboratory services are available Wednesdays and Fridays from 8:00am – 11:30am.
Contact: Jon Hopcraft
(717) 787-2637
(570) 773-0891