HAMBURG – Senator David G. Argall (R-29) and Representative Jerry Knowles (R-124) announced today that signs have been placed on Interstate 78 in the Hamburg area dedicating the 12-mile portion as the CMSgt. Richard L. Etchberger Memorial Highway.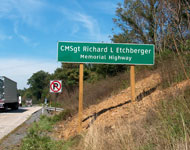 Senate Bill 199, now Act 4 of 2011, designated a 12-mile portion of Interstate 78 in the Hamburg Area as the CMSgt. Richard L. Etchberger Memorial Highway. The legislation was introduced by Argall and guided through the House of Representatives by Knowles.
"I'm pleased to play a role in remembering a local American hero," said Argall. "The dedication of Interstate 78 in the Hamburg area pays tribute to a selfless patriot who saved fellow Americans during the Vietnam War, earning the recognition of the community, state and nation. CMSgt. Etchberger bravely served his nation and for that, we will forever remember his noble acts. I'm grateful to see this section of Interstate 78 in Hamburg honor one of the community's finest individuals."
"As Chief Master Sergeant Etchberger was an American War Hero from Hamburg, it means a lot to have this portion of Interstate 78 named after him in his hometown," said Knowles. "I am pleased that we are able to have this dedicated area to always remember his selfless service and sacrifice to his country."
In August, Argall and Knowles hosted the Etchberger family for a ceremony at Soldiers' and Sailors' Grove in Harrisburg. The event paid tribute to Etchberger's selfless acts that saved countless fellow Americans during a top secret mission in Laos during the Vietnam War with a marker dedication in the shadows of the State Capitol.
Contact: Jon Hopcraft
(717) 787-2637
(570) 773-0891