LEHIGHTON – State Senators Dave Argall (R-29) and John Yudichak (D-14) and Representative Doyle Heffley (R-122), standing together at an old one-room schoolhouse, today introduced bipartisan legislation to help Pennsylvania voters eliminate the state's outdated and archaic school property tax system.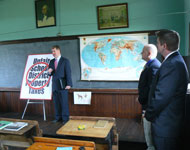 "After listening to constituents at many town hall meetings describe the absolute unfairness of our old-fashioned school property tax system, we've introduced legislation to place a referendum on the ballot this November so the voters can decide," Argall said. "Since 1834, we have been funding our school districts primarily with the property tax; it's time for a change. Perhaps the property tax system was the best idea the state could come up with in the 1800s but I know that we can do better than that today. The property tax system is complex, but there is a simple solution – let the voters decide."
Senator Argall continued, "The legislation we have introduced will allow voters to bring about true property tax reform with the simple touch of a button this November. Property taxes are an unfair way to fund our public schools, based not on common sense, but upon hundreds of different, competing decisions by judges whose names most of us could not identify. We must drive a stake through the heart of the property tax beast, once and for all. We cannot allow this long stalemate over school district property taxes to continue any longer."
Representative Heffley added, "One issue I consistently hear, from small business owners to seniors, is Pennsylvania needs property tax reform. This referendum will give voters an opportunity to voice their opinion this November on the outdated system of school property taxes."
Senate Bill 990, sponsored by Argall and cosponsored by Yudichak, and House Bill 1365, sponsored by Heffley, would place the four most popular property tax reform initiatives on the ballot in November, determined by the number of cosponsorships each bill receives.
Contact: Jon Hopcraft
(717) 787-2637
(570) 773-0891