POTTSVILLE – On Thursday, Senator David G. Argall (R-29) held a public forum at the Schuylkill County Courthouse for residents on the implementation of Act 90, Senator Argall's Neighborhood Blight Reclamation and Revitalization Act, as approved by the Pennsylvania General Assembly last fall.
Senator Argall began with remarks highlighting the problems with the current law to battle blighted properties.
"Senator Rhoades and I kept hearing from our local elected officials about the legal difficulties of trying to fight blight in our communities," said Senator Argall. "The main concern we heard was, 'If only we could hit the bad actors where it hurts, and attack their assets when they ignore our codes for months and months.' After years of hard work by many, I'm pleased to announce that on April 25, Act 90, our anti-blight law, goes into effect. This law does not do anyone any good if it is not put into use in your communities."
Highlighting various topics of Act 90 were Ron Grutza, Assistant Director of Government Affairs, PA State Association of Boroughs, Arnold B Kogan, Esq., Pennsylvania Bar Association, Cynthia Daley, Policy Director, Housing Alliance of Pennsylvania, Gary Bender, Schuylkill County CDBG Program, and Jim Rhoades, Jr., Alfred Benesch Engineering, the son of the bill's original sponsor.
Act 90, the Neighborhood Blight Reclamation and Revitalization Act, modernized antiquated laws in dealing with blighted properties in across Pennsylvania. The Housing Alliance of Pennsylvania provided their "Quick Guide: New Tools to Address Blight and Abandonment" to attendees.
With over 80 in attendance from the region, including township supervisors, borough council members, code enforcement officers, solicitors, engineers and district magistrates, each speaker took questions from members of the audience.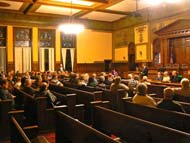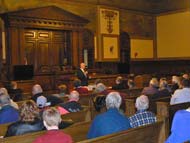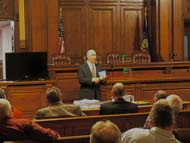 Contact: Jon Hopcraft
(717) 787-2637
(570) 773-0891