Senate Bill 900 Moves to Governor for Signature
HARRISBURG – Landmark bipartisan legislation that will dramatically reform Pennsylvania's current laws addressing abandoned or dilapidated properties has cleared the Senate today, according to State Senator David G. Argall (R-29).
Senate Bill 900, known as the Neighborhood Blight Revitalization and Reclamation Act, passed the Senate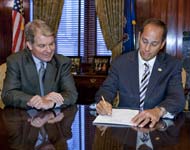 unanimously, further aiding the effort for local communities throughout Pennsylvania to fight blight and repair or demolish dilapidated properties. Earlier this week, the legislation was returned to the Senate for approval following technical amendments made by the House.
"I introduced Senate Bill 900 to carry on the efforts of my predecessor, Senator Jim Rhoades," Argall said. "This bill will strengthen current law to identify property owners of blighted buildings and hold them responsible for the costs to rehabilitate or demolish these structures. Today, I was pleased to join with my colleagues in finally sending this bill to the Governor."
"Senate Bill 900 is an important victory for communities affected by an aging infrastructure and absentee property owners," said Senate Majority Leader Dominic Pileggi (R-9). "This bipartisan comprehensive measure brings certainty to dealing with abandoned and blighted property, and substantially improves how communities can address these issues."
Senate Bill 900 provides that if any real property is in serious violation of a building or housing code, the municipality may institute an action to prevent, restrain, correct or abate the violation.
"The passage of Senator Argall's Neighborhood Blight Reclamation and Revitalization Act is a significant step forward for Pennsylvania," said Elizabeth Hersh, Executive Director, Housing Alliance of Pennsylvania. "It provides unprecedented powers to local communities to stop the spread of blighted properties and hold slum owners accountable. Senator Argall has been a tireless leader in the fight against blight. The Housing Alliance is proud to have been an active member of the Blight Task Force begun by Senator Rhoades and proud to have been among the many Pennsylvanians who have worked so hard to get this new law passed, against the odds."
"Senate Bill 900 is a giant step forward in enabling municipalities to effectively fight slumlords and protect our citizens from dangerous properties." said James W. Felmlee, President of the Pennsylvania State Association of Boroughs.