Act 77 Update: Court Declares Mail-In Ballots Unconstitutional
Senate President Pro Tempore Calls for Impeachment of Philadelphia District Attorney
New Congressional Map Vetoed by the Governor
Governor Wolf's Veto of School Information Bill
PennDOT Bridge Tolling Proposal Update
Pennsylvania's Unemployment Rate Lags Behind Other States
---
Act 77 Update: Court Declares Mail-In Ballots Unconstitutional
The Commonwealth Court ruled that Act 77's provisions allowing no-excuse mail-in ballots violates Pennsylvania's Constitution last week. Many members of the Senate and the House have raised concerns about how Governor Wolf's Department of State and former disgraced Secretary of State Kathy Boockvar warped Act 77 on the eve of the 2020 election by giving last minute directives to counties that created confusion and chaos. This decision by the courts would clear up many of these concerns.
Per the final decision, no-excuse mail-in ballots could only be approved via a constitutional amendment. This decision is expected to be appealed to the Pennsylvania Supreme Court. Read more about this news here.
Senate President Pro Tempore Calls for Impeachment of Philadelphia District Attorney
Referencing the large spike in violent crime in Philadelphia, Senate President Pro Tempore Jake Corman sent a letter this week to House leadership asking that they begin impeachment proceedings against Philadelphia County District Attorney Larry Krasner.
In the letter, Senator Corman references how 2021 set an all-time record for homicides in the city and noted that District Attorney Krasner has not stepped up efforts to prosecute violent criminals. At a recent press conference, District Attorney Krasner stated that the city did not have a crisis of lawlessness, a statement which received an aggressive push back from other city officials.
The letter notes how District Attorney Krasner's office has dismissed more violent gun cases every single year since he was elected. It's clear that more needs to be done to address this tragic situation.
Read the full letter below.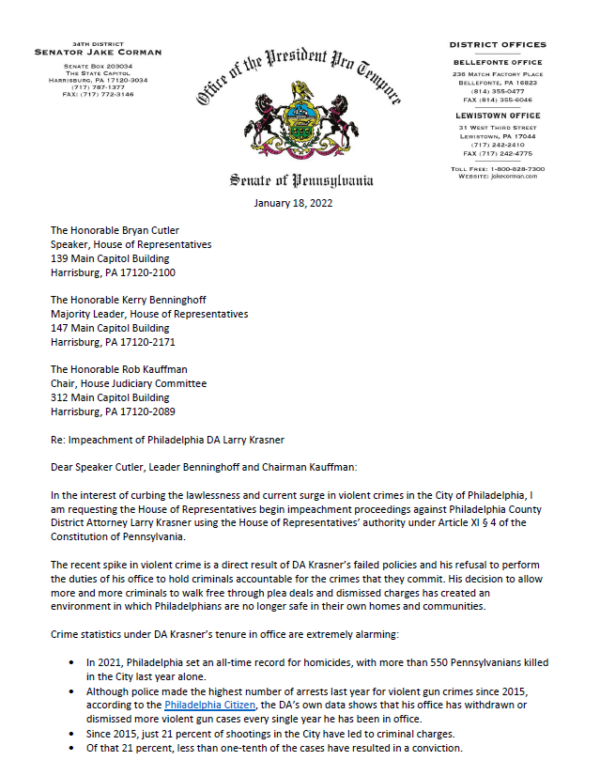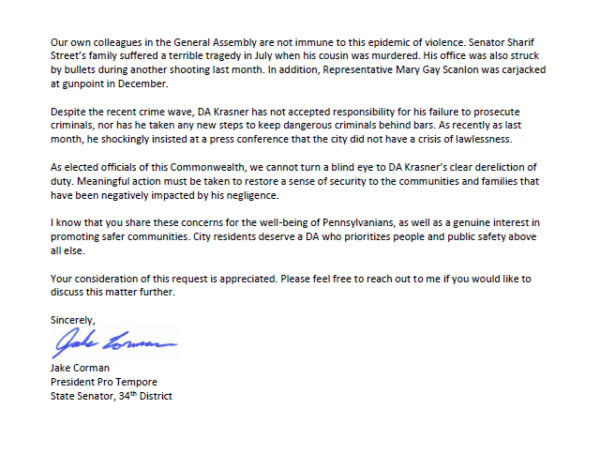 New Congressional Map Vetoed by the Governor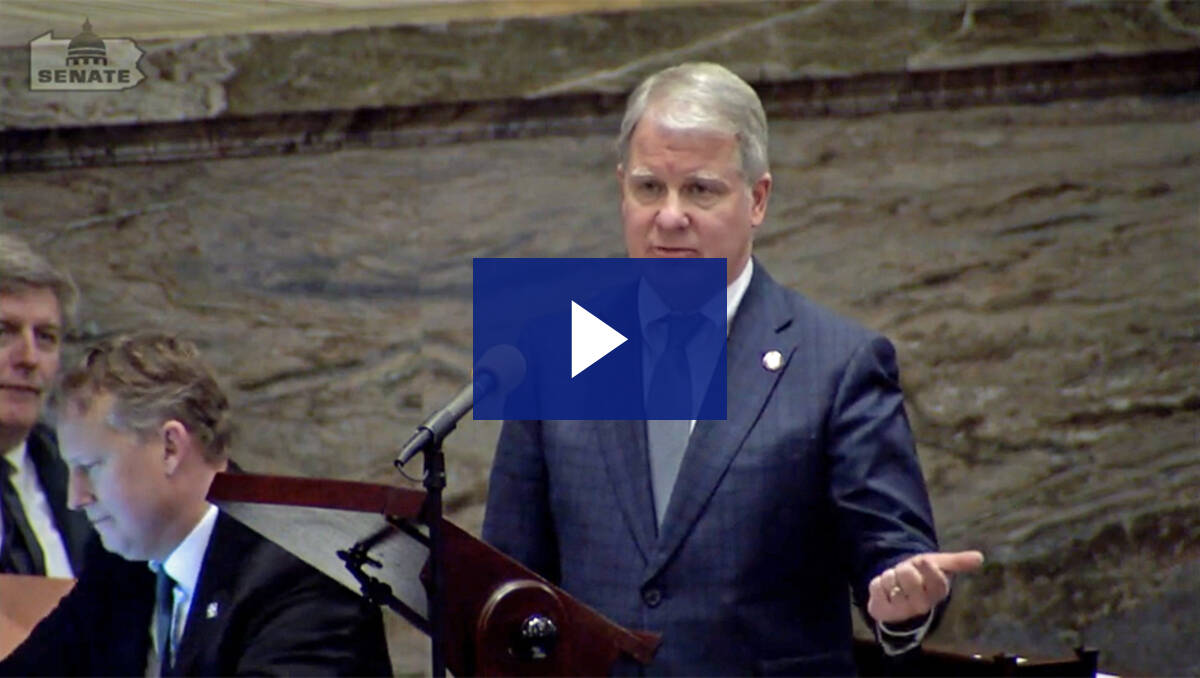 As required by the constitution, the House and Senate sent a new Congressional map to the Governor, which he has now vetoed.
Although not all sides were able to come to an agreement, I was pleased to hear the Democratic Leader Senator Costa (D-Allegheny) and the Democratic Chair of the Senate State Government Committee Senator Street (D-Philadelphia) thank me for my efforts in this bipartisan process in guiding this bill through our committee.
This vetoed map was far better than those proposed in the past. This is also the first time that a map has been developed by a private citizen as opposed to legislators.
As I noted in my comments on the floor of the Senate, there is no such thing as a perfect map, someone is always going to have a complaint with the outcome. Watch my comments above.
You can view the submitted map in detail here.
Governor Wolf's Veto of School Information Bill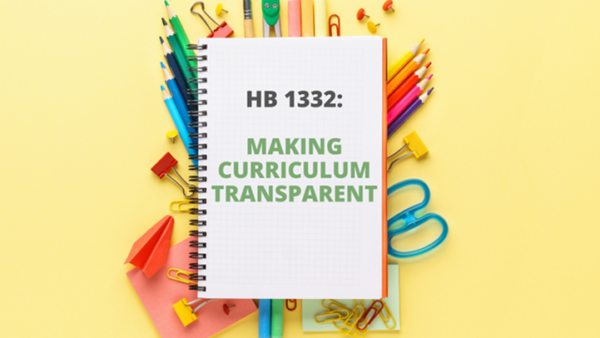 A recent editorial from the Williamsport Sun-Gazette argues that Governor Wolf's veto of House Bill 1332, which would require increased transparency regarding curriculum from our schools, is wrong. The editorial states that, "in a system where education is publicly funded, parents and taxpayers have a right to debate the merits of the curriculum and what books are part of that curriculum and school districts have an obligation to be open with what that curriculum entails."
This is why I voted in favor of House Bill 1332 when it came before me in the Senate. Parents deserve to be able to see what their children are being taught in the classroom. I will continue to advocate and vote in favor of bills that ensure parents have a say in how their children are educated.
PennDOT Bridge Tolling Proposal Update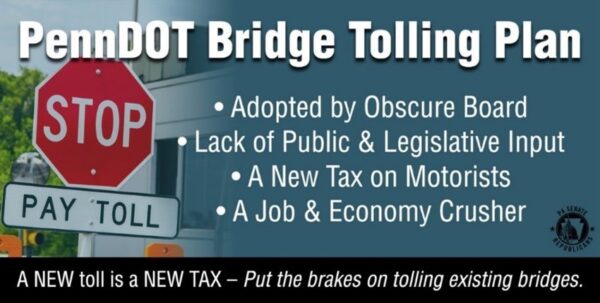 I've heard concerns from many of you about the impact of PennDOT's unilateral plan—adopted by PennDOT without the approval of the House and Senate—to toll nine bridges throughout Pennsylvania, including the Lenhartsville Bridge on I-78 in Berks County, the over the Lehigh River Bridges on I-80 in Luzerne and Carbon County, and the Nescopeck Bridges on I-80 in Luzerne County.
The most recent example of PennDOT's attempts to "make up the rules" on its own, without the review of the elected members of the House or Senate, is a possible exemption from these tolls for low-income Pennsylvanians who qualify for state financial assistance.
I voted in favor of a bill that would require legislative approval for tolls to be implemented, but this measure is expected to be vetoed by Governor Wolf once it reaches his desk. Learn more about the current status of this proposal here.
Pennsylvania's Unemployment Rate Lags Behind Other States
Pennsylvania's unemployment rate fell slightly this month to 5.4%, but still remains significantly worse than the national average. Our state now ranks 41st in the country on this important economic indicator.
The states with the lowest unemployment rates in the country are Nebraska, Utah, Oklahoma, Idaho, and Montana. The states with the highest are California, Nevada, New Jersey, New York, and New Mexico.
Four states have actually fully recovered from the job losses seen in the early days of the pandemic: Texas, Arizona, Utah, and Idaho.
Read more about this news here.