In this update:
Gov. Wolf's Risky Budget
How Can Pennsylvania Support Ukraine?
Protecting Women's Sports
Fighting Blight by Repairing Older Homes
Promoting Work, Not Welfare
Honoring Our World War II Veterans
Pioneer Day Returns June 4th
New Employers in Ringtown
Congrats Graduates!
---
Gov. Wolf's Risky Budget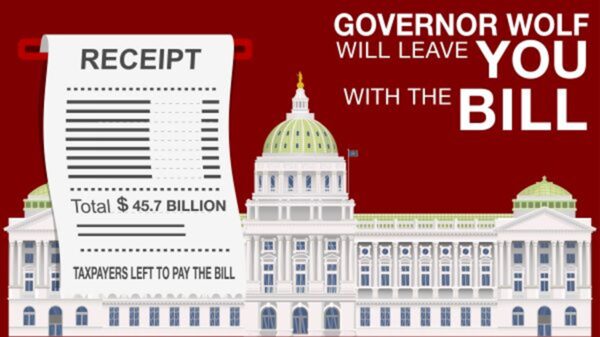 The state Independent Fiscal Office (IFO) released its initial revenue estimate for 2022-23 and warns that tax revenue is likely to fall in the coming fiscal year. Their forecasts indicate that General Fund revenue next year will drop by 11.5% from 2021-22.
The new numbers further highlight the risk of Governor Wolf's proposed state budget: our lame-duck governor's bloated spending plan is unrealistic and unsustainable. His plan to increase spending by more than $4.5 billion next year would come at the expense of Pennsylvania's long-term financial security.
How Can Pennsylvania Support Ukraine?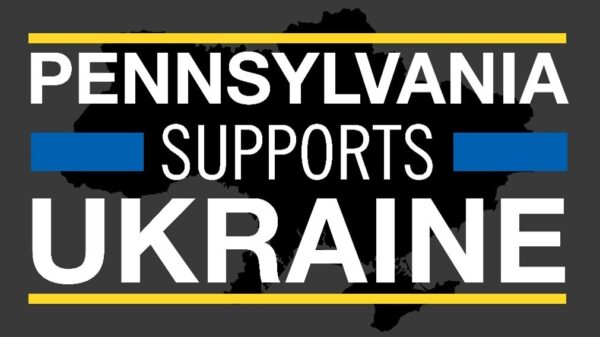 I recently sat down for an interview with Comcast Newsmakers about my bill to prevent companies from doing business with war criminals in Russia, as well as election integrity and the recently completed redistricting process. Watch the full interview here.
The Senate State Government Committee, which I chair, will soon review my bill to ensure Pennsylvania tax dollars are not going to Russia.
Protecting Women's Sports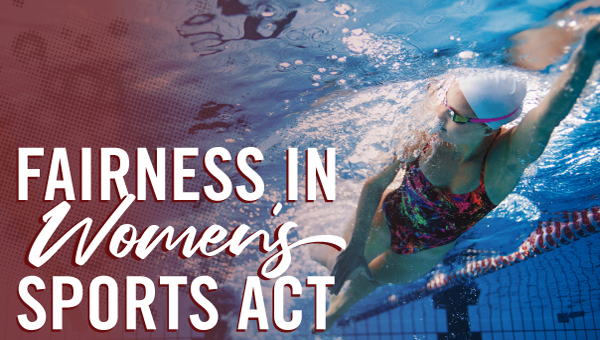 Legislation to protect women's sports in Pennsylvania was approved by the Senate Education Committee and sent to the full Senate for consideration.
Under House Bill 972, an athletic team or sport designated for females, women, or girls may not be open to biological males. In addition, a student deprived of an athletic opportunity would be able to file a lawsuit against the offending college or high school.
More than a dozen states passed similar legislation after women's sports organizations were pressured to allow biological males to compete on their teams.
Fighting Blight by Repairing Older Homes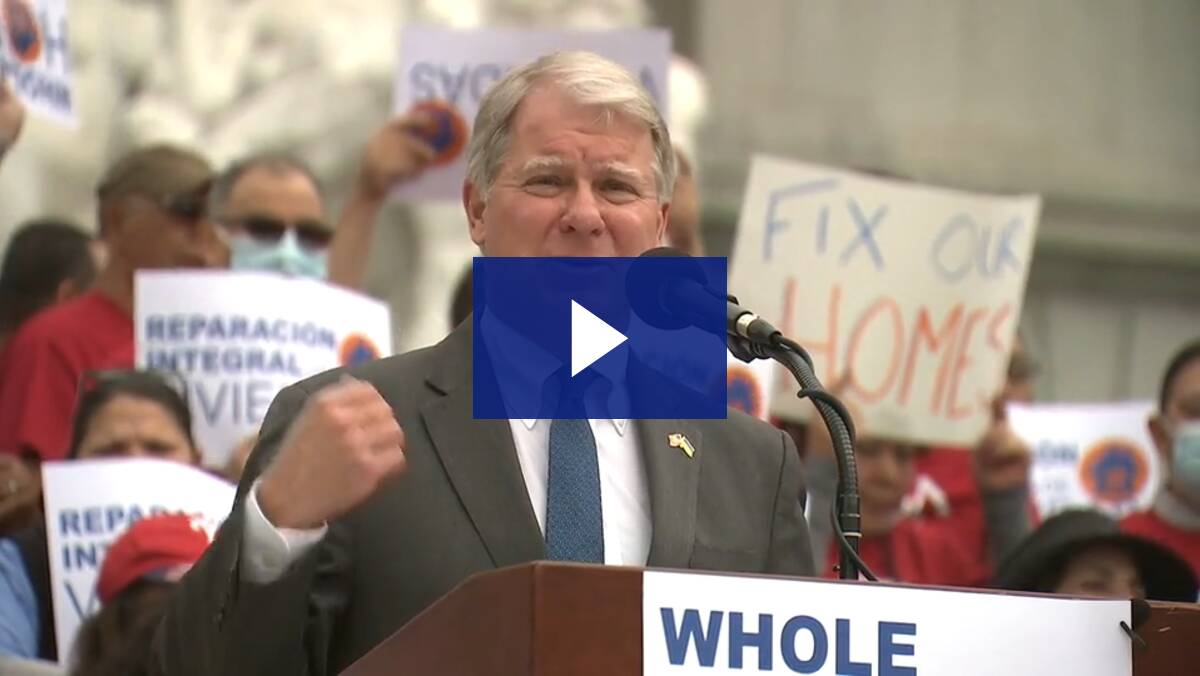 The Times-Tribune recently published an editorial supporting Senate Bill 1135, a bipartisan bill which would create a new fund for low-income homeowners to repair their homes. Their summary: "There isn't much good to say about blight except, perhaps, that it is nonpartisan. It adversely affects communities in every legislative district in Pennsylvania – urban, rural, or suburban."
This bipartisan proposal is one of my top priorities because of its potential to repair blighted and decaying houses in our neighborhoods. You can watch remarks I gave on the steps of the Capitol about it above.
Promoting Work, Not Welfare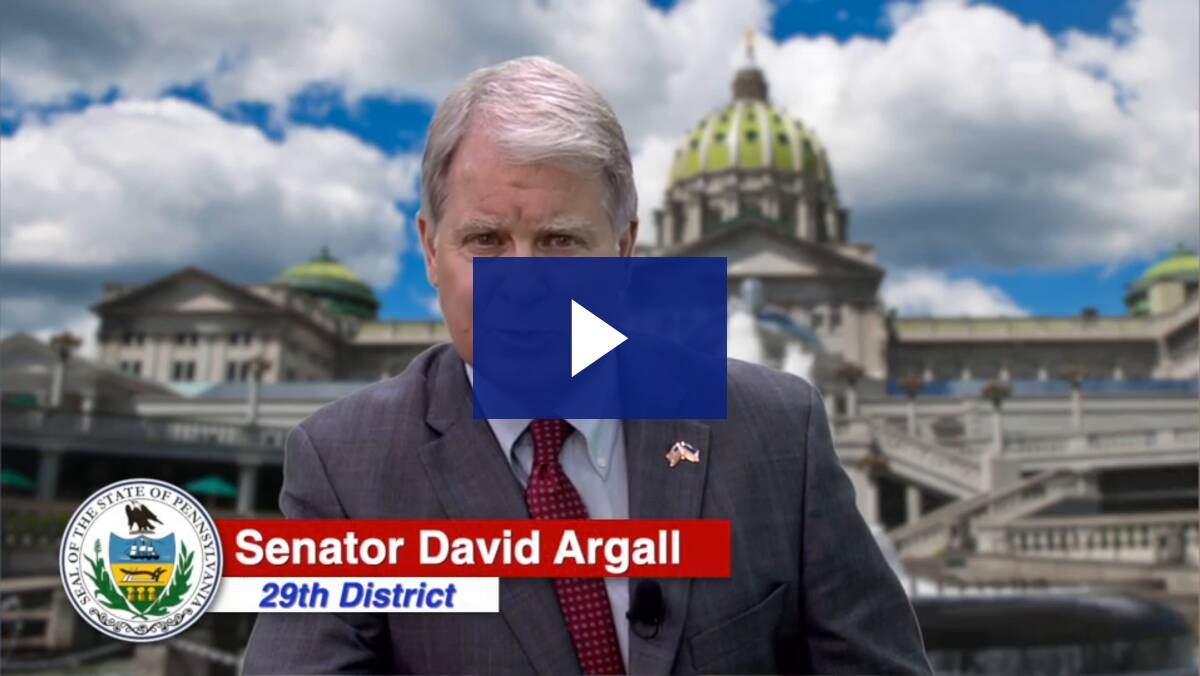 The June edition of my local TV program features efforts to reduce fraud and abuse within Pennsylvania's welfare system and promote work for able-bodied individuals currently receiving benefits. With so many employers across Pennsylvania looking to hire new employees, our government assistance programs should guide people back to the workforce.
Recently, the Senate Health and Human Services Committee passed two of my bills, Senate Bill 1121 and Senate Bill 1124, which would prevent potential fraud and abuse within the state's welfare system.
This edition of the Argall Report will air on:
Blue Ridge Communications (Channel 13) every Monday at 10 a.m. and every Wednesday at 10:30 p.m.
Berks Community Television (Comcast – Channel 15 and Service Electric – Channel 19) on Thursday at 10 p.m. and Friday at 8 p.m.
Service Electric Cablevision: Hazleton, Mahanoy City; Shenandoah – on Hazleton's WYLN TV 35 Channel 507 and MetroCast Communications Channel 10. Please check local listings for air times.
Every edition is also available on my website.
Honoring Our World War II Veterans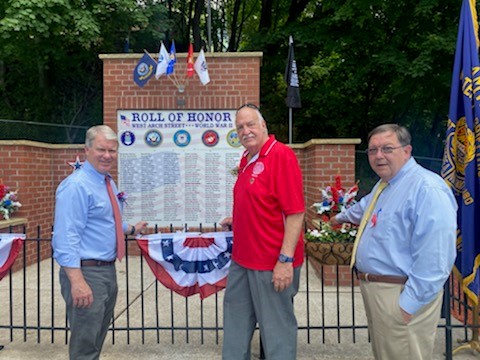 From left to right: me, Pottsville Mayor Dave Clews, and Schuylkill County Magisterial District Judge Jimmy Reiley
On Monday, a few blocks away from the 1840s Pottsville home of my Argall ancestors, shoemakers and coal miners who crossed the ocean by sail in search of new economic opportunities, I was invited to the unveiling of the restored WWII Monument in Pottsville.
Amvets Post 180 and many local neighborhood volunteers teamed up so that this restored monument will stand as a reminder to everyone that freedom is not free, but rather paid for by the blood, sweat, and tears of brave Americans so that we could live our lives in peace and freedom.
The event was a truly bipartisan opportunity for me to join members of Pottsville City Council, Mayor Dave Clews, Clerk of Courts Maria Casey, former Mount Carbon Mayor Jeff Dunkel, and Schuylkill County Magisterial District Judge Jimmy Reiley in saluting this proud American tradition.
Watch the full event here.
Pioneer Day Returns June 4th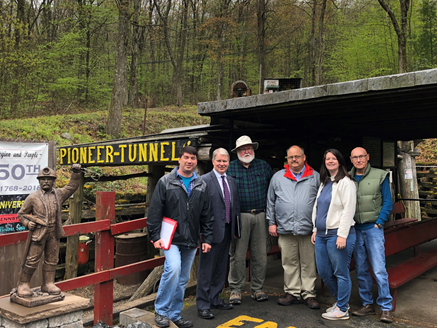 A meeting with the dedicated volunteers who run the Pioneer Tunnel in 2019.
Visit the Pioneer Tunnel Coal Mine and Steam Train in Ashland on Saturday from 10 a.m. to 5 p.m. for Pioneer Day! This special event features local food vendors, music, and other activities in addition to the coal mine and steam locomotive tours which run every weekend.
Visit Pioneer Tunnel's website to learn more about this piece of coal region history, one of the largest tourist attractions in Schuylkill County. Learn more about the event here.
New Employers in Ringtown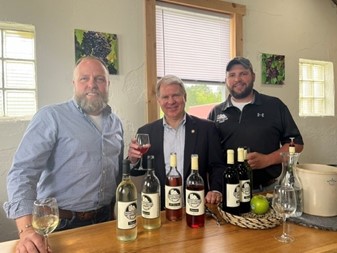 From left to right: Austin Hornberger, me, Lance Hornberger
Rep. Jerry Knowles and I hosted a roundtable discussion on how local employers and officials in Ringtown can grow. After the discussion, we toured local small businesses including Smokey Hollow Winery (pictured above), Red Brick on Main, Independent Dock and Door, Apple Street Deli, The Tree of Life Shoppe, and the Ringtown Area Library (pictured below).
Learn more about the event here.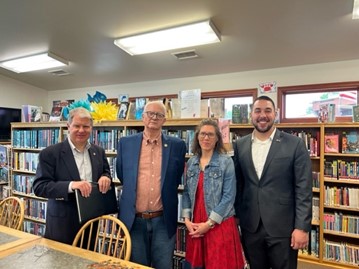 From left to right: me, Rep. Jerry Knowles, Ringtown Library Director Tanya Savitsky, Nate Gerace
Congrats Graduates!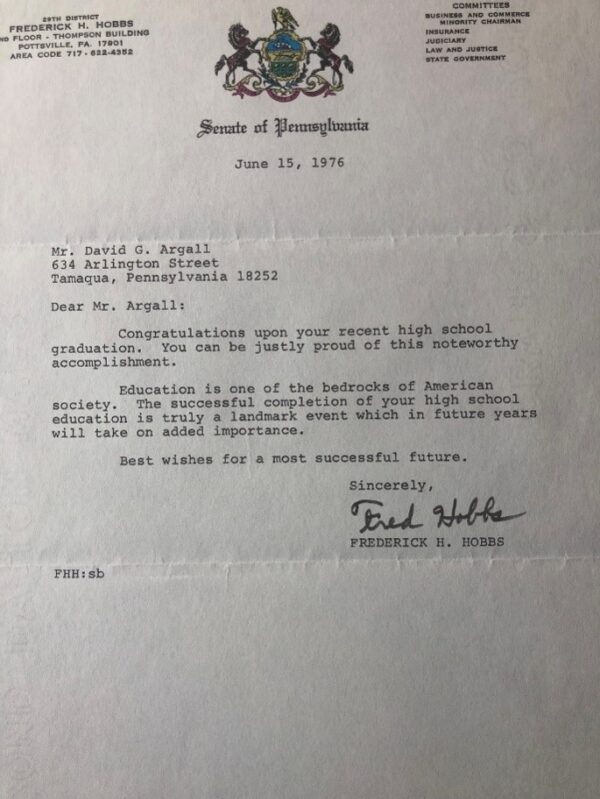 As another school year ends, congratulations to all our new college and high school graduates!
When I graduated from high school, I received this letter from my state senator, Fred Hobbs. His words from 1976 still ring true: it is truly a landmark event which in future years will take on added importance.
Read the full letter from Senator Hobbs above.