Final vote for May 18th primary certified
Senate State Government Committee approves elections and anti-gerrymandering reforms
McAdoo Borough celebrates 125th Anniversary
Senate passes my bills to fund demolition and provide more information to the public regarding wasted vaccines
Pennsylvania's changing rural population
Scouting Breakfast features Eagle Scouts now serving in the legislature
Tamaqua Historical Society's Summerfest
Unemployment rate update
---
Final vote for May 18th primary certified
Here's how the people of Berks and Schuylkill Counties—and all of PA– voted to amend the constitution and limit the Governor's emergency powers: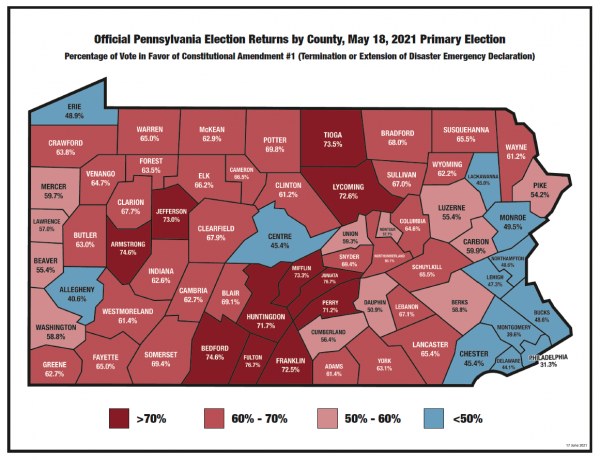 Senate State Government Committee approves elections and anti-gerrymandering reforms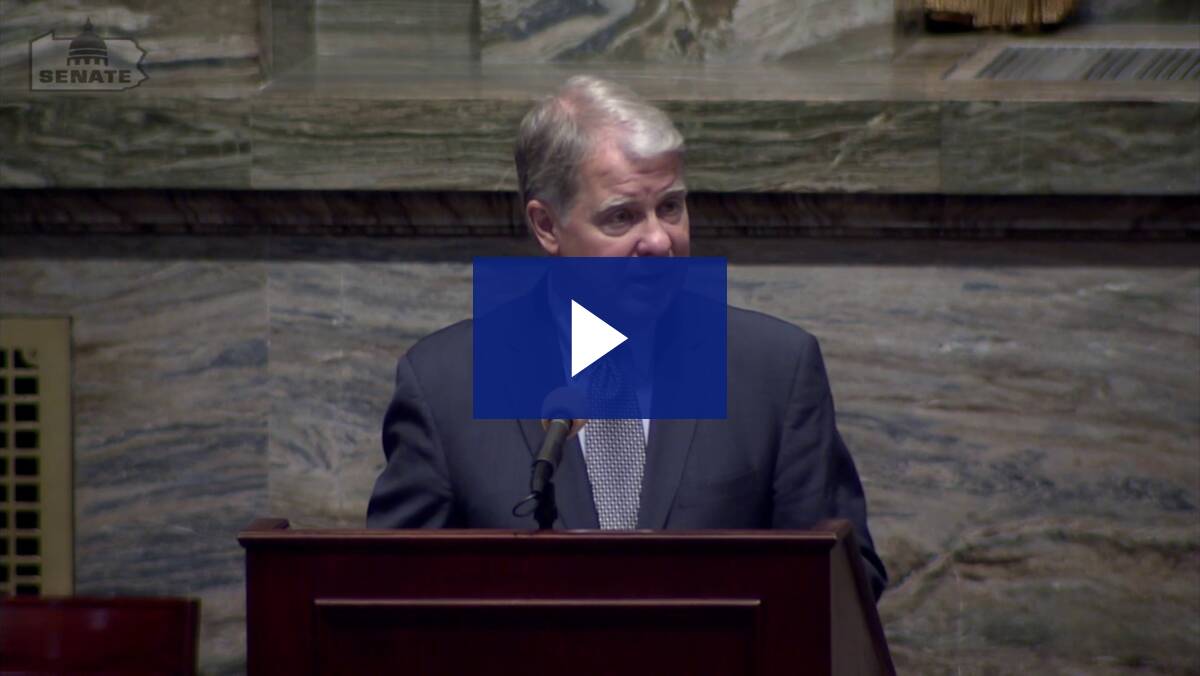 From Nuremburg, at the northern tip of Schuylkill County, to the suburbs of Reading in Sinking Spring and Spring Township, the people I represent have given me one clear goal: Make it easier to vote in our elections, and harder to cheat!
This week, I chaired two meetings of the Senate State Government Committee to approve House Bill 1300, which would make significant updates to the election code, and Senate Bill 222, which would reform the process of redrawing congressional districts. My goal is simple regarding SB 222: to begin the long process of correcting some of the hyper-partisan gerrymandering sins of the past, in a process that dates back to the early 1700s.
The passage of these two bills was the culmination of months of public hearings in both the Senate and the House – but there is still much work to be done.
McAdoo Borough celebrates 125th Anniversary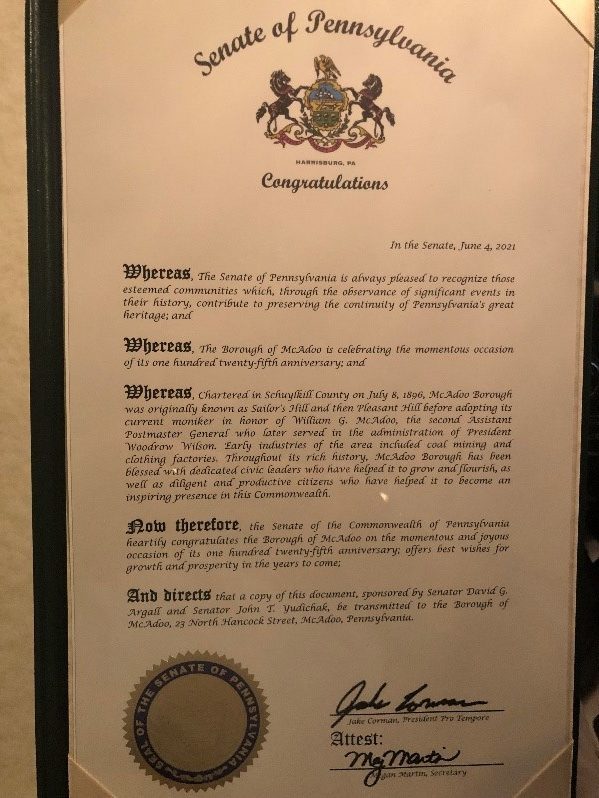 Rep. Jerry Knowles and I presented McAdoo Borough with a citation commemorating their 125th anniversary at an event last week. The McAdoo fire company also celebrated their 100th anniversary. Read more here.
Senate passes my bills to fund demolition and provide more information to the public regarding wasted vaccines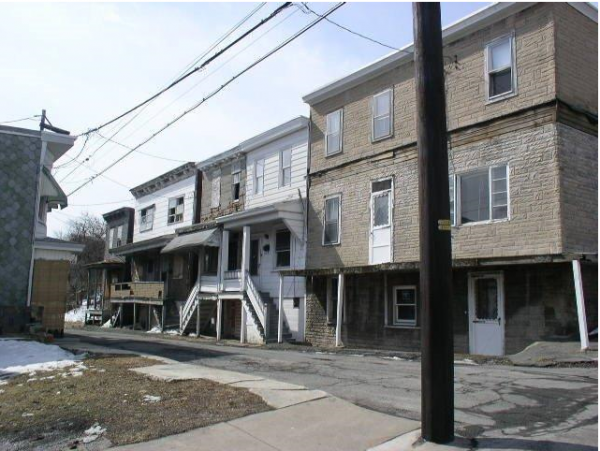 The Senate passed two bills that I wrote this week. Senate Bill 559 would require the Department of Health to publicize how many doses of the COVID-19 vaccine were wasted. This bill was passed by a unanimous, bipartisan vote of 50-0, to correct a mistake made earlier this year by the Wolf Administration's Secretary of Health. Read an article about this bill from Berks County's WFMZ here.
Senate Bill 439 was passed this week by a bipartisan vote of 48-2. This bill gives counties dedicated funding for the demolition of blighted, decaying, rat-infested buildings. Breathing new life into our older towns, large and small, is one of my key goals. In Schuylkill County, communities from Tower City to Tamaqua are now working together with our county and state governments to demolish a large number of old structures which hurt our property values and can breed all sorts of trouble.
Pennsylvania's changing rural population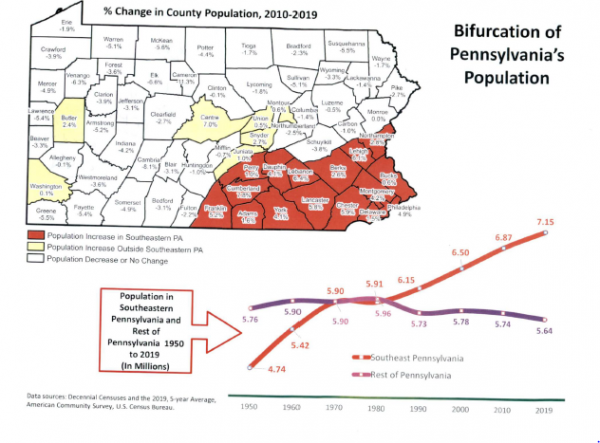 The Center for Rural Pennsylvania recently released a map showcasing the changing demographics of Pennsylvania. As you can see, the population of southeast Pennsylvania has been steadily increasing since the 1980's, while the population of the rest of the state has been decreasing. These trends have led to a total population growth for Pennsylvania that lags behind the national average, which in turn has led to the loss of multiple seats in Congress for Pennsylvania over the years.
Schuylkill County's population decreased by 3.8% in the past decade, while Berks County's population increased by 2.6%. Read more here.
Scouting Breakfast features Eagle Scouts now serving in the legislature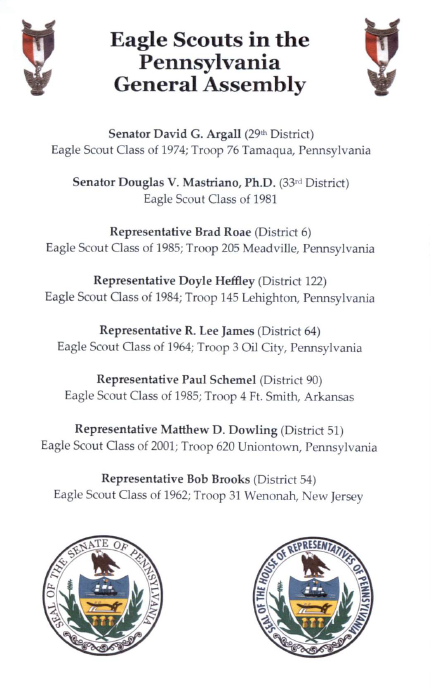 This week, I attended the Harrisburg Scouting Breakfast, which featured eight members of the state Legislature who earned the rank of Eagle Scout. As the senior Senator in attendance, I was invited to speak about the importance of Scouting in my life, and positive the impact it has on our young people today.
Tamaqua Historical Society's Summerfest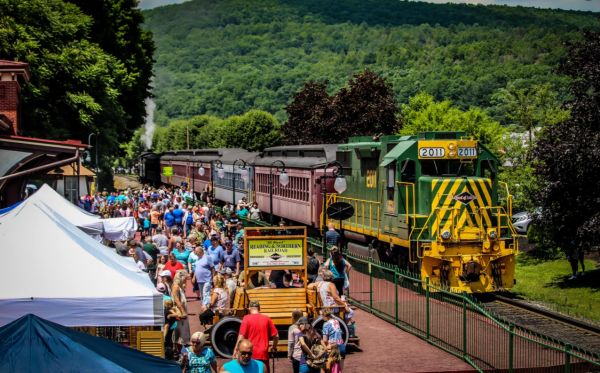 Photo by Kyle Whitley
Last Sunday, I joined many of you at the annual Tamaqua Summerfest. This year's event featured three Reading Blue Mountain and Northern steam train rides throughout the day. A special thank you to the vision of RBMN Railroad owner Andy Muller and the efforts of Tamaqua Borough Council, especially its President, Dave Mace, to build the new loading platform that hundreds of passengers used during the day. To all of us who worked so hard in the long battle to save Tamaqua's beautiful 1874 passenger station from demolition during the past few decades, this day carried a very special meaning.
Learn more about upcoming events here.
Unemployment rate update
Pennsylvania's unemployment rate fell slightly this month to 6.9% but is still significantly above the US average of 5.8%. Pennsylvania's rate now ranks 41st in the United States. Read more here.