New Law Supports Early Detection of Alzheimer's and Dementia
Department of State Refuses to Engage on Bipartisan Election Reform
Philadelphia District Attorney Blames Others for Crime Spike; Impeachment Possible
The Case for Reforming how PA Elects Lieutenant Governors
New House District Boundaries Await Court Review
---
New Law Supports Early Detection of Alzheimer's and Dementia
A bill to promote greater public awareness of the early signs of Alzheimer's disease and dementia was recently signed into law. Learn more about it here.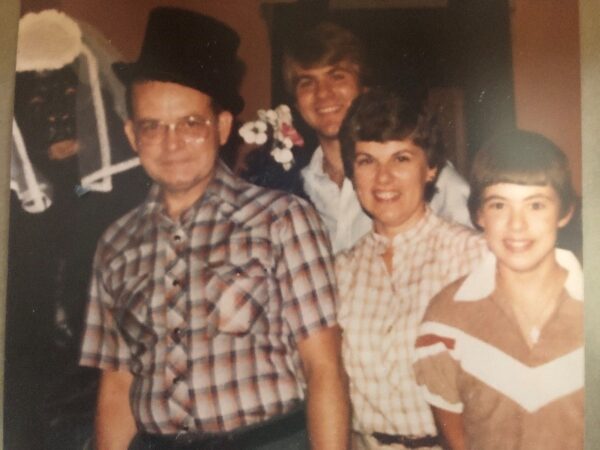 I voted for this law in memory of my mom, Miriam Argall. So many of our families have experienced the tragedy of Alzheimer's first-hand, as we did when mom suffered with this terrible disease during the last four years of her life. My brother Doug and I miss her and our dad, Arthur Argall, every day. On a much happier note, the picture above was one of her personal favorites and was taken at my parent's 25th wedding anniversary in 1982, when Doug and I hired a gorilla gram to celebrate the occasion. Every time I walk by it in my home, it brings a smile and many happy memories.
Department of State Refuses to Engage on Bipartisan Election Reform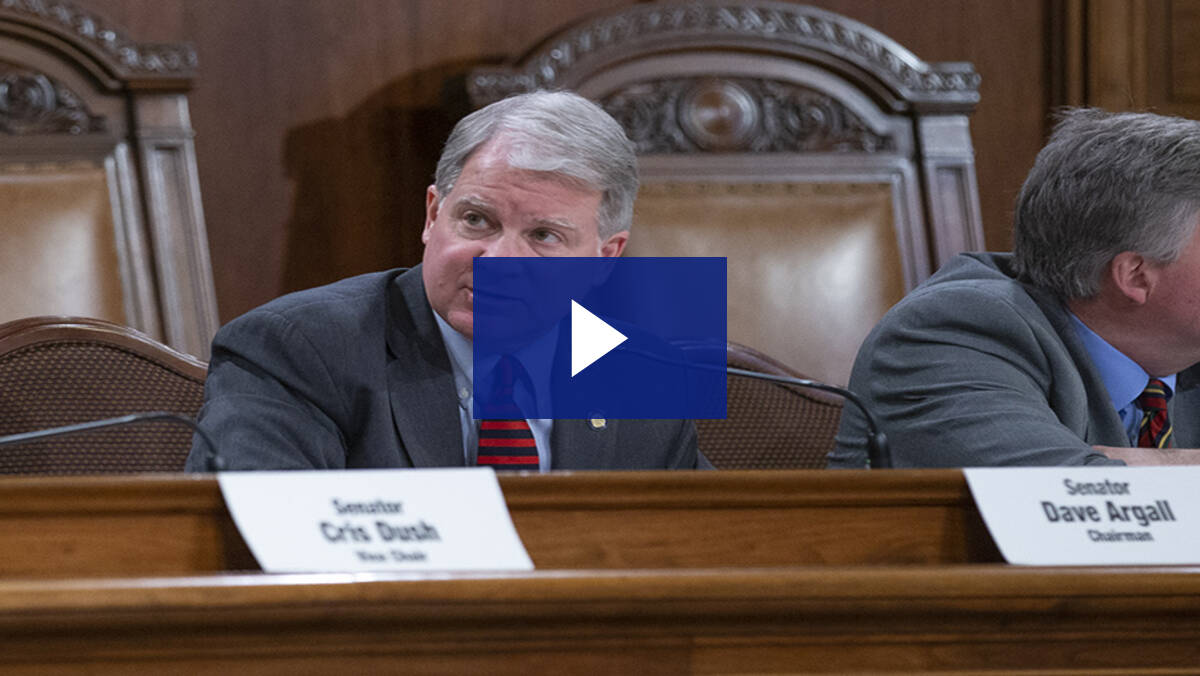 I chaired a hearing of the Senate State Government Committee this week reviewing potential bipartisan election reforms. The Department of State, once again, refused to participate, continuing a pattern that's plagued several of Governor Wolf's five different Secretaries of the Commonwealth.
The Governor's slogan is that this is a "Government that Works." A more accurate description would be that this is a government that doesn't even show up. It is far past time for the Department in charge of Pennsylvania's elections to engage in these conversations instead of avoiding them like the plague.
Watch my full statement on the department's absenteeism above.
Visit this link to watch the full hearing and read testimony provided by the Bipartisan Policy Center and the County Commissioners Association of Pennsylvania. Read an article by the Morning Call about the hearing and my remarks here.
Philadelphia District Attorney Blames Others for Crime Spike; Impeachment Possible
As Philadelphia continues to grapple with a tragic and historic rise in violent crime, Philadelphia District Attorney Larry Krasner refused to take responsibility for his role in the crisis this week. He claims that Harrisburg policies are to blame for the all-time record of homicides in Philadelphia, despite criticism from a bipartisan group of officials, including independent state Senator John Yudichak (I-Luzerne) and former Democratic Philadelphia mayors Ed Rendell and Michael Nutter.
This week, Senate President Pro Tempore Jake Corman sent a letter to leadership in the House of Representatives recommending they begin the process of impeaching Krasner, which you can read below or at this link.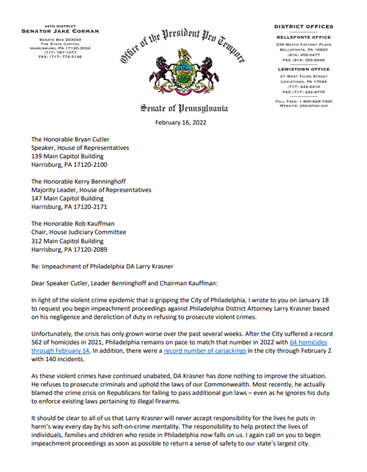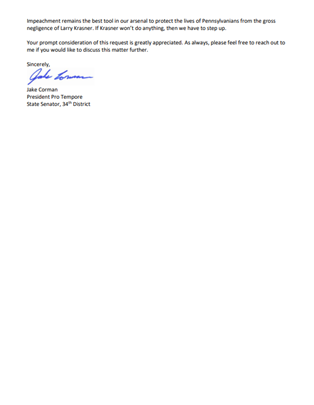 The Case for Reforming how PA Elects Lieutenant Governors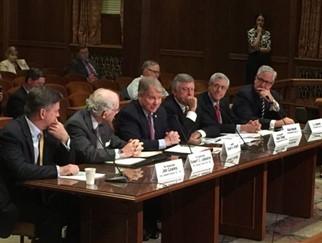 From Left to Right: Jim Cawley (R), Robert Jubelirer (R), me, Mark Singel (D), Alan Novak (R), T.J. Rooney (D)
I wrote an op-ed for the Philadelphia Inquirer this week in favor of my bill, Senate Bill 106, to reform how Pennsylvania would elect future lieutenant governors. This proposal would bring Pennsylvania's system in line with how Vice-Presidential candidates are selected – in other words, the candidate for governor would get to choose their running mate. Currently, the two positions have separate primaries, which has led to conflicts before, most notably between Governor Wolf and Lt. Governor Mike Stack in 2017.
My bill has attracted wide bipartisan support in the General Assembly, and from three former lieutenant governors and two former state committee chairmen, as seen in the picture above. Read my op-ed here.
New House District Boundaries Await Court Review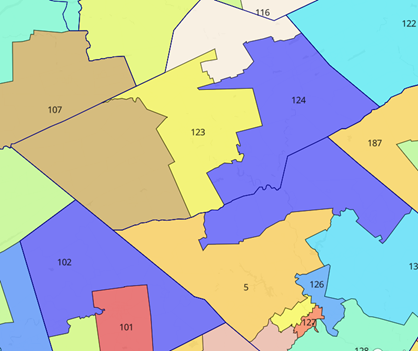 The five-member commission responsible for drawing new state Senate and House districts for Pennsylvania every decade recently approved two new maps, which you can view here. Last week, I covered the newly proposed local state Senate districts. Local state House districts will also see major changes. Under the current proposal, Rep. Joe Kerwin would no longer represent Schuylkill County.
The following list outlines the proposed new districts:
House District 124, currently represented by retiring Jerry Knowles

Schuylkill County: Rush Township, Delano Township, Ryan Township, Schuylkill Township, Tamaqua, Coaldale, Walker Township, West Penn Township, East Brunswick Township, New Ringgold, West Brunswick Township, Port Clinton, Deer Lake, Orwigsburg, Auburn, South Manheim Township
Berks County: Upper Tulpehocken Township, Upper Bern Township, Tilden Township, Hamburg, Windsor Township, Albany Township, Greeenwich Township, Lenhartsville
House District 123, currently represented by Tim Twardzik

West Mahanoy Township, Gilberton, Frackville, Butler Township, Girardville, Ashland, Gordon, Cass Township, New Castle Township, St. Clair, Blythe Township, Middleport, New Philadelphia, Branch Township, Minersville, Norwegian Township, Port Carbon, Palo Alto, Mechanicsville, Pottsville City, Mount Carbon, Wayne Township, North Manheim Township, Cressona, Schuylkill Haven
House District 107, currently represented by Kurt Masser

Upper Mahantongo Township, Hubley Township, Eldred Township, Hegins Township, Barry Township, Porter Township, Tower City, Frailey Township, Tremont, Tremont Township, Foster Township, Reilly Township, Washington Township, Pine Grove Township, plus portions of Northumberland County
House District 116, currently open since Tarah Toohil was elected as a Luzerne County Judge in 2021

North Union Township, East Union Township, Kline Township, Mcadoo, Mahanoy Township, Mahanoy City, Shenandoah, Union Township, Ringtown, plus portions of Luzerne County
House District 5, currently represented by Barry Jozwiak

Bethel Township, Tulpehocken Township, Marion Township, Womelsdorf, Jefferson Township, Bernville, Penn Township, North Heidelberg Township, Heidelberg Township, Robesonia, South Heidelberg Township, Wernersville, Lower Heidelberg Township, Shoemakersville, Perry Township, Ontelaunee Township, portion of Spring Township
House District 129, currently represented by Jim Cox

Sinking Spring, portion of Spring Township
House District 99, currently represented by David Zimmerman

Portion of Spring Township plus portions of Lancaster County
The Pennsylvania Constitution now requires a 30-day period where legal challenges can be filed against the new maps. House Majority Leader Kerry Benninghoff has already stated that he plans to file a lawsuit against the House map. Only when the courts have finally ruled on these maps can they take effect.