Follow Sen. Argall on Twitter for Senate happenings – @SenatorArgall
For photos from Sen. Argall, follow him on Instagram

Merry Christmas! Happy Hanukah! Happy Holidays!
Busy Days in the District…
Overcrowding in State Prisons
Honoring Tamaqua Football
Improvements for Hamburg Park of a Hero
Schuylkill Haven: Funding for Artists in Motion to Go
Governor Legislation Passes the House
Convention of States Poll Results
Internships in State Government
---
Merry Christmas! Happy Hanukah! Happy Holidays!
My favorite memories of this time of year: the extra time spent with family and friends, and hopefully, a few of my favorite winter sports.
If you are looking for last minute gifts, there are many local business in Schuylkill and Berks with unique gifts. Check out this month's Argall Report which highlights the local arts for additional gift suggestions.
Busy Days in the District…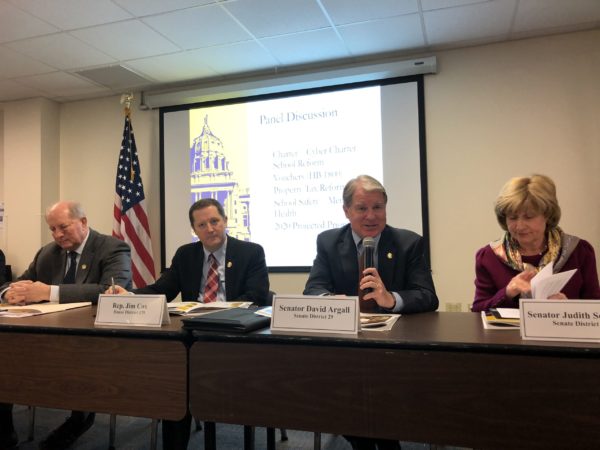 Last Friday, I started the morning with a 7:30 AM Berks County school superintendents' meeting with other legislators including Senator Judy Schwank (D-Berks), Rep. Jim Cox (R-129), Rep. Mark Gillen (R-128) and Rep. Barry Jozwiak (R-05) to discuss the major issues facing Berks County Schools. This was followed up with an open house at Congressman Dan Meuser's Pottsville office and then back to Spring Township, Berks County, to meet with the boys of Cub Scout Pack 431 later that evening.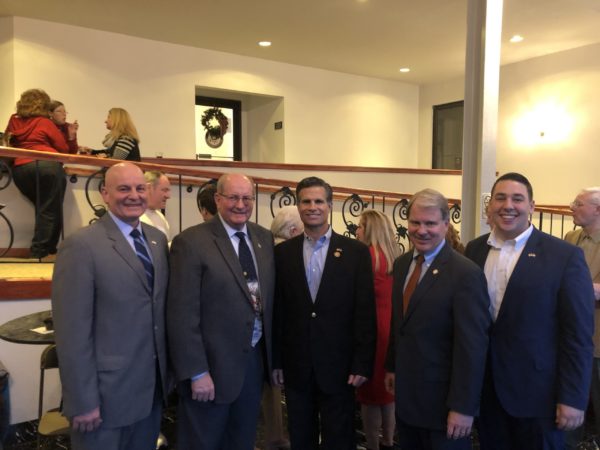 Bipartisan open house with US Rep. Dan Meuser in Pottsville, joined by (left to right) District Attorney Mike O'Pake, State Rep Barry Jozwiak, Congressman Dan Meuser, and Mayor Nathan Gerace of Tamaqua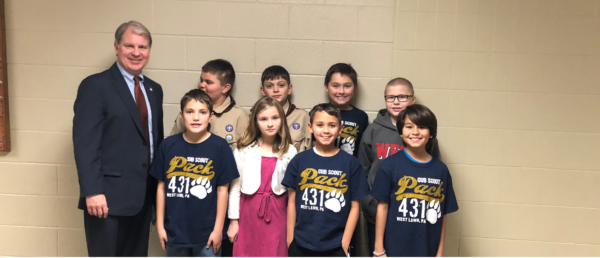 Future Eagle Scouts in Spring Township?
Overcrowding in State Prisons
The Department of Corrections plans to close SCI Retreat in Luzerne County. Many fear this will make our existing problems worse in our state prisons. SCI Dallas in Luzerne County is already operating over capacity by several hundred prisoners. This has made it a dangerous place for both our corrections officers and inmates.
You can read more about it here.
Honoring Tamaqua Football
This week, I was invited by Tamaqua's Borough Council to honor Tamaqua Area's football team. They won their first ever District 11 AAA championship and won two state playoff games. Congratulations to the players and coaches on this great accomplishment!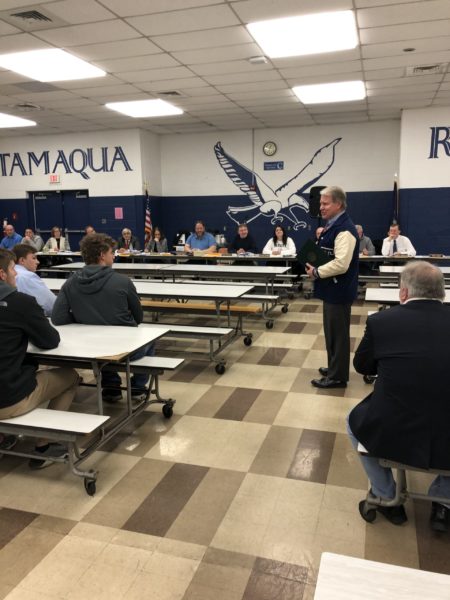 At the ceremony, I wore my old letterman jacket for the first time back at Tamaqua High in more than four decades. Yes, it still fits, but not if I eat too many more holiday cookies…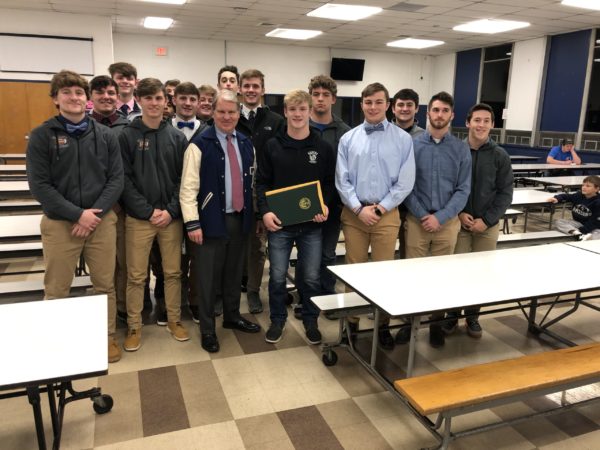 Improvements for Hamburg Park of a Hero
Rep. Knowles and I were recently invited back to the Etchberger Memorial Park in Hamburg. This is a very busy park and it honors one of Hamburg's authentic American heroes, Chief Master Sergeant Richard Etchberger, who was posthumously awarded the Medal of Honor, our nation's highest honor, for his actions during the Vietnam War. You can read more about the park's new state grant here.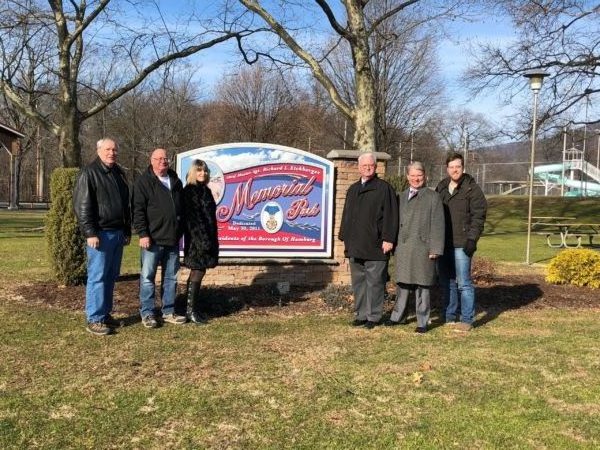 Schuylkill Haven: Funding for Artists in Motion to Go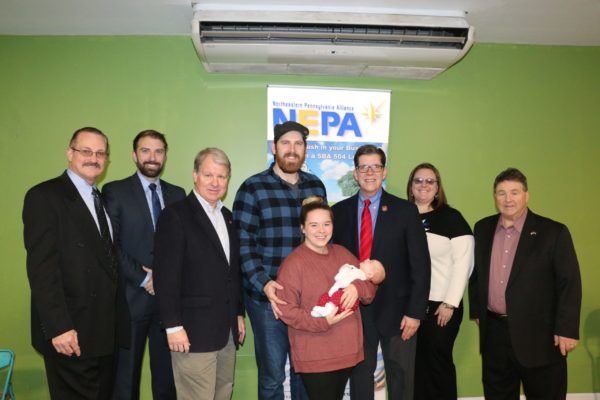 Schuylkill County Commissioners Gary Hess and George Halcovage and I were recently invited to meet with the Schuylkill Haven business: "Artists in Motion to Go." They have received a loan from the Northeastern Pennsylvania Alliance (NEPA) to expand and grow their business. "Artists in Motion to Go" has grown into a major dance studio with over 500 students and the new funding will help them expand. NEPA helps to grow and develop businesses in Northeastern Pennsylvania. For more information on their programs, please contact any of my local offices. Our contact information is here.
Lt. Governor Legislation Passes the House
The House, on Wednesday, passed my Lieutenant Governor Legislation 130-67 with strong bipartisan support. The constitutional amendment will allow Governor Candidates to pick their running mates, just as Presidential Candidates do at the Federal level. This legislation is designed to eliminate the kind of problems we experienced last term between Governor Wolf and former Lieutenant Governor Mike Stack.
Convention of States Poll Results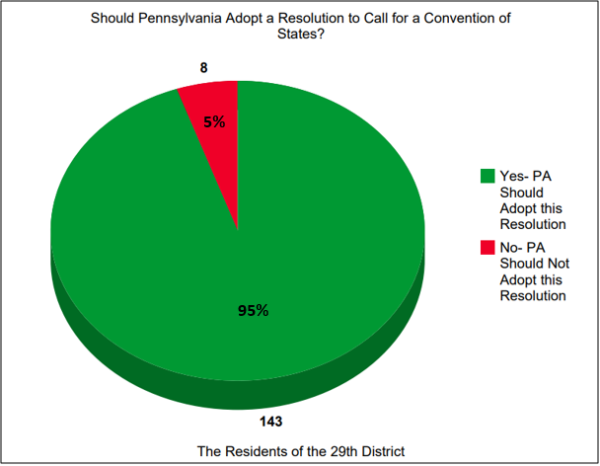 Last month, I asked all of you this question: "Should Pennsylvania adopt a resolution to call for a Convention of States?" The votes for our poll have been counted. An overwhelming majority of you (95%) said you supported such a resolution. Thank you to everyone who voted in the poll and you can now vote for my current poll on a constitutional amendment which has been proposed in the Pennsylvania Senate that would ban hydraulic fracturing (fracking) in Pennsylvania.
Internships in State Government
Applications are now being accepted for 2020 summer internships through the James A. Finnegan Fellowship Foundation. This is a great opportunity for Pennsylvania's future leaders. The Finnegan Foundation allows college students all across Pennsylvania who are interested in politics and government to take their experience to the next level. If selected, a student has the opportunity to receive a paid internship in one of the executive agencies located in Harrisburg.
In order to apply for the Finnegan Foundation's 2020 Summer Intern Program, an interested student must submit an essay between 1,500 and 2,500 words. The subject for this year's essay: Do you believe Pennsylvania should join other states in either eliminating or seriously curtailing the current exemptions from mandatory immunizations?
Full details on the Finnegan Foundation's Summer Intern Program can be found at the link here. Students have until January 31, 2020 to submit their essays and other materials to the foundation.
As a former Finnegan intern, I highly recommend this program!