In this update:
Empowering Parents in Pennsylvania
Thank you, Senator Yudichak!
Meeting with the Greater Hazleton Chamber to Review the Area's Future
Senate Approves Measures to Help Women at High Risk of Breast Cancer
Will a New Film Studio Come to Tamaqua?
October Report: Breaking Down Barriers for Business Growth
---
Empowering Parents in Pennsylvania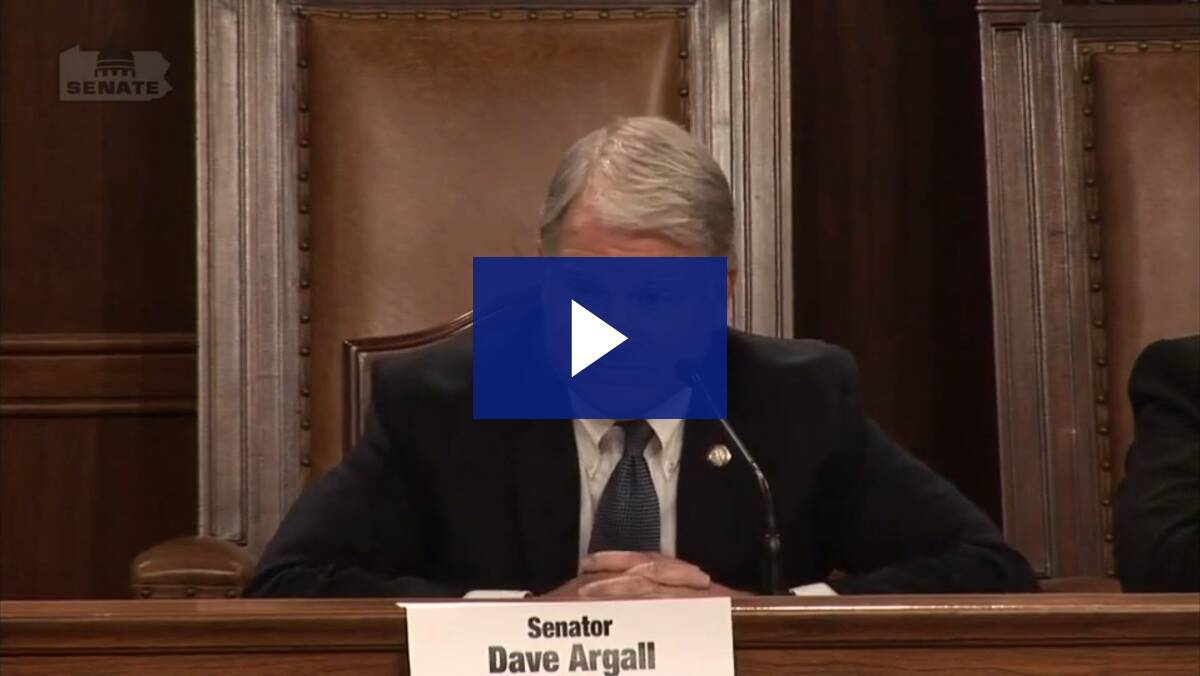 This week, I chaired a public hearing of the Senate State Government Committee to review Senate Bill 996, which would establish a parental bill of rights in Pennsylvania. The legislation would make clear in statute that the state, counties, local governments, and school districts may not infringe on the fundamental rights of parents to direct the upbringing, education, health care and mental health of their children without demonstrating that such action is reasonable and necessary to achieve a compelling state interest — narrowly tailored – and not otherwise achieved by less restrictive means.
During the first panel of the hearing, parents presented examples of graphic images in books they found in their children's schools. Young children should not be exposed to this sort of material without the consent of their parents. You can see blurred examples of this explicit material here.
I discussed my late father's decades of experience as a school librarian. He never could have imagined some of the explicit materials that are available to very young children in elementary school libraries today.
Thank you, Senator Yudichak!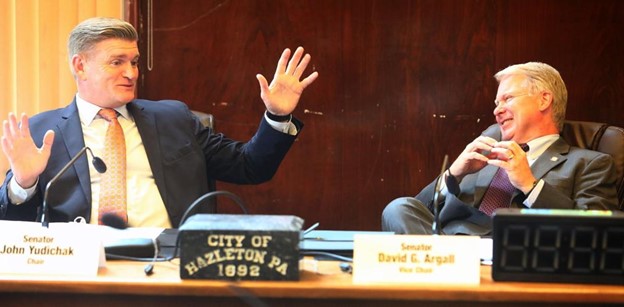 Photo by John Haeger, Staff Photographer for the Republican Herald
This week, the Senate honored my friend Senator John Yudichak, who will be retiring from the General Assembly at the end of this year. Senator Yudichak is the only independent member of the Senate and has represented Luzerne and Carbon Counties well for many years.
He and I have partnered together to support mine land reclamation, energy, and economic development in our time serving in the General Assembly together. He has been very helpful throughout this transition as I begin to represent many of his constituents in Luzerne and Carbon Counties and I wish him nothing but the best in his future endeavors!
Watch my full remarks on his retirement here.
Meeting with the Greater Hazleton Chamber to Review the Area's Future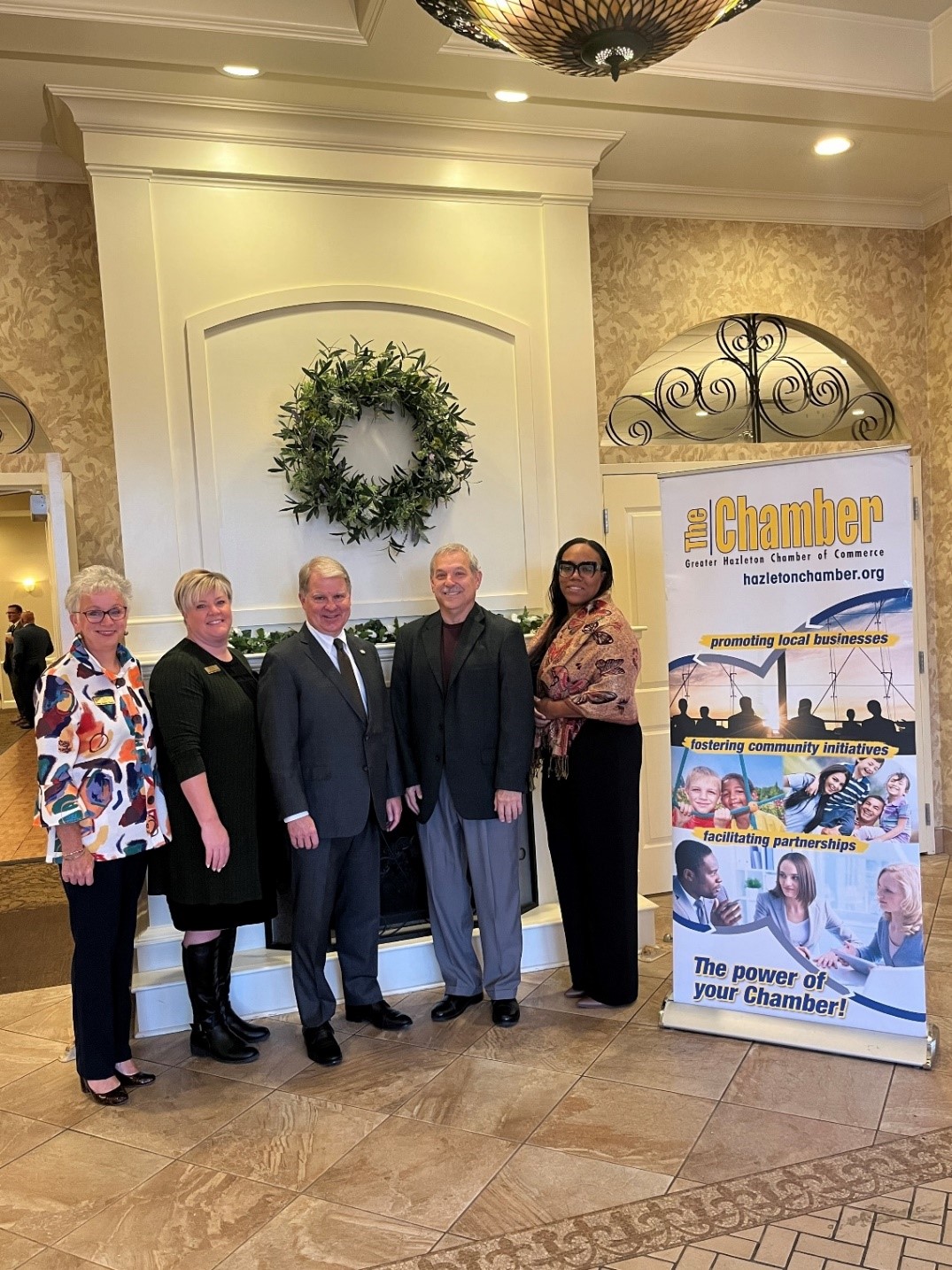 From Left to Right: Mary Malone, Executive Director, Greater Hazleton Chamber of Commerce; Kim McNulty, Greater Hazleton Board Chair; me; Gary Patton, Hazleton Standard Speaker; Christina Nickson, Hazleton Standard Speaker
I was invited to speak to constituents at the Greater Hazleton Chamber of Commerce's Red Carpet Breakfast this week. We discussed the urgent need to breathe new life into our local communities by bringing new jobs and much-needed new housing to our region. I also took questions from the crowd and heard their legislative priorities.
I look forward to working with local organizations like Can Do and the Downtown Hazleton Alliance for Progress to continue breathing new life into downtown Hazleton. In the coming months, I plan to open an office in the city where constituent services will be offered.
Senate Approves Measures to Help Women at High Risk of Breast Cancer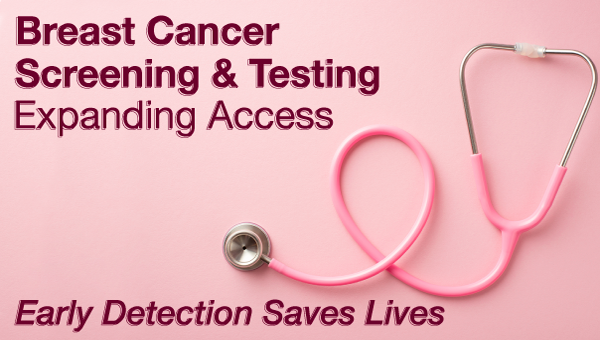 The Senate this week passed two bills to help women at high risk for breast cancer, ensuring coverage for MRIs, ultrasounds and genetic testing with no out-of-pocket costs.
Breast cancer is the second-most common cancer in women in the United States after skin cancers, and early detection is the key to saving lives. The Senate approved the following bills:
Senate Bill 1225 eliminates out-of-pocket costs for breast MRI and ultrasound for women with high-risk conditions such as dense breast tissue, a family history of breast cancer, personal history of breast cancer, genetic predisposition or prior radiation therapy.
Senate Bill 1330 removes costs associated with genetic testing and counseling for Pennsylvanians with a family history of breast and ovarian cancers. Genetic testing for heredity cancers provides the opportunity for earlier screenings and preventive treatments and procedures.
At a news conference celebrating passage of the bills, PA Breast Cancer Coalition President Pat Halpin-Murphy said: "Senate Bill 1225 and Senate Bill 1330 will arm the women of Pennsylvania with the best tools possible to find breast cancer at its earliest, most treatable stage."
Will a New Film Studio Come to Tamaqua?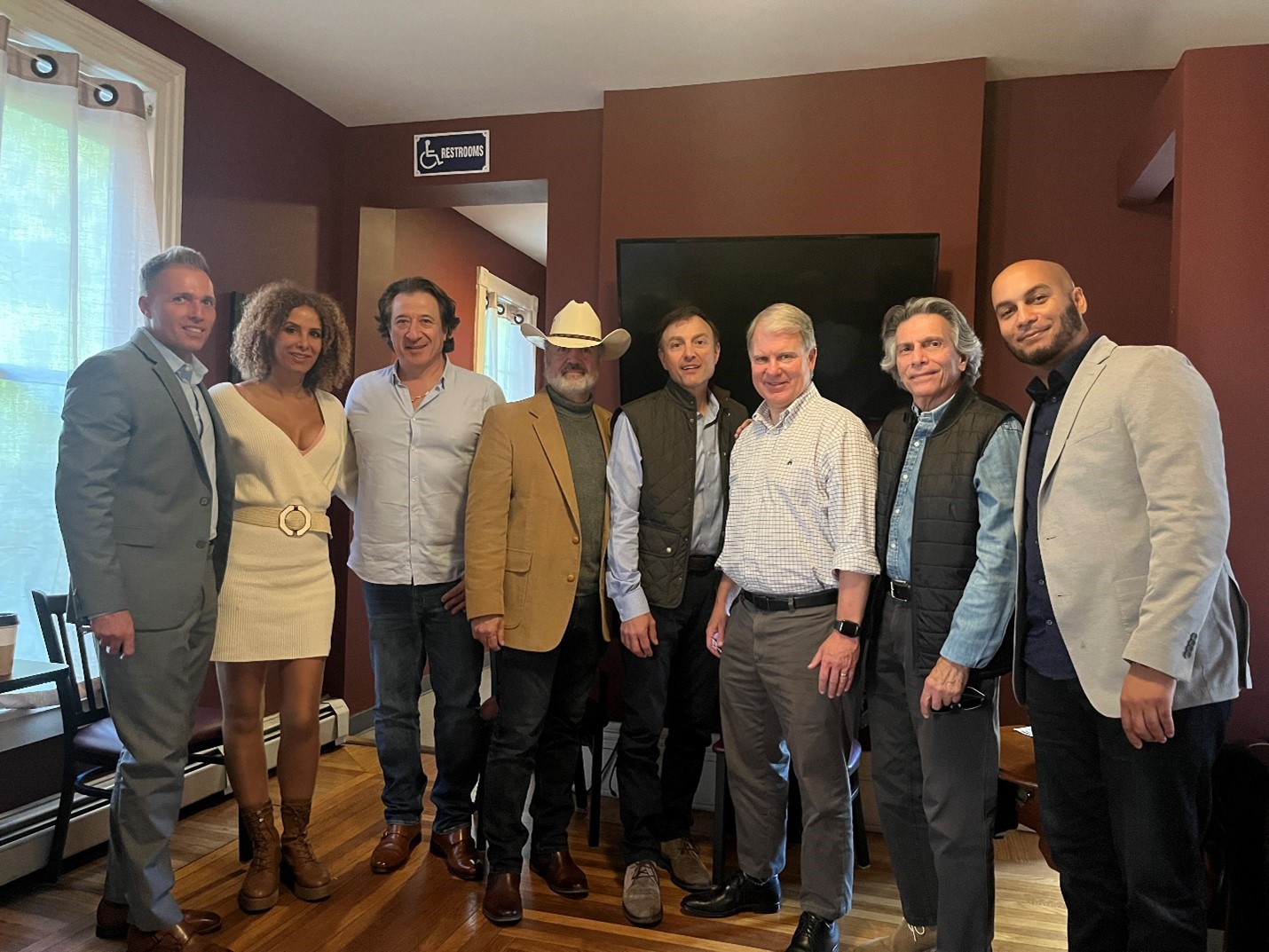 From Left to Right: Dane Watro, former Mayor of McAdoo; Yvonne Maria Schaefer, actress; Federico Castelluccio, actor; Robert Morgalo, OPF Film Studios; Gary Baumann, ARCTRUST; me; Ric Ciappa, ARCTRUST; Ozz Gomez, actor
I recently met with Robert Morgalo and other representatives from OPF Film Studios about their preliminary plans to build a film studio complex in Tamaqua. Included in the meeting was Federico Castelluccio, who portrayed Furio Giunta in "The Sopranos" – he was much nicer than his character on the show!
While no final plans have been made, this prospective project shows the power of Tamaqua's status as Pennsylvania's only small-town CRIZ zone and this meeting has certainly captured the imagination of many in Schuylkill County. Read more here.
October Report: Breaking Down Barriers for Business Growth
Jobs, good jobs: that's what communities and people care about.
The October issue of my local TV program features a recent House Majority Policy Committee meeting requested by Rep. Tim Twardzik focusing on the barriers to starting and growing a business in today's economy. I want to thank Rep. Twardzik for calling this meeting in the Pottsville area.
We both recently introduced legislation to provide employers with relief from increased Unemployment Compensation rates to ensure that this ripple effect from the pandemic lockdown does not result in the loss of more family-sustaining jobs.
This edition will air on:
Blue Ridge Communications (Channel 13) every Monday at 10 a.m. and every Wednesday at 10:30 p.m.
Berks Community Television (Comcast – Channel 15 and Service Electric – Channel 19) on Thursday at 10 p.m. and Friday at 8 p.m.
Service Electric Cablevision: Hazleton, Mahanoy City; Shenandoah – on Hazleton's WYLN TV 35 Channel 507 and MetroCast Communications Channel 10. Please check local listings for air times.
It is also available on my website.