In this update:
Strong Bipartisan Support for My Bills to Stop Pennsylvania Support for Putin & Protect Small Employers, Introducing Intern Seth Hubler
Telephone Town Hall Poll Results
House Committee Votes to Continue Investigation into Commissioner Halcovage
Alvernia's Pottsville CollegeTowne to Open for Spring Semester
Another Busy Weekend in the 29th District
Hearing Highlights Ideas to Combat Lyme Disease in PA
September is Suicide Prevention Month
Rosh Hashanah Begins Sunday
---
Strong Bipartisan Support for My Bills to Stop Pennsylvania Support for Putin & Protect Small Employers, Introducing Intern Seth Hubler
It was a busy week in the Senate: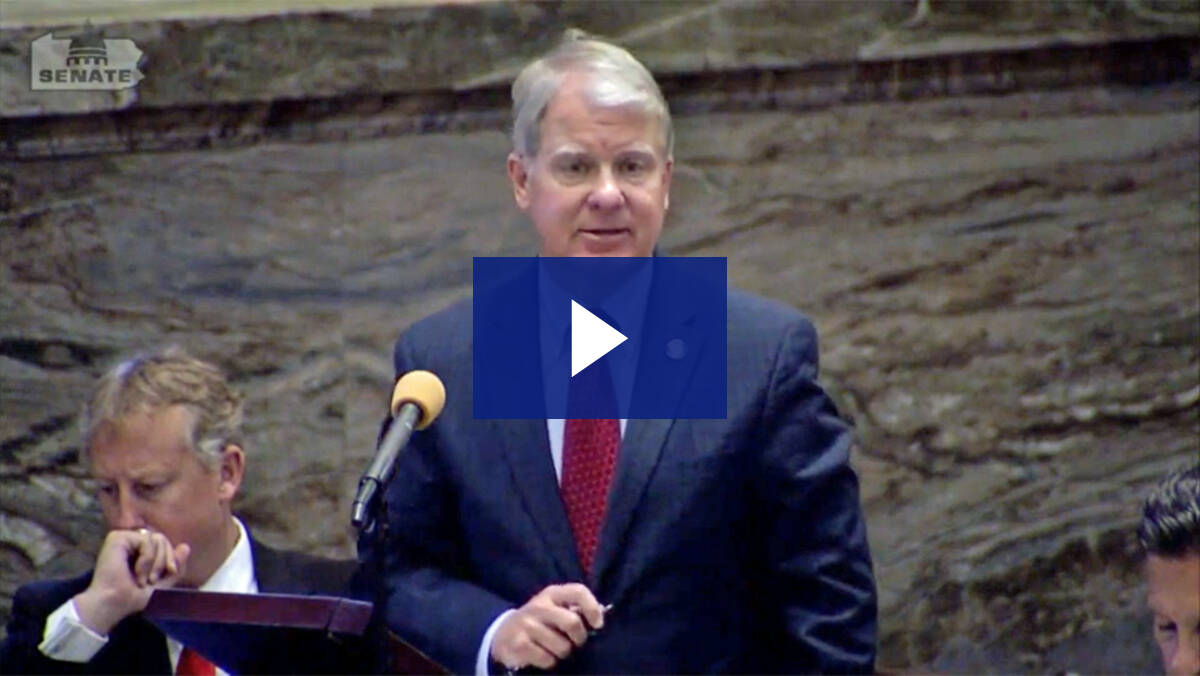 Pennsylvania taxpayer dollars should NOT support the actions of a tyrant like Vladimir Putin. My bill to ban companies with connections to the Russian government from receiving any PA taxpayer dollars was approved this week by an overwhelming vote of 47-2.
I represent some of the most concentrated communities of Ukrainian Americans in the United States, and they want our state government to take a strong stand against the aggression of the Russian government. Many Lithuanian and Polish Americans are also worried that if Ukraine falls, their cousins could in grave danger due to Putin's violent actions.
The Senate Labor and Industry Committee advanced another of my bills with unanimous, bipartisan support that will protect small business owners. Recently, a local employer brought to my attention that his unemployment compensation tax rate increased because he kept his business closed during the COVID-19 shutdown. At a public hearing near Pottsville, Representative Tim Twardzik and I determined that this issue affected small employers across the state.
I'm thankful the committee and the Department of Labor and Industry have been working with us to address this important issue, so we can ensure that employers are not unfairly punished.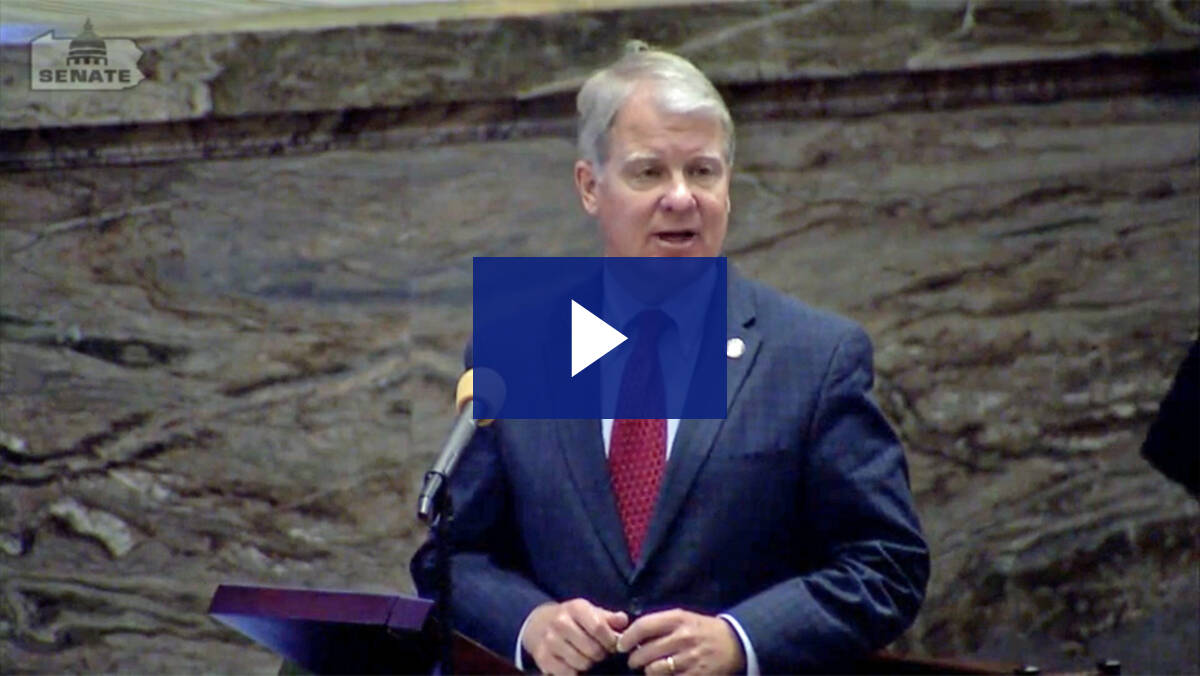 I introduced my longest-serving intern ever, Seth Hubler of the Minersville area, to the entire Senate of Pennsylvania. He's been a valuable member of my office since May of 2021, assisting us with research projects, constituent services, and countless meetings. He also interned for my friend Rep. Tim Twardzik's office in Frackville.
Thank you, Seth, for your continuing efforts on behalf of my 264,845 constituents!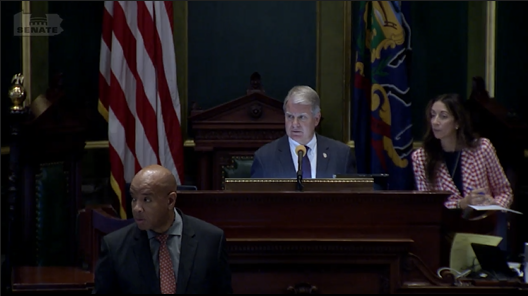 I also had the chance to preside over the Senate for a portion of session this week, due to the ongoing absence of Lt. Governor Fetterman.
Telephone Town Hall Poll Results
I hosted a telephone town hall this week, where thousands of my constituents listened and asked me questions about important state government issues, including my new constituents in Carbon and Luzerne Counties. During the call, I asked listeners to answer five important questions on issues now pending in the Pennsylvania General Assembly.
Philadelphia District Attorney Larry Krasner has come under fire as violent crime rates have spiked in the city he was elected to defend. 89% of respondents said the House should pursue articles of impeachment against District Attorney Krasner.
91% of respondents said identification should be required to vote.
94 % of respondents said some sort of work or education requirement should be placed on non-elderly, non-disabled recipients of Medicaid in order to continue to receive benefits.
88% of respondents said the Auditor General should pursue routine audits of our elections to ensure the integrity and accuracy of the vote.
Governor Wolf has attempted to enter Pennsylvania in the Regional Greenhouse Gas Initiative (RGGI) without the approval of the Senate and the House. 83% of respondents do not support his efforts.
House Committee Votes to Continue Investigation into Commissioner Halcovage
This week, the House Judiciary Subcommittee on Courts voted to issue additional subpoenas to continue their investigation of Schuylkill County Commissioner George Halcovage, and to refer material they have already gathered to the state attorney general. The committee's investigation will determine whether the commissioner is liable for impeachment.
Alvernia's Pottsville CollegeTowne to Open for Spring Semester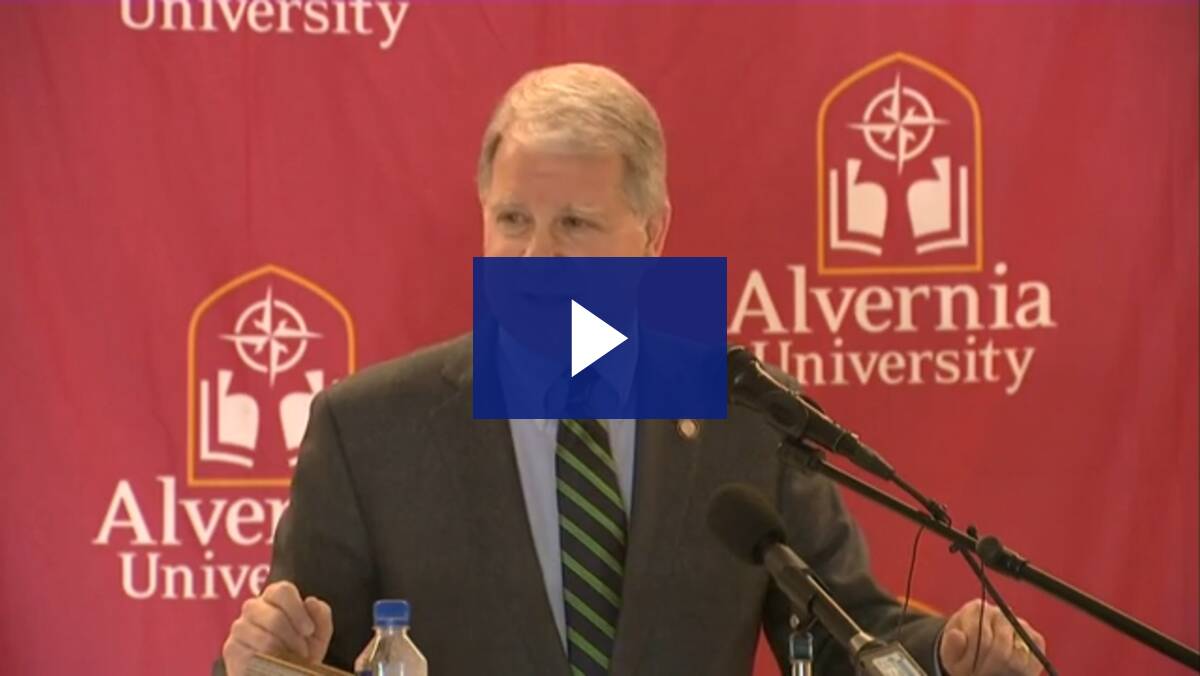 This week, we received an update that Alvernia University's Pottsville CollegeTowne will be open to students in January.
I worked with Rep. Tim Twardzik, Rep. Joe Kerwin, and Rep. Jerry Knowles to bring a $3 million state grant to this important project for Pottsville. Because of this funding and bipartisan teamwork from local community partners including city officials, the Pottsville Area Development Corporation, the Pottsville Business Association, and Congressman Dan Meuser, a formerly vacant building will soon be a place where students of all ages can learn and grow.
Another Busy Weekend in the 29th District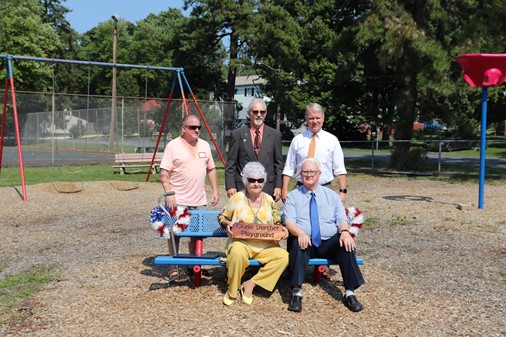 The "official business" began with a Saturday afternoon visit to the newly named Gloria Bercher Park in Deer Lake. Gloria has given countless hours of volunteer service to her community, and I was pleased to join her and Deer Lake Borough Council and many of her friends and fellow volunteers to see her receive this special honor.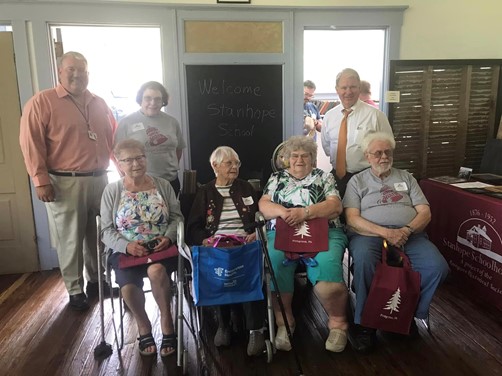 The next stop was a visit to the newly restored Stanhope Schoolhouse. The one-room schoolhouse near Pine Grove was closed in 1952 but is now open to the public again thanks to the Pinegrove Historical Society. Former students shared their stories about how attending a one-room schoolhouse affected their lives in a very positive way. Thank you for that invitation! As the grandson of a teacher who once taught in a similar schoolhouse in West Penn Township (and was paid partially in vegetables from the local farmers!), I really enjoyed my visit.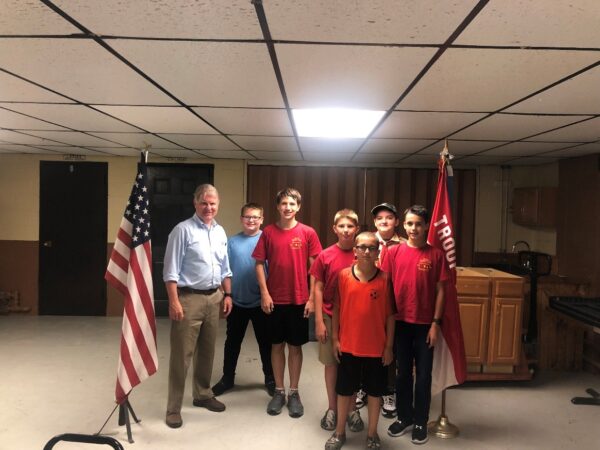 The final stop: I was invited by Andreas Scout Troop 756 to meet with some of their scouts to review their rights and obligations as an American citizen and how a bill becomes a law on Sunday evening. I also reminded them how much this program has done to help me, my brother, and our sons for so many decades!
Hearing Highlights Ideas to Combat Lyme Disease in PA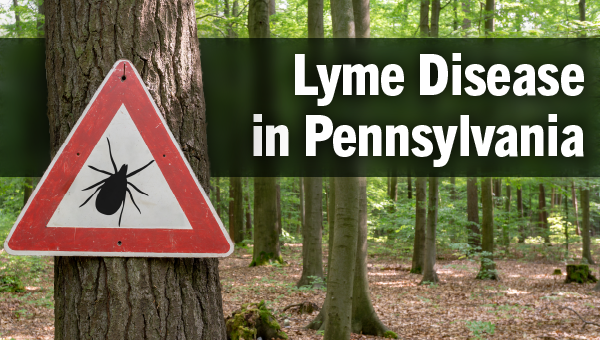 Pennsylvania leads the nation in Lyme disease cases, with children making up the largest demographic affected.
The Senate Health and Human Services Committee held a public hearing to increase understanding of tick-borne diseases, tick testing and mitigation, testing options for physicians and patients, and guidelines for treatment options.
September is Suicide Prevention Month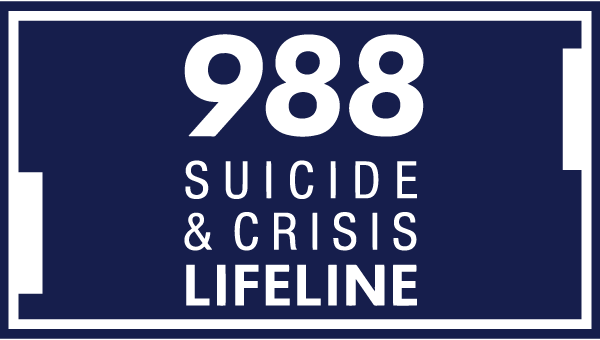 Approximately 1.2 million adults attempt suicide annually in the United States, with more than 85% reporting having made a suicide plan prior to their attempt. In 2020, the most recent year that data is available, approximately 1,700 people died by suicide in Pennsylvania.
Suicide Prevention Month provides an opportunity to remind Pennsylvanians that help is always available. This summer, the 988 Suicide and Crisis Lifeline officially launched nationwide, streamlining call and text access to the national lifeline that provides no-cost crisis response support 24 hours a day, 365 days a year.
In addition to 988, many other resources also remain available to Pennsylvanians in need of support, including:
Crisis Text Line: Text "PA" to 741-741
Veteran Crisis Line: 1-800-273-TALK (8255)
Mothers: 1-833-9-HELP4MOMS
Farmers AgriStress mental health hotline: 833-897-2474
Disaster Distress Helpline: 1-800-985-5990
Get Help Now Hotline (for substance use disorders): 1-800-662-4357
Rosh Hashanah Begins Sunday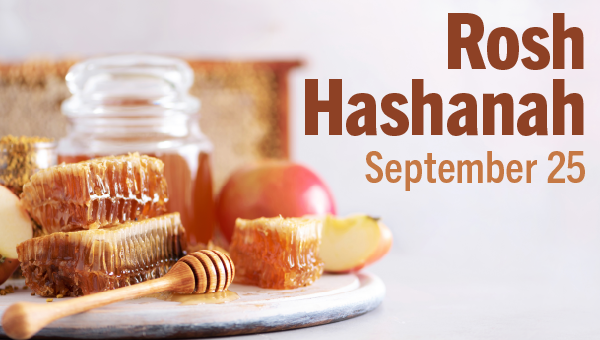 Rosh Hashanah begins at sundown on Sunday and ends at nightfall Tuesday evening. For all who observe this Jewish holiday, happy new year!