Governor Wolf's Vetoes Require Constitutional Amendments
"Zuckerbucks" Banned in Pennsylvania
New State Budget Invests in Boosting School Safety
House Begins Impeachment Investigation of DA Larry Krasner
Reviewing Governor and Lieutenant Governor Disability Procedures
New Law Prevents Future Department of State Mistakes
Increased Penalties for Hiring Unauthorized Workers Approved by Senate
Deana's Law Increases Penalties for Repeat DUIs
---
Governor Wolf's Vetoes Require Constitutional Amendments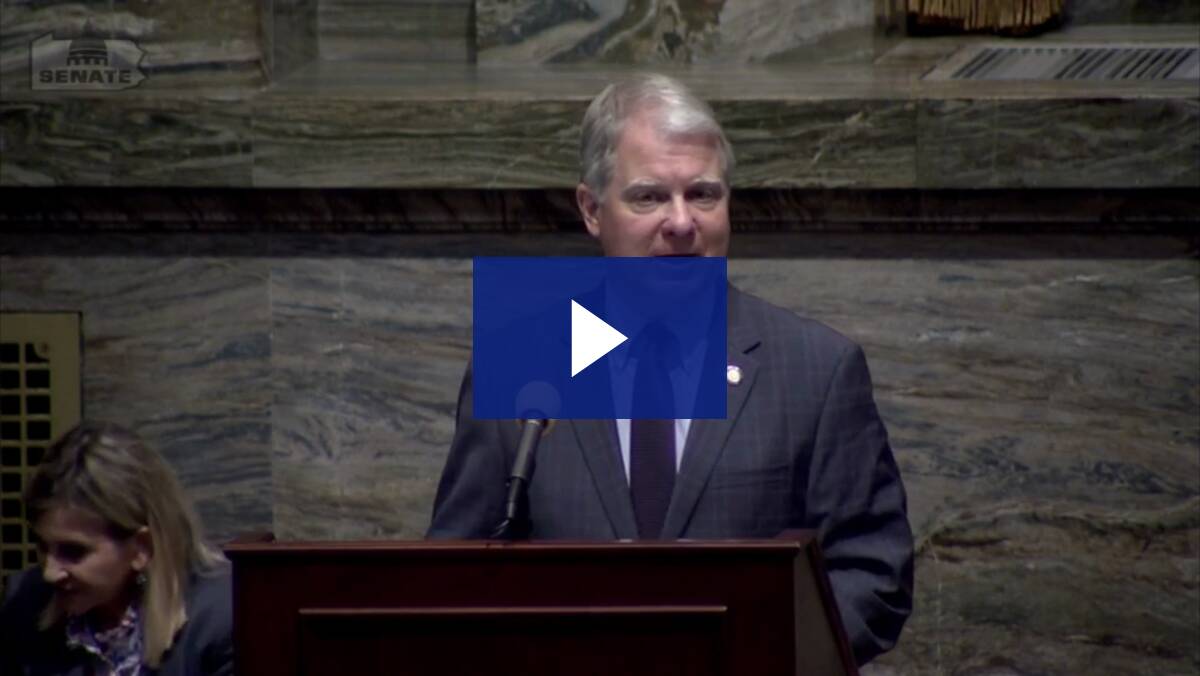 My bill to give the people of Pennsylvania the chance to decide several amendments to the Pennsylvania Constitution was recently approved by the General Assembly.
Past governors, Republicans and Democrats, have worked with the General Assembly, frequently coming to the negotiating table again and again to find bipartisan solutions to the issues facing Pennsylvania.
This has NOT been the case with Governor Wolf. He has now issued 63 vetoes, more than any governor since the 1970s.
This leaves us no choice but to proceed with the constitutional amendment process, to require some form of identification at the polls, to limit his "my way or the highway" regulations approved without votes of the House or the Senate, to elect lieutenant governors the same way we elect vice presidents at the national level, to allow auditor generals of any political party to review the conduct of our elections, and to let the voters decide if they want taxpayer dollars spent on abortions.
"Zuckerbucks" Banned in Pennsylvania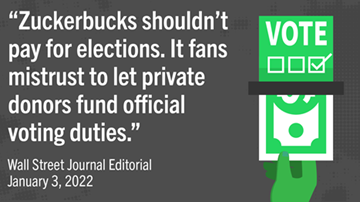 A bill I have strongly supported to ban the use of private funding, or Zuckerbucks, for election administration was signed into law this month. In 2020, dark money grants were funneled to select counties with little transparency, raising the specter of outside groups attempting to influence election results.
Some counties received millions, while other counties received ZERO. The approval of this bill strengthens the integrity of our elections.
Read an op-ed I wrote on this topic here.
New State Budget Invests in Boosting School Safety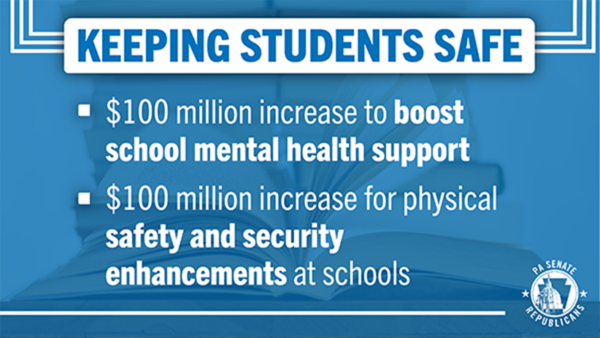 The 2022-23 state budget approved by the General Assembly increases statewide spending on mental health support and physical safety and security enhancements by $100 million each.
I'm thankful this critical funding is coming to our local communities to protect our students. Just a few years ago, Governor Wolf proposed providing $0 for school safety measures. We've shown him just how important these dollars are.
The budget also invests over $2 billion in the rainy-day fund to protect against hard economic times, increases funding for the property tax rent rebate program by 70%, funds an extra $175 million to fix our roads and bridges, and invests $125 million in a new program to fix blighted homes.
Watch my full comments on the budget below.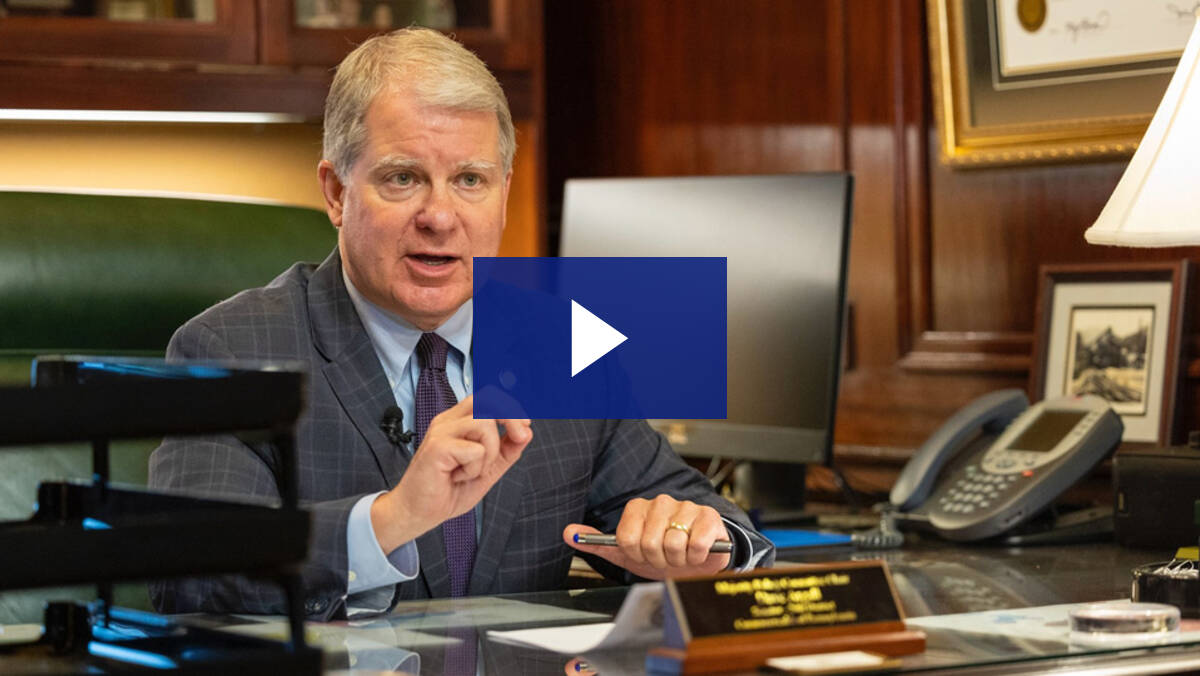 House Begins Impeachment Investigation of DA Larry Krasner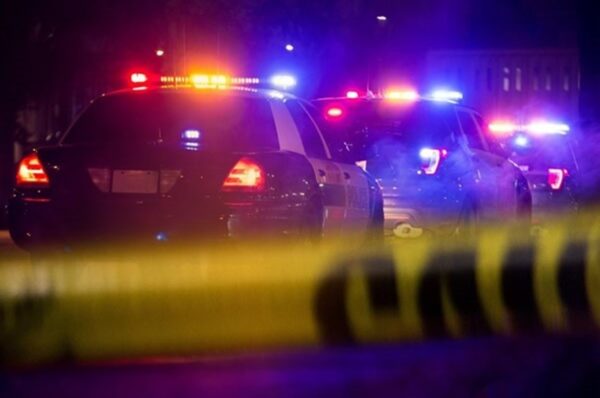 The state House of Representatives voted to create the Select Committee on Restoring Law and Order to review Philadelphia's record-setting levels of gun violence and consider the impeachment of District Attorney Larry Krasner.
Krasner's soft on crime approach led to a record number of homicides in 2021 and widespread concerns from residents about the safety of their city. Members of the Senate have criticized Krasner for his soft on crime approach, including the Senate's only Independent, Senator John Yudichak (I-14).
Reviewing Governor and Lieutenant Governor Disability Procedures
I chaired a hearing of the State Government Committee reviewing the legal requirements for incapacitated governors or lieutenant governors. We learned from our initial review that the law has been applied differently in all three cases it was needed.
These procedures came into the spotlight in May when Lieutenant Governor John Fetterman underwent a pacemaker operation following a stroke. Since his stroke, Lieutenant Governor Fetterman has not presided over the Senate.
The committee issued invitations to former Lt. Gov. Mark Singel and Lt. Gov. Fetterman to hear their personal experiences with this law. Lt. Gov. Singel submitted a written statement, while Lt. Gov. Fetterman declined to participate.
Learn more about the hearing here.
New Law Prevents Future Department of State Mistakes

My bill to prevent future mistakes at the Department of State was signed into law.
An error by the Department of State delayed a bipartisan effort to bring justice to victims of childhood sexual abuse and led to the resignation of Secretary Kathy Boockvar.
Now that the bill is law, the Department of State is required to follow specific procedures when advertising constitutional amendments, to ensure this sort of awful mistake can never happen again.
Increased Penalties for Hiring Unauthorized Workers Approved by Senate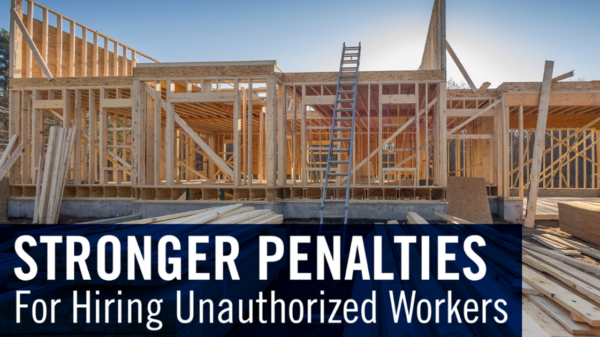 A bill to improve enforcement of the construction industry's use of the federal E-Verify system was approved by the Senate and sent to the House of Representatives for consideration. The federal E-Verify system determines the eligibility of employees – both U.S. and foreign citizens – to work in America.
Senate Bill 1147 would make the financial penalties more meaningful. Rather than the current penalty of $250 – $1,000, violators would face a fine of $2,500 – $25,000. Senate Bill 1147 streamlines enforcement and reduces the need for time-consuming audits by requiring construction contractors to be enrolled in E-Verify upfront and makes it a punishable offense if they are not.
Deana's Law Increases Penalties for Repeat DUIs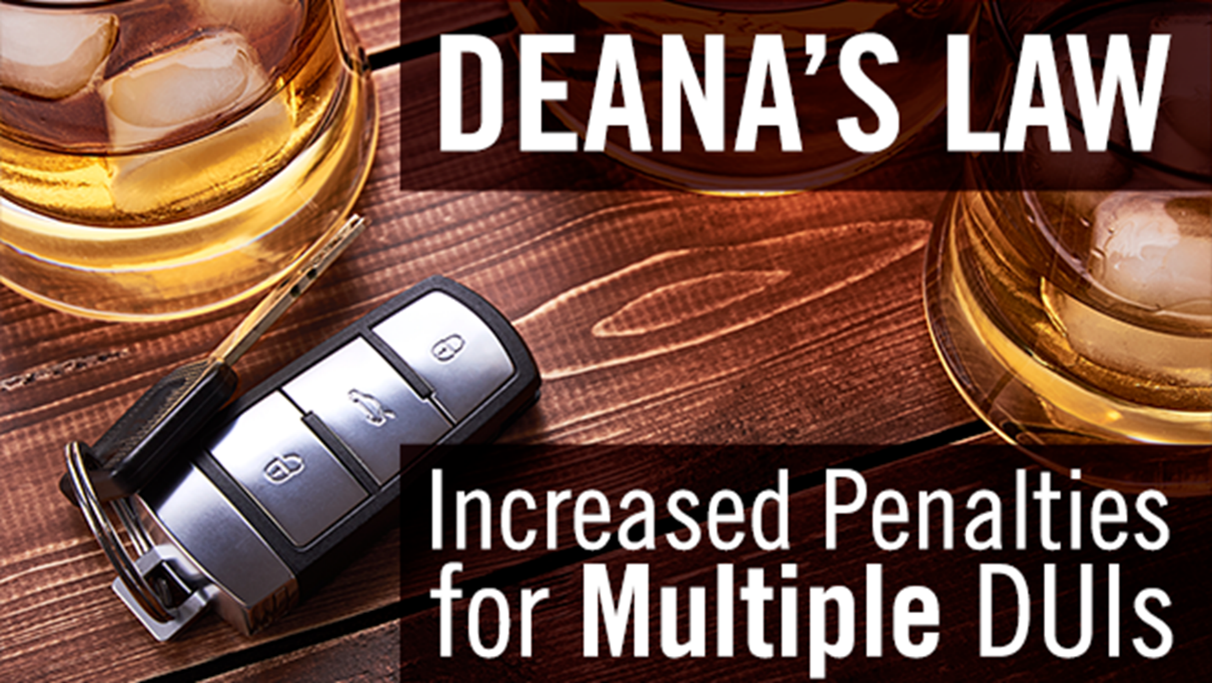 No one should lose a loved one due to the reckless actions of repeat DUI offenders.
A bill to increase penalties for drivers charged with 3 or more DUIs was approved by the Senate and signed into law. It was introduced in honor of Deana Eckman, who was tragically killed in a car accident involving an intoxicated driver who had 5 previous DUI convictions.
I chaired a public hearing of the Majority Policy Committee with former state Senator Tom Killion discussing the importance of stopping these heinous acts.