In this update:
Strengthening the Integrity of Pennsylvania's Elections
Ensuring Continuity of Government
Captain/Rep. Kerwin Trains with Army National Guard
Growing Greener III Invests in Local Resources
Twardzik to Host Child Car Seat Safety Check
Help for Veterans and Beneficiaries Facing Unexpected Hardships
PennDOT Hiring Event in Schuylkill Haven
Unemployment Rate Continues to Lag Behind Other States
Argall Report: Eckley Miners' Village
---
Strengthening the Integrity of Pennsylvania's Elections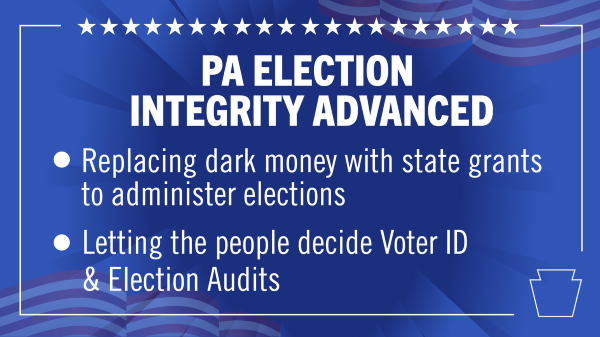 Most Pennsylvanians say they are dissatisfied with the way elections are conducted in the state, according to a recent poll. To address this, the General Assembly passed one of the most significant election integrity packages in America.
The General Assembly passed two proposed amendments to the Pennsylvania Constitution addressing elections. When approved again in the 2023-24 legislative session, the questions will be put on the ballot for voters to decide.
One of these amendments would require all voters to present a valid form of identification prior to voting in person or by mail. Seventy-four percent of Pennsylvanians support requiring voters to present identification to vote.
A separate proposed amendment would require the General Assembly to provide for audits of elections, including the administration of elections and the results. This crucial work would be performed by the state Auditor General.
In addition to moving these constitutional questions one step closer to voters, the General Assembly passed Act 88 of 2022 to get private money out of the administration of our elections. The legislation was created after certain counties received millions of dollars from a group funded by Facebook founder Mark Zuckerberg during the 2020 Election.
The new law creates state government grants for counties to cover costs such as hiring and training staff, printing ballots, and managing voting machines and tabulation equipment. In return, counties who accept the money are required to take several critical steps to ensure the integrity of the process.
I continue to hear concerns from many of you about election integrity. I strongly supported all of these measures to begin to restore the faith of all Pennsylvanians in our elections.
Ensuring Continuity of Government
I recently sent a letter to Lt. Governor John Fetterman requesting records of his communications with the governor's office when he suffered a stroke in May.
In my letter, I said, "we would be interested to learn whether your condition during your period of hospitalization warranted the disability procedures being invoked at that time. You were quoted in news reports as saying you almost died, which speaks to the gravity of the situation. In addition, given your unique perspective on this matter, your recommendations on how the law could be improved would be welcomed and appreciated."
I understand the lt. governor is going through a really difficult period and we're trying to be cognizant of that. But if he has time to do political fundraisers, I think he should be able to do his job and testify in front of my committee.
Read more here.
Captain/Rep. Kerwin Trains with Army National Guard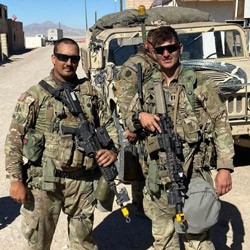 State Rep. Joe Kerwin, who represents western Schuylkill County in the PA House of Representatives, also serves as an infantry company commander in the Army National Guard. He recently took part in a month-long combat training operation in the Mojave Desert in California.
The exercise involved over 4,000 PA Army National Guard members and about 1,300 vehicles and aircraft. To Captain/Representative Kerwin and all who participated: thank you for your service to our nation.
Growing Greener III Invests in Local Resources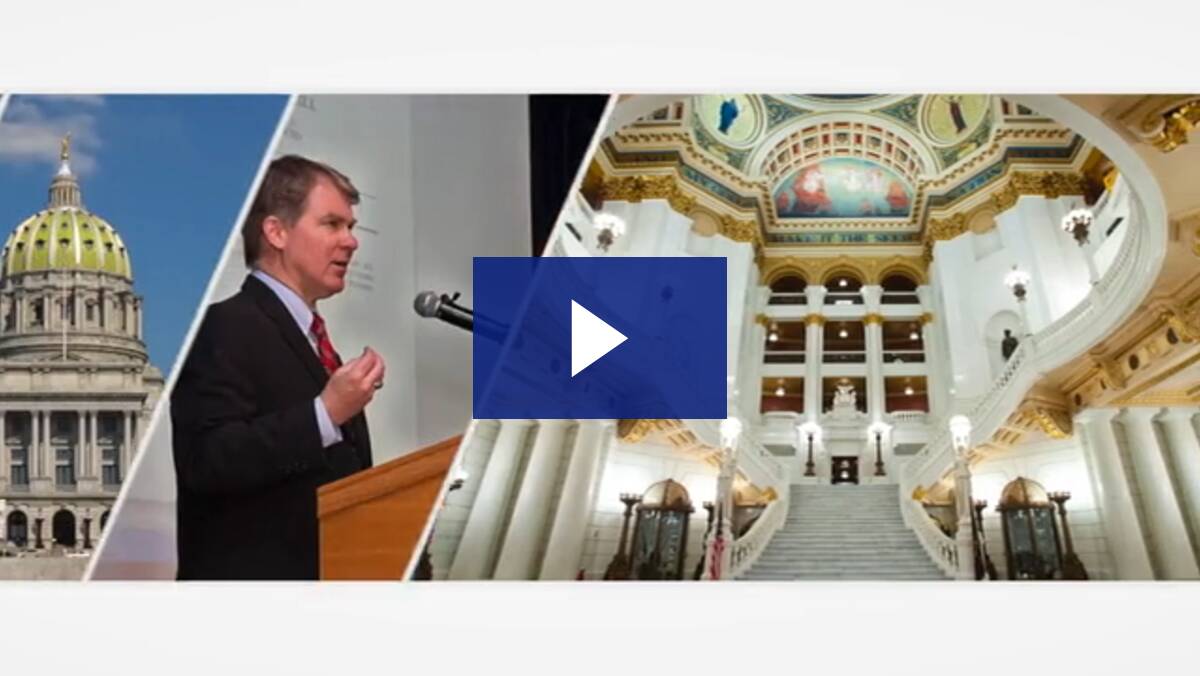 This year's state budget invests $640 million in programs to preserve farmland, restore abandoned mine land, help reduce flooding and water pollution, clean up waterways, and improve state parks.
I was a sponsor of the original Growing Greener program and will continue to support these investments. I've seen first-hand the impact this funding can have on efforts to strengthen our local economy.
Check out the video above to watch a previous edition of the Argall Report where I discuss local efforts to clean up waterways and improve outdoor recreation.
Rep. Twardzik to Host Child Car Seat Safety Check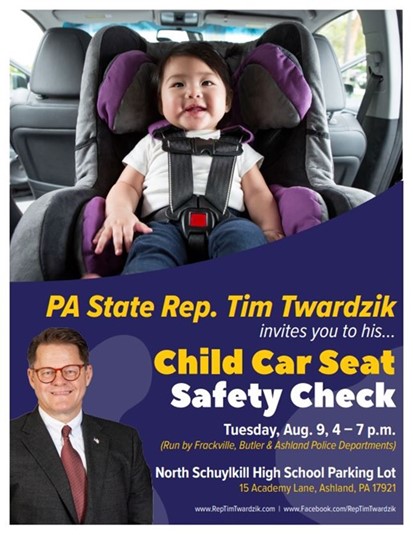 State Rep. Tim Twardzik will be hosting a FREE Child Car Seat Safety Check event on Tuesday, Aug. 9, from 4-7 p.m. at the North Schuylkill High School parking lot located at 15 Academy Lane, Ashland, PA 17921.
The event will be run by the Frackville, Butler, and Ashland police departments.
Help for Veterans and Beneficiaries Facing Unexpected Hardships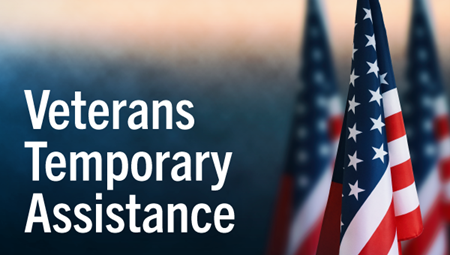 Pennsylvania veterans and beneficiaries facing a crisis can receive financial relief for necessities of life such as food, shelter, fuel and clothing through the Veterans Temporary Assistance program.
Eligible veterans or their beneficiaries can qualify for up to $1,600 in a 12-month period. Eligibility requirements include: a person who served in the U.S. Armed Forces (discharged under honorable conditions), died in service or was killed in action, or suffered a service-connected disability.
To apply, contact the County Veterans Affairs Director in your county.
PennDOT Hiring Event in Schuylkill Haven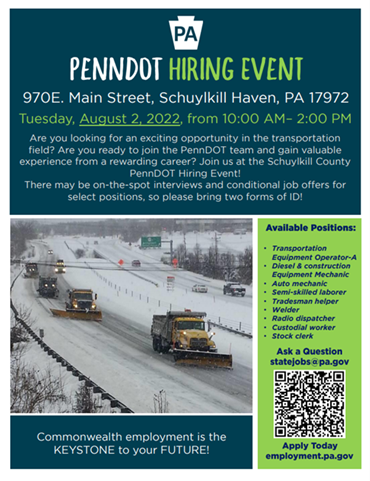 PennDOT is hiring! Visit their hiring event at 970 E. Main Street, Schuylkill Haven on Tuesday, August 2nd from 10:00 a.m. – 2:00 p.m.
Unemployment Rate Continues to Lag Behind Other States
Pennsylvania's unemployment rate fell slightly to 4.5% in the last month yet still continues to lag behind much of the rest of the nation, ranking 45th out of the 50 states. Two years since the Governor shut down employees and employers across the state, Pennsylvania has not yet recovered all of the jobs lost in the first two months of the pandemic.
See the full ranking of states here.
Argall Report: Eckley Miners' Village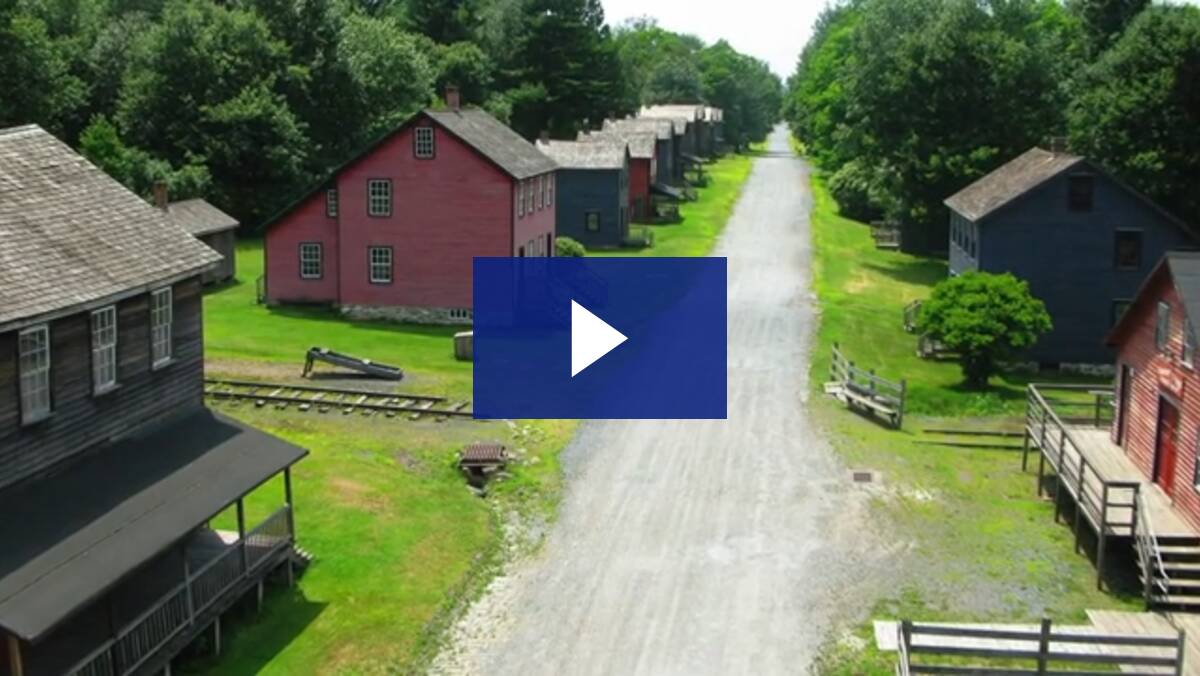 The July edition of my monthly TV program features a recent visit I made to Eckley Miners' Village in the Hazleton area with Senator John Yudichak (I-14).
Eckley Miners' Village, just like neighboring Jim Thorpe, Pottsville, and Tamaqua, showcases the history of our region. It's one of the many attractions that continues to bring visitors to the area to appreciate the unique culture of the region that helped drive the Industrial Revolution.
This edition will air on:
Blue Ridge Communications (Channel 13) every Monday at 10 a.m. and every Wednesday at 10:30 p.m.
Berks Community Television (Comcast – Channel 15 and Service Electric – Channel 19) on Thursday at 10 p.m. and Friday at 8 p.m.
Service Electric Cablevision: Hazleton, Mahanoy City; Shenandoah – on Hazleton's WYLN TV 35 Channel 507 and MetroCast Communications Channel 10. Please check local listings for air times.
This and all previous editions are also available on my website.