Pennsylvania: The Dangers of One-Man Rule
50 Governors- 50 Different Types of "Science & Data"
High Unemployment & Jobs Available—Yet No One Applying?
Senate Advances Bills to Support Pennsylvania Firefighters
Prescription Drug Pricing Transparency
Coal Miners' Heritage Festival
Coronavirus Emergency Order Day 114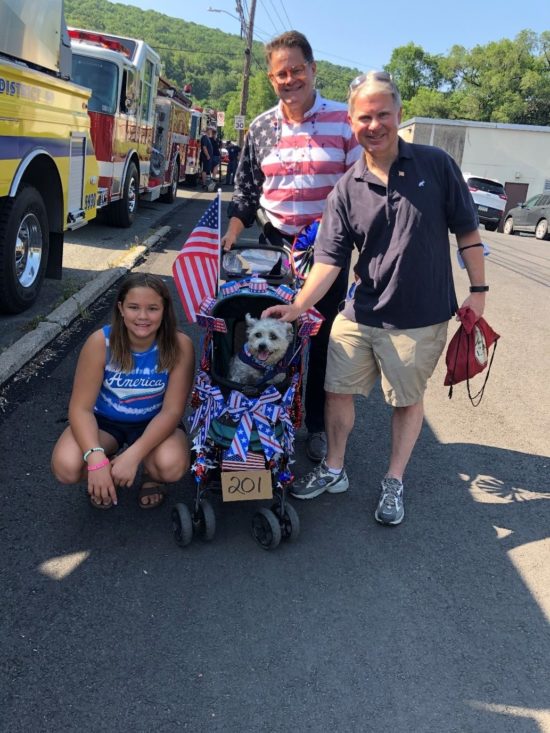 (Enjoying July 4th in Port Carbon with Kasi and her dog Dozer, and Tim Twardzik of Mrs. T's Pierogies)
Adapting…..that may be the key to how we finally succeed in overcoming the dangers of COVID 19 AND rebuilding our economy!
In the last few days, I've seen several successful examples right here in the 29th Senate District. On Saturday, I was invited to return to the small town of Port Carbon for its annual parade to celebrate our Independence Day. The parade went on, as always, thanks to the efforts of many community volunteers. I very much enjoyed walking the same streets again that I knew so well from my time there as a boy with my classmates from the Kindergarten and First Grade classes at the old elementary school. At the end of the parade, there was no assembly, due to the need to protect our health—but the important thing to me was that the community did not give up, it found a way to hold its annual parade AND to protect our safety.
A few days earlier, I visited my Scout Troop at its annual summer camp….but this time, since the local Council's usually well-staffed and beautiful camp on the Blue Mountain near Summit Station has had to temporarily close due to the PA Secretary of Health's COVID 19 rules, the Scouts and their leaders decided to camp closer to home—at Tamaqua's beautiful Owl Creek reservoir. Instead of paid staff, the boys enjoyed the services of moms and dads and local volunteers. Instead of two boys to a tent, to maintain social distancing rules, each boy enjoyed his own tent; but the important thing to me is that the week succeeded. The Scouts learned, the Scouts had fun, and all adapted….and made memories that will last a lifetime.
That's how we'll stay safe, that's how we'll rebuild our local economy in Berks and Schuylkill Counties….Adapting day by day, individual by individual, community by community!
Pennsylvania: The Dangers of One-Man Rule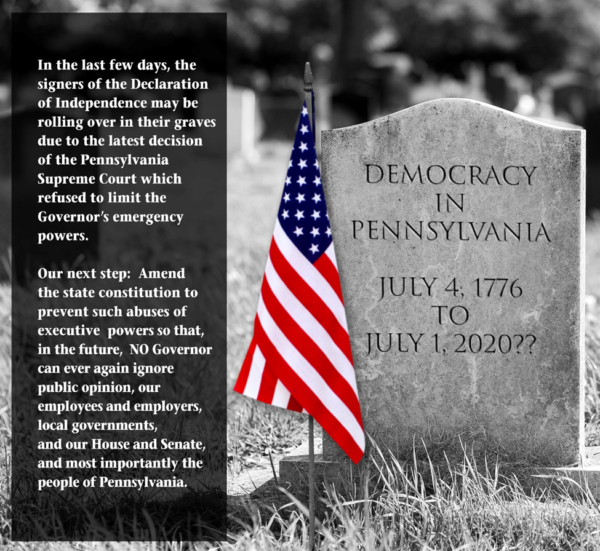 Every July 4th, we celebrate the freedoms that we as Americans cherish and the democratic ideals instilled in our republic. We are a nation of laws where three separate, but co-equal branches of government exist to protect those freedoms.
As we entered the July 4th weekend, I was frustrated to see that the Pennsylvania Supreme Court refused to listen to the concerns of millions of Pennsylvanians by siding with the Governor and refusing to limit his emergency powers which have shut down much of our state since March. I continue to believe that we can protect the health and well-being of our citizens AND rebuild our economy to provide for both our employees and employers.
In order to ensure that the vast powers of this state are never again wielded by just one person, the Senate has approved, by a large bipartisan majority, the first step in a constitutional amendment to prevent future governors from shutting down the state's economy without the approval of the public, the House and the Senate, and local governments.
The bill also amends the Pennsylvania Constitution to prohibit the denial of equal rights based on race or ethnicity. This much-needed change will bring our state Constitution into line with the equal protections that are granted to us by the U.S. Constitution.
50 Governors- 50 Different Types of "Science & Data"
No elected official has had more power over the response to the COVID-19 pandemic than each state's governor. Every governor, regardless of party, region or experience, have said they are using the best "science and data" to protect the health of those they were elected to represent. Yet we have seen vastly different plans for how to close down and reopen the economy, regardless of region or political affiliation.
All the Governors, including Governor Wolf, have defended their actions and have yet to admit that they have made any missteps. But if they are all following the science and data, they cannot all be correct at the same time and have vastly different policies, right? You can read more here: https://thehill.com/opinion/finance/502491-governors-invoke-science-to-justify-vastly-different-reopening-policies
High Unemployment & Jobs Available—Yet No One Applying?
At several hearings of the Senate Majority Policy Committee, which I chair, many employers stated they have available jobs, yet few applicants to fill them with. This comes at a time of record unemployment numbers due to the Governor's shutdown. You can watch a video about this issue here, with a Berks County perspective: https://www.wfmz.com/video/state-lawmakers-local-business-leaders-gather-to-tackle-unemployment-issues-amid-pandemic/video_1972ab55-ac4d-501f-8107-60fbcce05c51.html
Senate Advances Bills to Support Pennsylvania Firefighters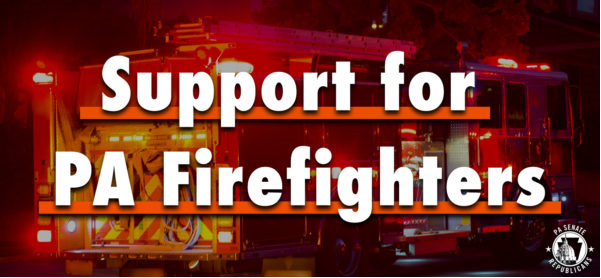 Several bills moved forward in the Senate recently to protect Pennsylvania firefighters.
Supporting our first responders is more important than ever as Pennsylvania continues to grapple with the COVID-19 pandemic. All these bills have received bipartisan support and I hope we can finally pass these bills to support our brave firefighters.
You can read more about these bills here: https://www.senatorargall.com/2020/07/01/senate-advances-bills-to-support-pennsylvania-firefighters/
Prescription Drug Pricing Transparency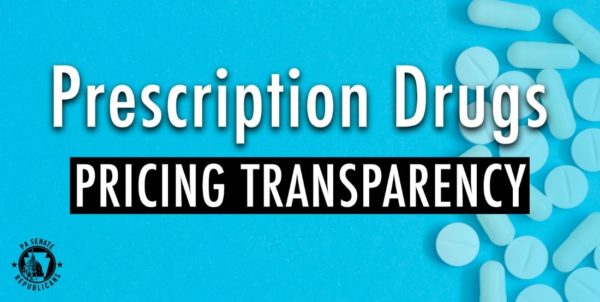 Prescription drug costs are a serious concern for many Pennsylvanians. The PA Senate voted to allow pharmacists to provide prescription drug cost information to consumers, including the individual's share of costs, and prohibit pharmacy benefits managers from penalizing pharmacies for selling a more affordable alternative. Consumers should be able to get the best available price for medications.
https://www.legis.state.pa.us/cfdocs/billInfo/billInfo.cfm?sYear=2019&sInd=0&body=H&type=B&bn=0943
Coal Miners' Heritage Festival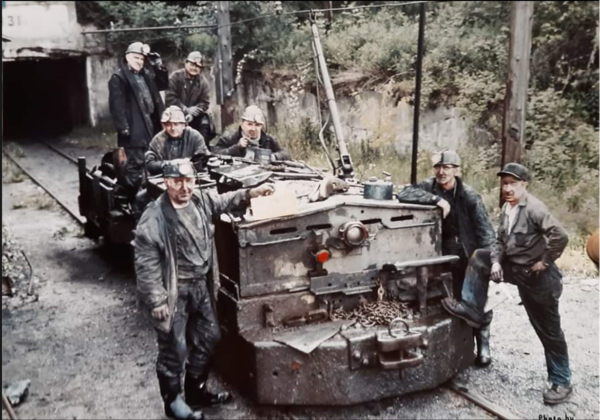 The 13th Annual Coal Miners' Heritage Festival will be held this Sunday, July 12th. The entrance to the mine is in Lansford in Carbon County and the mine extends into Schuylkill County underneath Coaldale. If you've never taken the tour, it's well worth the trip!
You can learn more here: https://www.facebook.com/events/809136499497955/