Follow Sen. Argall on Twitter for Senate happenings – @SenatorArgall
For photos from Sen. Argall, follow him on Instagram

In this email update:
Budget season is over!
3,400 jobs now at Highridge Business Park
The fight is not over on school property taxes
Prison closures are no simple matter
"Fish for Free Day"
Making highway work zones more safe
Recognizing my intern Danny Blugis
Fighting blight
Natural gas impact fees help the 29th District
Honoring our Eagle Scouts
---
Budget season is over!
Last Friday, the Governor signed a $32.7 billion budget after it passed 188-10 in the House of Representatives and 47-2 in the Senate. This is the first time since 2012 the budget has been passed on time, and the only time that Governor Wolf has actually signed a state budget into law!
With no new taxes, the most important increase in spending is $70 million for new school safety measures.
This budget will also increase our efforts to combat welfare fraud through the Office of the Inspector General. New funding will protect the integrity of our public assistance programs for those who truly need it while punishing those who try to game the system for their own benefit. This is a win for everyone, unless you're a welfare cheat.
In an effort to save taxpayer money, the Senate Republican caucus has cut down on our workforce.
In 2008, there was a total of 985 Senate employees of which 423 were Republican caucus employees and 184 were institutional employees. In 2018, there are 781 Senate employees ( – 204 from '08) with 379 Republican caucus employees ( – 44 from '08) and 127 institutional employees ( – 57 from '08).
You can see the overall decline of state government employment below.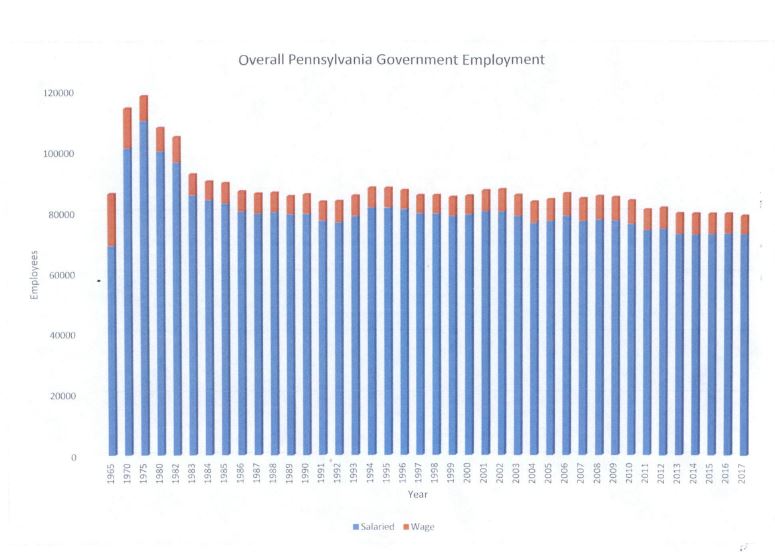 3,400 jobs now at Highridge Business Park
On Monday, I joined Hudson Bay Company officers in Highridge Business Park along I 81 in Schuylkill County for the dedication of the largest OPEX Perfect Pick case shuttle system in the world. I was still a member of the House of Representatives when the business park was being planned. We knew it would create jobs, but I don't know that any of us could have ever imagined 3,400 jobs!
There are usually 600 employees at the distribution center though this number can increase to 1,000 during the busy holiday season.
The fight is not over on school property taxes
In recent weeks I have received many emails from constituents asking when school property taxes will be eliminated. I have consistently fought against this unfair tax and during my telephone town hall last Tuesday (June 19), 79 percent of you said you would favor a plan eliminating the tax for homeowners and farms by raising the sales and income taxes.
On Tuesday, I spoke with Frank Andrews of WILK 103.1 FM about the progress being made on school property tax elimination. You can listen to that interview here.
Prison closures are no simple matter
Last Monday (June 18), I testified before the House State Government Committee about the importance of Senate Bill 748, also known as the Public Safety Facilities Act.
This legislation will stop sudden prison closures without public hearings. When the Governor's administration only provided a 20-day notice for the potential closing of SCI Frackville (which did not close) last January, local residents who were employed by the facility were panicked that they could potentially lose their paycheck and wouldn't be able to care for themselves or their families.
"Fish for Free Day"
Make sure the bait is fresh because Pennsylvania is allowing free fishing on Independence Day, Wednesday, July 4.
Fish-for-Free Days allow anyone (resident or non-resident) to legally fish on Pennsylvania waterways on the designated days with NO FISHING LICENSE REQUIRED (Trout/Salmon and Lake Erie permits are also NOT required). All other fishing regulations still apply.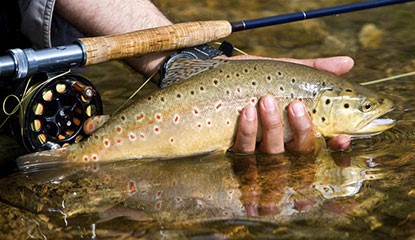 Making highway work zones more safe
The Senate passed my bill last Friday to provide additional safety for active highway work zones. Senate Bill 172 will allow for automated speed enforcements systems in active work zones along highways. If a motorist is caught speeding in these zones when construction workers are present, they will pay a fine of $75 for the first offense and a $150 fine for the second and each subsequent offense. This will save lives!
Recognizing my intern Danny Blugis
Last Friday, I introduced my intern Danny Blugis on the floor of the Senate. Danny is from Cressona in Schuylkill County and will be a senior Government student at Franklin and Marshall College. You can watch his introduction here.
Thanks for your help Danny!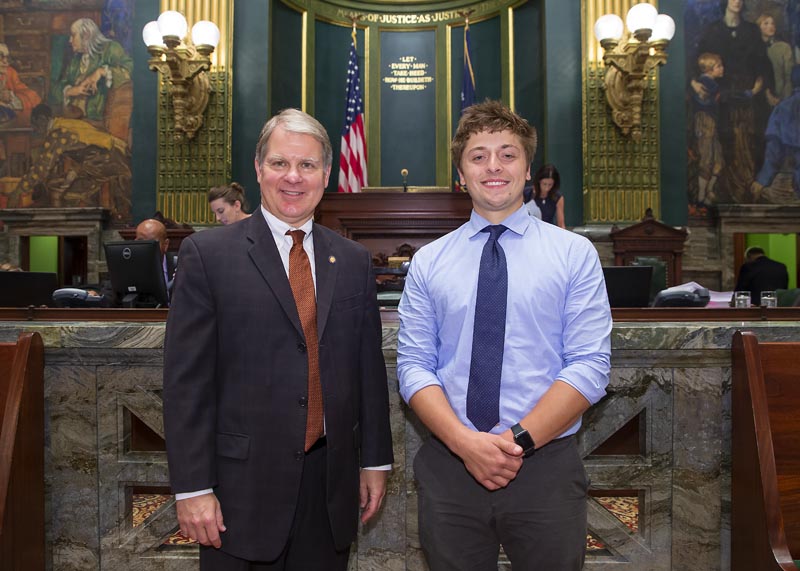 Fighting blight
On Tuesday, my bill, Senate Bill 851, became law. This legislation amends the Real Estate Tax Sale Law to clarify who truly owns properties that are in the delinquent tax sale process.
This law now clarifies that ownership responsibilities for a delinquent property will remain with the owner of record until the property is actually sold and the deed is transferred. We can now hold more negligent owners responsible for the violations they commit!
Natural gas impact fees help the 29th District
Since 2012, the Impact Fee on natural gas producers has generated $1.4 billion in new revenue for the state. The Pennsylvania Public Utility Commission is responsible for assessing, collecting and distributing the fee which is then allocated to local governments.
I am pleased to see that, again in 2017, the citizens of the 29th Senatorial District will benefit from this fee. Berks County has been given $369,423 and Schuylkill County, $127,866.
Honoring our Eagle Scouts
Jacob Underwood of Troop 202 in Sinking Spring received a Senate citation on June 18 for earning the rank of Eagle Scout. For his project, he cleaned and planted flowers and bushes at the entrance of the Lincoln Park Pool. He also built a wood-framed flower bed around the existing entrance sign to the pool and placed flowers and mulch in bed.
Seth Hubler of Troop 600 in Llewellyn also received a Senate citation for reaching the rank of Eagle Scout on June 23. Seth earned over 60 badges (8 palms) during his time in Scouts, an accomplishment almost unheard of in the organization!