Wolf Vetoes Bill to Protect Small Businesses, Election Integrity
New Funding Supports Families, Small Businesses, Nursing Homes, First Responders and More
Inmate Release Update
Election Results
Water and Sewage Facilities Grant Awarded to McAdoo Borough
Preliminary Guidelines Set for Students to Return to School
Guidance Available for Parents With Children Returning to Child Care
PUA System Will Now Send Paper Checks to Claimants
Shutdown Day-79
Wolf Vetoes Bill to Protect Small Businesses, Election Integrity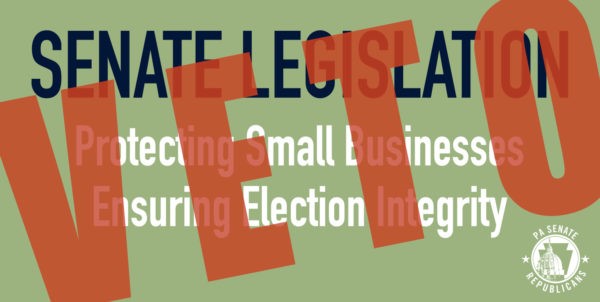 While Governor Wolf was signing bills the Senate passed to create an interim budget and distribute additional federal money to vital community needs, he vetoed a bill that would have prevented state government from retaliating against small businesses who reopened with new safety measures before the governor felt it was safe to do so.
The bill would have protected small businesses from being cited or having their license revoked solely from violating the governor's arbitrary, inconsistent shutdown orders.
The legislation also would have required the Department of State to submit a comprehensive report about the 2020 primary election, including a critical review of the new mail-in ballot system that was implemented this year.
Although the veto of this commonsense plan is extremely frustrating and disappointing, I will continue to fight to ensure more businesses can open safely under the guidance of state and national health experts as soon as possible.
New Funding Supports Families, Small Businesses, Nursing Homes, First Responders and More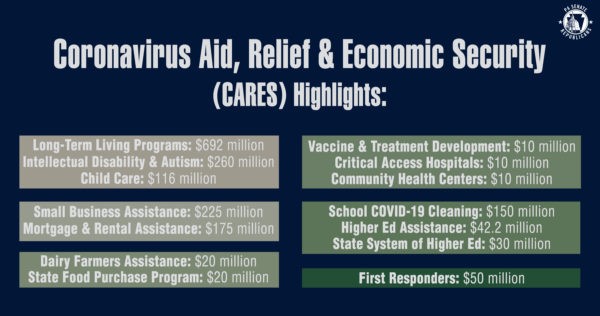 Last week, the General Assembly approved a bipartisan package of bills to deliver funding to families and organizations impacted by the COVID-19 pandemic, including small businesses, nursing homes, first responders and affected employees. The funding comes from a portion of Pennsylvania's share of money from the Coronavirus Aid, Relief, and Economic Security (CARES) Act.
Approximately two-thirds of all COVID-19 deaths in the state have been residents of nursing homes and other long-term living facilities. More than $690 million in the package is dedicated to increased testing, infection control, personal protective equipment and other measures to support residents and staff.
An additional $225 million is directed to help small business recover from the damages caused by the pandemic and the governor's shutdown orders. A portion of new funding directed to counties can be used for small business assistance as well.
The CARES package also provides important assistance to low- and middle–income families by investing $175 million through the Pennsylvania Housing Finance Agency to provide rent and mortgage assistance. The program would provide monthly mortgage assistance, up to $1,000, and rent assistance, up to $750, to those who lost their job or experienced a 30 percent or more loss in pay as a result of the coronavirus.
In addition, a new $50 million COVID-19 Crisis Fire Company and Emergency Medical Services Grant Program would be created to provide grants to all companies that received funding through the Fire Company Grant Program and Emergency Medical Services Grant Program in January. Companies that received a grant will automatically receive the additional money, while companies that did not receive a grant will need to submit an application to the Pennsylvania Emergency Management Agency.
Senate leaders offered more information on these and other programs funded by the CARES Act at a news conference last week.
Inmate Release Update
During the coronavirus pandemic, Governor Wolf crafted a plan to release nonviolent and medically vulnerable prisoners from state corrections facilities. Original estimates indicated that 1,500 to 1,800 prisoners could be released as a result of this plan. For reasons that are not yet clear, fewer than 150 were ultimately granted this reprieve. Some have speculated that the strict criteria required for release is the cause of this discrepancy. You can read more here.
Election Results
Thank you to everyone for exercising your right to vote whether in person or through mail on Tuesday. To find election results for Tuesday primary, follow this link.
Water and Sewage Facilities Grant Awarded to McAdoo Borough
To help ease the burden on the local community, Rep. Jerry Knowles (R-Berks/Carbon/Schuylkill) and I announced that a grant has been awarded to McAdoo Borough, under the Department of Community and Economic Development's Community Development Block Grant (CDBG) funding program. The funding will be allocated for the relocation of the Celebration Creek storm water line.
I'm pleased that McAdoo Borough received this desperately needed grant. This project will go a long way towards preventing future flooding in the area and will help protect the health and safety of local residents in this area.
Preliminary Guidelines Set for Students to Return to School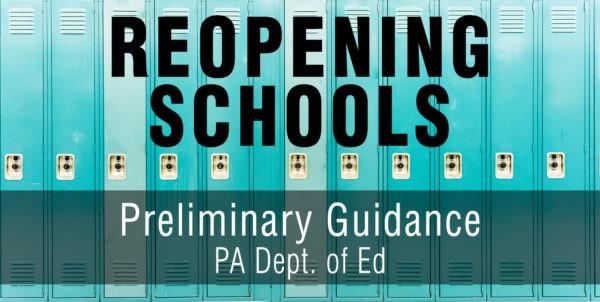 The Pennsylvania Department of Education announced new guidelines this week for elementary, secondary and post-secondary schools to reopen in the near future. K-12 schools can begin reopening as early as July, and colleges, trade schools and other post-secondary schools can begin offering classes again as soon as Friday.
Guidance Available for Parents With Children Returning to Child Care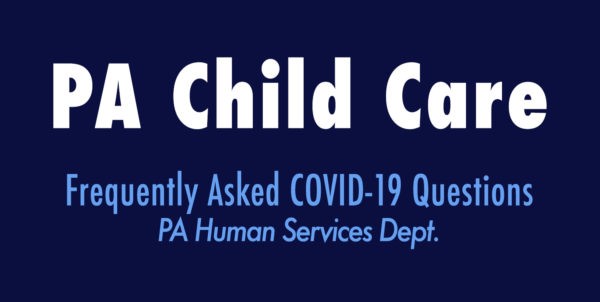 As the governor's COVID-19 restrictions begin to ease and more Pennsylvanians prepare to get back to work, new guidance is available for parents with children who will be returning to child care facilities.
All facilities are required to follow guidelines from the U.S. Centers for Disease Control specifically for child care centers. Under the guidance, all staff are required to wear masks, but children and youth are not required to do so. Masks are encouraged, but not required, for older youth in indoor or crowded settings. Additional requirements are also included for health screenings, sanitation, and notification if any staff member or child tests positive for COVID-19.
If you or someone you know is heading back to work and needs help finding child care options, help is available here.
PUA System Will Now Send Paper Checks to Claimants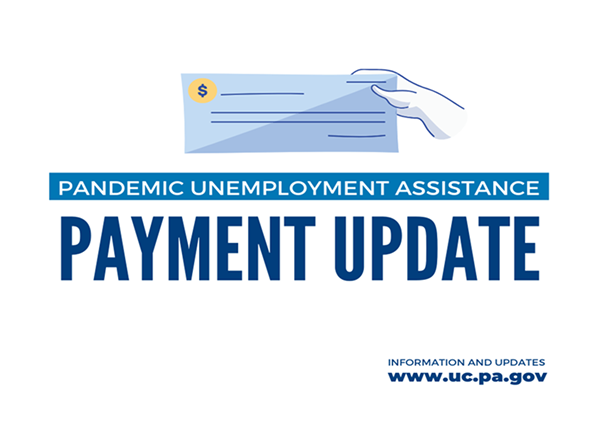 The Department of Labor and Industry recently uncovered cases of attempted fraud in which scammers tried to use the personal information of victims to file for benefits and route payments into their own bank accounts. In response to these cases, claimants in the Pandemic Unemployment Assistance (PUA) system will now receive benefits via paper checks delivered through the U.S. Postal Service instead of receiving payments by direct deposit.
Anyone who receives a paper check in the mail who did not file for PUA benefits should return the uncashed check to:
Department of Treasury Comptroller's Office
Attn: Mark Accorsi
Room 113, Finance Building
Harrisburg, PA 17120
More information on combatting unemployment fraud is available here.