Tuesday: Emergency Declaration Questions on the Primary Election Ballot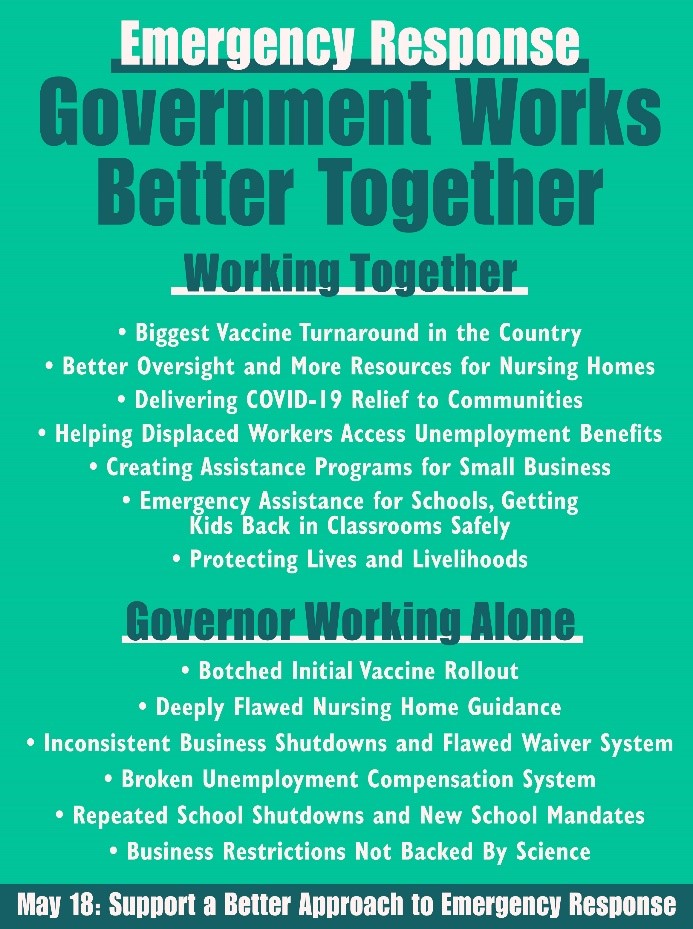 The May 18 primary election features two proposed constitutional amendments to improve Pennsylvania's emergency declaration process. There has been a great deal of confusion about what the amendments would accomplish.
Here are some answers to frequently asked questions:
Will voting YES on the amendments immediately end the current emergency declaration?
No. Voting YES would only give lawmakers the opportunity to collaborate with the Executive Branch to avoid many of the negative consequences we have seen as a result of Governor Wolf's unilateral actions.
Is the General Assembly able to meet quickly enough to respond to emergencies?
Absolutely. The PA General Assembly proved its ability to move quickly after the governor's COVID-19 shutdown orders, becoming the nation's first legislature to meet virtually. Lawmakers quickly delayed the primary election, authorized small business assistance, enacted local government emergency provisions, removed school mandates and ensured healthcare workers had PPE.
Can the General Assembly meet frequently enough to extend emergency declarations every 21 days?
Yes. Senate and House leaders can alter the schedule to accommodate votes to extend an emergency declaration every three weeks, if necessary.
Would the state risk losing federal money for food assistance and other emergency funding if the amendments are approved?
No. Legislative leaders intend to work with the governor cooperatively and in the best interests of the people of Pennsylvania to preserve access to federal emergency relief funding, while protecting lives and livelihoods.
Will these amendments apply only to the current governor?
No. This would apply to all future governors, Republicans and Democrats.
You can find more information, including ballot wording and opinions from around the state, here.
There will also be two additional questions on the ballot, one that would amend the Pennsylvania Constitution to provide protections against discrimination based on race, and another that would give volunteer fire companies more power to raise money.
Remember this KEY fact: all registered voters are permitted to vote on these four questions during the Primary Election, including Independents and members of all political parties.