Follow Sen. Argall on Twitter for Senate happenings – @SenatorArgall
For photos from Sen. Argall, follow him on Instagram

In this email update:
Security funding for Non-Public Schools
Senate Passes Package of Farming First Bills to Support PA Agriculture
Committee advances my legislation to fight blight and support mine reclamation
Senate approves bill to reform how the lieutenant governor is elected
Around the district: National day of prayer, Pioneer Tunnel in Ashland, Minersville unveils plans for new veteran's memorial park
Security funding for Non-Public Schools
In response to last years' tragedy in Parkland, a Republican-majority General Assembly and a Democratic Governor agreed to a new $60 million grant program to fund school safety initiatives. During the 10 roundtable discussions I chaired with the Senate Majority Policy Committee, many applauded this effort to protect public school students, but noted that nonpublic schools need similar protection. In response to this, I recently introduced bipartisan legislation to ensure that this school safety funding is available to all schools, both public and private.
The students, teachers and parents in private schools and public schools deserve this protection. Here is more information on this subject from my capitol rotunda press conference this week:
Senate Passes Package of Farming First Bills to Support PA Agriculture
Agriculture is the backbone of Pennsylvania's economy and an important part of our heritage. The Senate approved seven bills this week that will support our farmers and help future generations of leaders in agriculture get started in the industry.
The Farming First package includes bills that will help landowners transfer property to beginning farmers; give farmers more flexibility in how they manage their land; ease transportation restrictions on large farm equipment and exempt milk haulers from weather-related travel bans; give farmers more options to generate revenue through agritourist and agritainment activities; and bring together leaders in agriculture to explore new ways to address financial challenges in Pennsylvania's dairy industry.
More details about the package of agriculture bills is available here.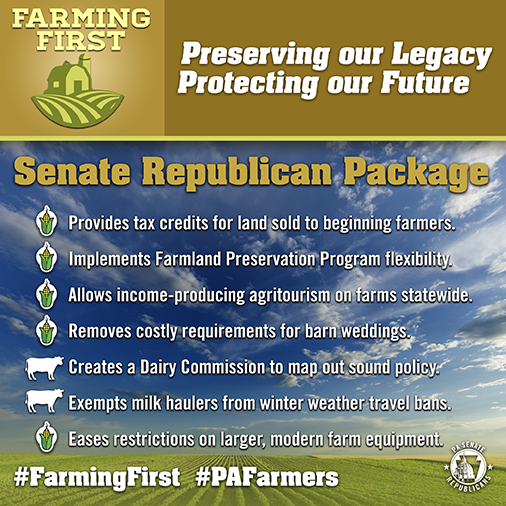 Committee advances my legislation to fight blight and support mine reclamation
This week, the Senate Finance Committee approved two bills that I sponsored to improve a tax credit program for older buildings and support the state's threatened coal refuse jobs.
Senate Bill 541 extends the tax credit to rehabilitate old structures and remediate dilapidated buildings.
These tax credits have been very effective in encouraging revitalization, at both the state and federal level. In many of these cases, these older buildings were once the pride of the community and now unfortunately, they're symbols of blight and urban decay. I am hopeful that this legislation will allow Pennsylvania to transform more blighted buildings and encourage revitalization efforts in our downtown and our neighborhoods in our communities, large and small.
Senate Bill 618 extends the Coal Refuse Energy and Reclamation Tax an additional 10 years and increases the maximum amount of tax credits. Coal refuse facilities throughout Pennsylvania have removed gigantic piles of waste coal across the state since the 1980s and 90s. Many of the massive pits from past strip-mining operations have been filled because of this work.
This legislation is important because it protects jobs and continues the environmental progress we have seen in the past few decades, which is only possible through a public-private partnership. Our children have grown up surrounded by many more green fields and mountains than I did. Our goal is that someday, our grandchildren and great-grandchildren will experience even more green, and many fewer gray and black landscapes as a direct result of this legislation.
There are currently 13 plants operating in Pennsylvania. Four of these plants are only operating on a seasonal basis, and two plants have already closed.
Both bills will now move to the full Senate for passage.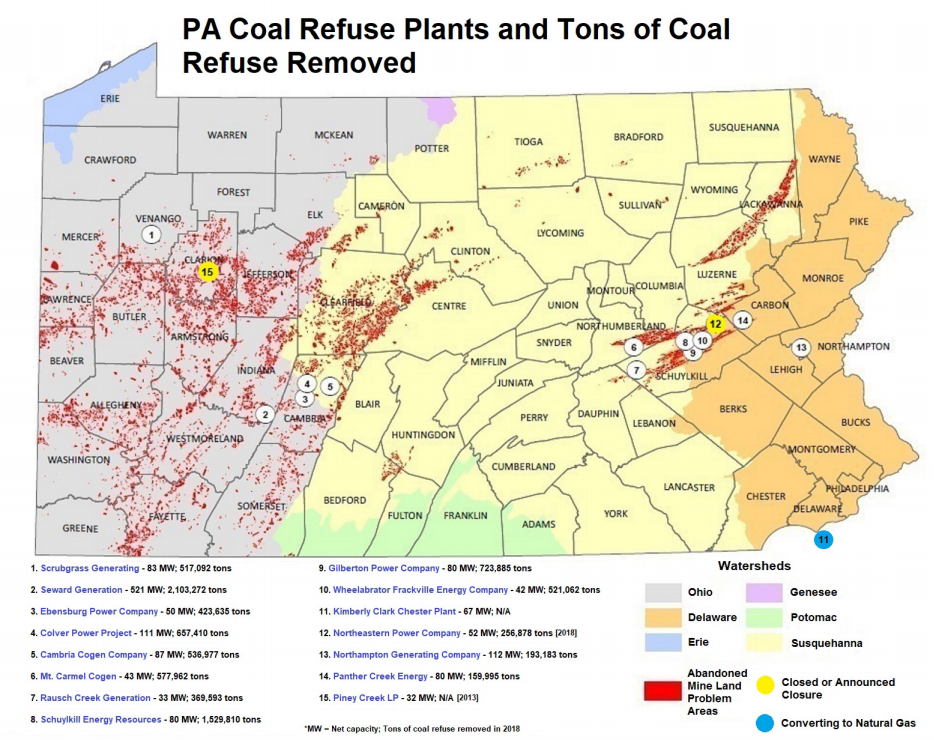 Senate approves bill to reform how the lieutenant governor is elected
This week, with a vote of 46 to 2, the Senate passed my bipartisan legislation to amend the state constitution to change how the lieutenant governor is selected in Pennsylvania.
Senate Bill 133 amends the state's constitution to permit candidates for governor to choose their lieutenant governor candidate after the primary election – a process that mirrors how presidential candidates currently select their vice presidential running mates.
In the past, we have seen a leadership team separate into two warring factions that spent weeks not talking to one another. If we want to succeed in Pennsylvania, then the Commonwealth's top two executive officials need to see eye-to-eye on the issues and not get distracted by petty rivalries.
The bill now moves to the House of Representatives. If approved by that chamber, it will again be voted on by both chambers during the 2021-2022 Legislative Session. In Pennsylvania, constitutional amendments such as Senate Bill 133 must be approved during two consecutive sessions of the General Assembly before they are finally approved by the voters.
Around the district…
National day of prayer
Last week in Tilden Township Blue Mountain Academy students, faculty, and community leaders invited me and Representative Jerry Knowles to celebrate the National Day of Prayer.
At this special event, I spoke of my very brave ancestors who came to Pennsylvania as Schwenkfelder refugees from the Germanic region of Silesia in the 1730s. They sought new freedom to practice their faith and escape the persecution of their homeland.
If you'd like to check out the full story with video from 69 news click here.
Pioneer Tunnel in Ashland
At the Pioneer Tunnel in Ashland, a horizontal drift mine that runs 1800 feet straight into the side of the Mahanoy Mountain, I met with their volunteer regarding additional funding from the private and public sectors to expand their tourism operations. This is one of the largest tourist attractions in Schuylkill County and is a must see attraction!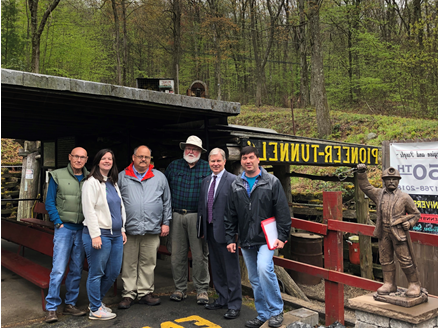 From left to right: Kevin Levitz, Chastity Moran, Ray Jones, Ed Wytovich, and Mike Bodnar.
Minersville unveils plans for new veteran's memorial park
The borough is creating a veterans memorial park where the American legion post 544 once stood. Over the past few years, the legion building turned into a blighted property. In 2016, the borough bought the property and demolished it, with assistance from my office and Representative Neal Goodman. Since that time, Minersville has received additional state funds to build a park in its place.
I recently attended the groundbreaking ceremony where they presented plans for what the park will look like. When completed, this will turn a blighted site into a park to honor our veterans. Congrats to Minersville!
Happy Mother's Day!