In this email edition:
Senate Hearing to Hear from Employers, Administration Officials
Governor Vetoes Common-Sense Bill
Governor Vetoes Massive Jobs Program
Governor's Shutdown Costs the State Billions
Pennsylvania's Deepening Partisan Divide
---
Senate Hearing to Hear from Employers, Administration Officials
On Thursday, the Senate will hold a public hearing to receive testimony from businesses and Wolf Administration officials about COVID-19 mitigation orders and their impact on Pennsylvania workers.
The joint hearing by the Senate Community, Economic & Recreational Development Committee and the Veterans Affairs & Emergency Preparedness Committee will be held from 10 a.m. to 1 p.m.
You can view the hearing live at PASenateGOP.com.
Governor Vetoes Common-Sense Bill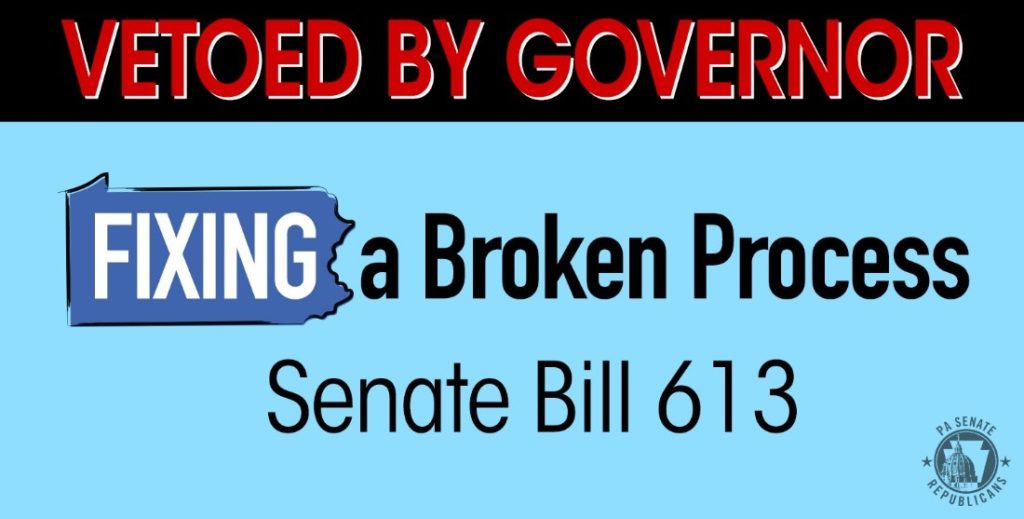 The Governor has vetoed the legislation approved by the House and the Senate last week which would have allowed more businesses to open only if they followed strict federal CDC and Department of Homeland Security COVID-19 guidelines.
Over 1.3 million Pennsylvanians have filed for unemployment. Most employers that submitted waivers from the Governor's shut down order have been denied and the Governor has yet to release a full list of employers who were granted and denied waivers. The Governor has also announced that his stay at home order will be extended until May 8.
Reaching some bipartisan consensus on a different issue, the Governor did sign SB 841. Notaries will now be able to perform remote notarizations allowing car dealerships to both sell and lease online. Local governments are also now given the chance to give taxpayers more time to pay property taxes without a penalty.
The Governor and the General Assembly should work together in a bipartisan manner to help mitigate the effects of the ongoing epidemic. We currently have a Democratic Governor and a Republican-majority legislature. The people may have voted for divided government, but they didn't ask for dysfunctional government. Much work remains to be done….by the House, the Senate, AND the Governor.
Governor Vetoes Massive Jobs Program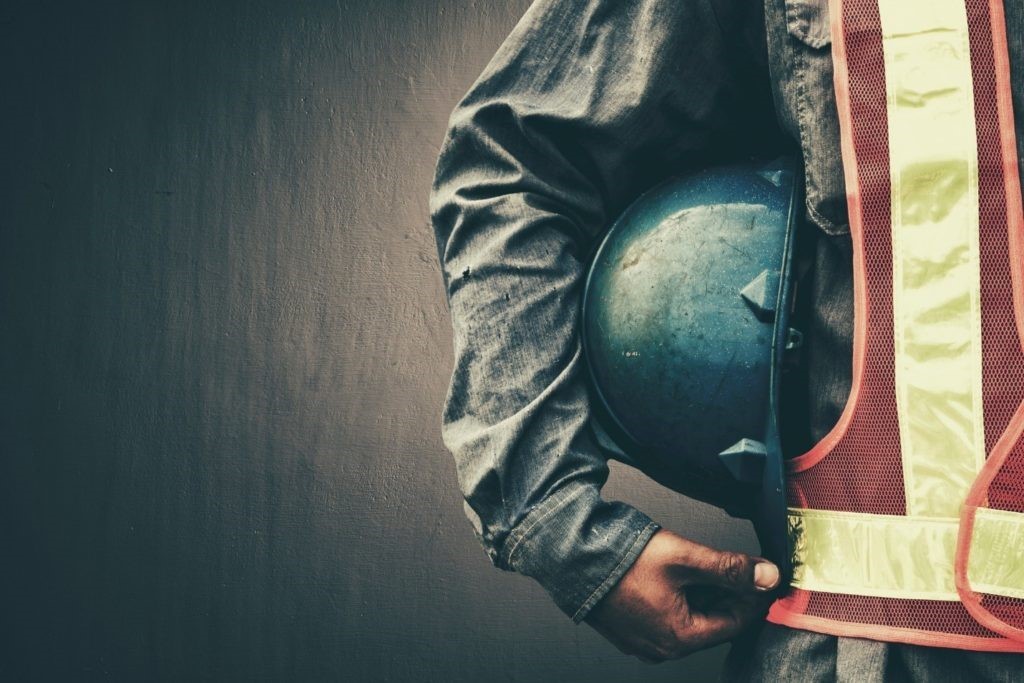 Recently, members from both parties in both the House and Senate came together to pass a bill that would provide thousands of jobs and would expand Pennsylvania's role as a national energy exporter.
HB 1100 received praise from labor and employer groups from across the Commonwealth. Unfortunately…the Governor vetoed the bill.
I agree with my bipartisan colleagues and I will vote to override the Governor's veto.
In the words of my friend Senator John Yudichak (Independent, Carbon and Luzerne)– "the veto of House Bill 1100 places Gov. Wolf on the side of anti-job, radical environmentalists who have maliciously mistreated the facts on this pro-worker, pro-jobs piece of legislation and places the governor's policies squarely in opposition to legislation that has the potential to attract thousands of prevailing wage jobs and billions of dollars in private investment to Pennsylvania when we need jobs more than ever."
In addition, here's what one union leader said about the terrible timing of the Governor's veto: "HB 1100 spurs the exact growth our county is in desperate need of at this very critical moment in our history. HB 1100 would promote manufacturing products from resources readily available right here in northeastern Pennsylvania, the very same products we are now currently importing from other countries that could and should be manufactured in the United States". – Warren Faust, President, Northeast PA Building and Construction Trades Council.
Our current efforts must focus on the containment of COVID-19 to mitigate its deadly health impacts. However, when the COVID-19 pandemic ends, we will need to rebuild our economy. HB 1100 will provide thousands of good-paying jobs. The Governor never should have vetoed this bill and I am hopeful that we will vote to override his veto. Read this article featuring three of my colleagues in the General Assembly for more information.
Governor's Shutdown Costs the State Billions
With much of Pennsylvania's economy shut down due to the COVID-19 pandemic, the state government is set to lose a significant amount of tax revenue. Projections have estimated that the cost to the state will be nearly $2.7 billion. The director of the Independent Fiscal Office said "Taxpayers should be prepared for a significant reduction in state resources, what we're seeing, there's just no precedent for it."
As long as Gov. Tom Wolf's statewide shutdown order remains in place, the tax revenue Pennsylvania relies on to balance its budget and pay for essential services will fall far short of pre-pandemic estimates.
"This is a 10 to 12% drop in revenue capacity, and accommodating this within our recurring spending commitments is an enormous challenge," said Sen. Pat Browne (R-Lehigh), chairman of the Senate Appropriations Committee. "This gives us at least a snapshot of something to look at, but we'll need to see more in terms of actual results before we can make decisions on recurring budget obligations."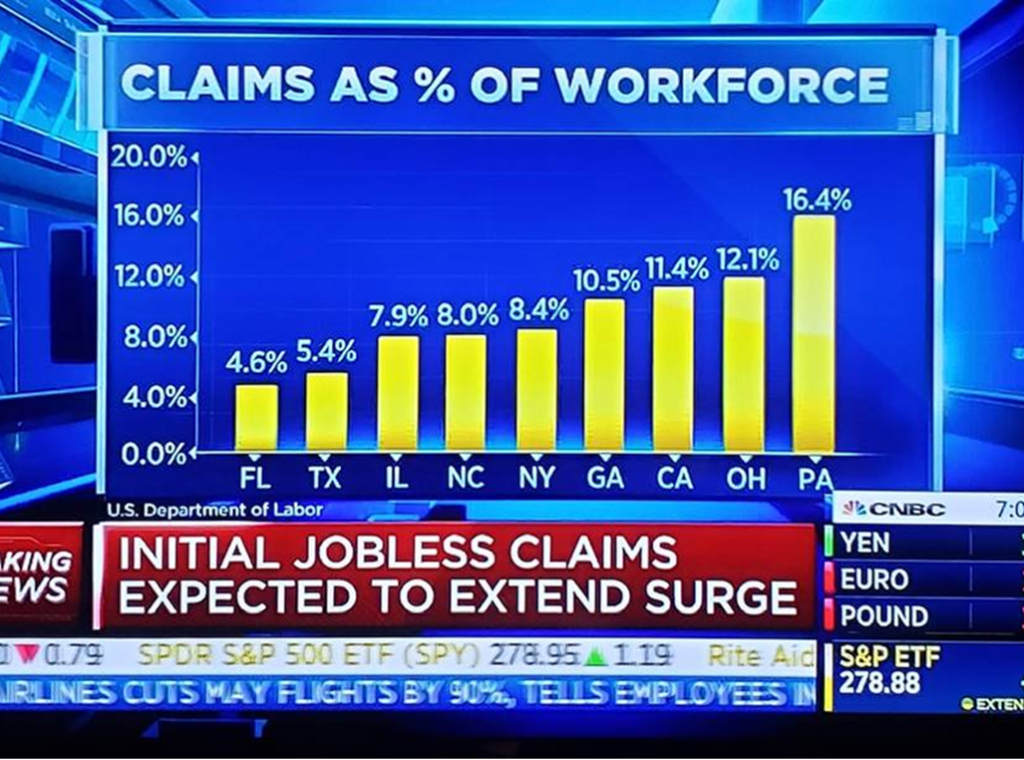 As pictured above, you can see Pennsylvania is the nation's leader in unemployment claims. We must fix this broken system before many jobs disappear for good. We can do that by allowing local officials to assess what steps should be taken to best fit their community's needs. While Philadelphia or other highly affected areas may need strict mitigation efforts, more rural areas should not be forced to operate under the same rules.
I hope that the Governor will come to the table and work in a bipartisan manner with all of us to allow employees around the state to return to their jobs.
Pennsylvania's Deepening Partisan Divide
The traditional red-blue map that we once knew has changed dramatically over the years. Southeastern suburbs, which were once a Republican bastion, have turned increasingly Democratic in the past decade. One-time, Democratic and union-friendly strongholds in the southwest are now represented by Republicans.
Pennsylvania Capital-Star recently published an article detailing the changes in political party registration for every county in Pennsylvania. These numbers highlight the partisan, regional changes that we are currently experiencing as a result of the current political climate. You can access the full article at the link provided here.
Based on the differences in registration between October 2019 and March 2020:
Central Pennsylvania had a net gain of 1,934 Republican registrations
North Central Pennsylvania had a net gain of 1,948 Republican registrations
North East Pennsylvania had a net gain of 4,539 Republican registrations
North West Pennsylvania had a net gain of 2,339 Republican registrations
South West Pennsylvania had a net gain of 31,865 Republican registrations
South Central Pennsylvania had a net loss of 1,923 Republican registrations
South Eastern Pennsylvania had a net loss of 32,359 Republican registrations
In total, Pennsylvania had a net gain of 8,343 Republican registrations.