Follow Sen. Argall on Twitter for Senate happenings – @SenatorArgall
For photos from Sen. Argall, follow him on Instagram

In this email update:
Why I was the only vote (49-1!) against the governor's new human services secretary
Senate committee unanimously approves my bipartisan legislation on future state prison closings
Senate unanimously approves my bipartisan lieutenant governor reform bill
Redistricting in Pennsylvania
Protecting victims of domestic violence
Bills passed by the Senate
Discussing agriculture issues with the Kutztown and Tri Valley High School FFA organizations
Pottsville Area High School students visit the State Capitol
On deck
Why I was the only vote (49-1!) against the governor's new human services secretary
This past October, the governor vetoed bipartisan welfare reform measures in House Bill 59 which would establish a work requirement for able-bodied Medicaid recipients. The goal of this requirement was to reduce long-term costs by encouraging recipients to find employment and become self-sufficient, rather than continue to rely upon the taxpayer.
This has been the case in other states which have enacted this requirement, and it is confusing as to why the governor chose to veto this legislation which would reduce fraud and protect taxpayer dollars.
The governor and his representatives have never provided us with a common-sense explanation behind his veto. Labor and Industry Secretary Oleksiak failed to provide insight into why the governor vetoed this measure during the Senate Appropriations Committee state budget hearing earlier this month. More recently, the Governor's new appointment for the Department of Human Services, Teresa Miller, failed yet again to answer my questions on this important issue during her Senate confirmation review this week.
It is very rare that I cast a 49-1 "protest" vote but I strongly believed that someone needed to object to the governor's welfare reform veto and this was one way to make my point crystal clear to the governor and his top staff.
Senate committee unanimously approves my bipartisan legislation on future state prison closings
On Monday, the Senate Appropriations Committee unanimously approved bipartisan legislation which I have drafted regarding future state prison closings in Pennsylvania.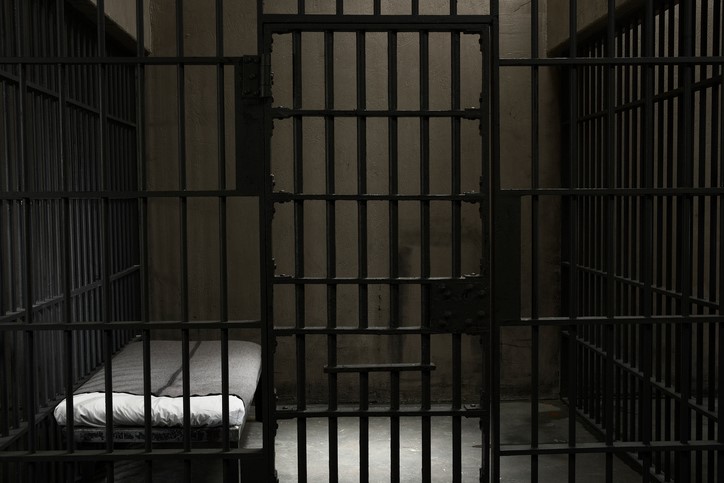 Back in January of 2017, the PA Department of Corrections announced the possible closing of SCI Frackville. Upon hearing this news, many local residents reached out to Representatives Knowles, Goodman, Tobash and me to voice their concerns about the negative impact it would personally have on them. 5,670 local residents signed a petition urging the governor and Secretary Wetzel to keep this facility open.
Finally, the Department of Corrections agreed with our assessment that SCI Frackville is an efficiently-run facility that needs to be continued, not shut down.
Senate Bill 748 ensures there is adequate public notice in the future of any proposed state correctional institution closures. The bill requires specific notification requirements and the development of comprehensive strategies to minimize undue stress on employees and local communities.
The bill will now move to the full Senate for consideration.
Senator John Yudichak (D-Luzerne/Carbon) and Senator Lisa Baker (R -Luzerne/Pike/Susquehanna/Wayne/Wyoming), both co-sponsors of Senate Bill 748, also fought to save correctional facilities in their areas that faced the potential threat of closing. SCI Retreat is located in Senator Yudichak's district and SCI Waymart is located in Senator Baker's district.
Other co-sponsors of Senate Bill 748 are: Senator John Blake (D-22); Senator Jay Costa (D-43); Senator Kim Ward (R-39); Senator John Rafferty (R-44); Senator John Gordner (R-27); Senator Wayne Fontana (D-42); and Senator Michele Brooks (R-50).
I believe that wherever state facilities are located, an immensely important economic relationship is developed with local communities. If the necessity arises for changing that relationship, it should result from an open and extensive discussion with all affected parties.
While this initiative is a step in the right direction, there are still challenges that lie ahead when it comes to our state prison system.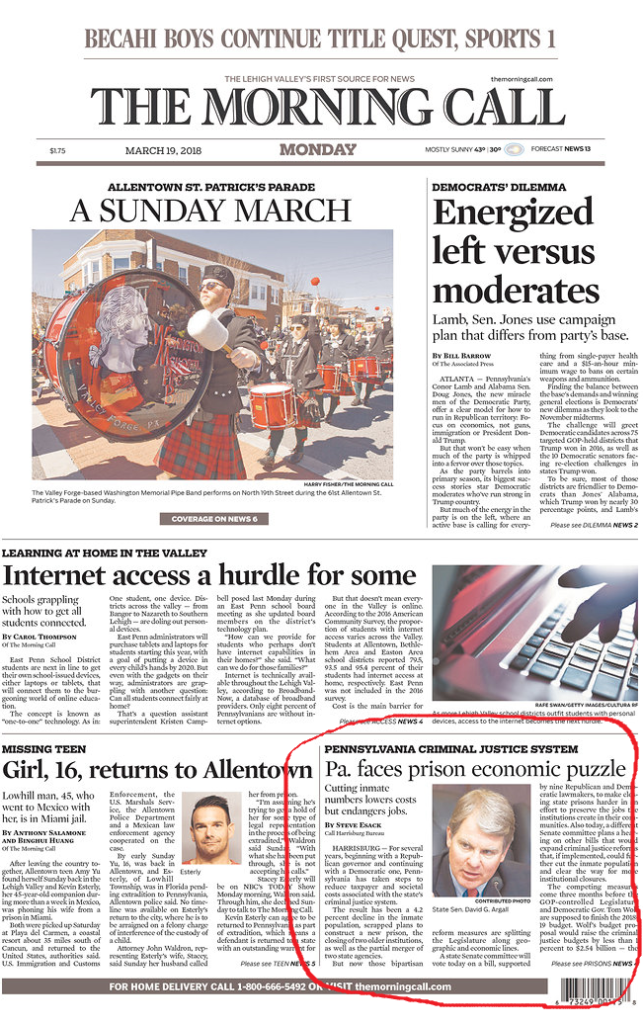 One critical challenge is the need to cut inefficient costs within our state prison system in order to save taxpayers money.
Read more about this issue from the Allentown Morning Call here.
Senate unanimously approves my bipartisan lieutenant governor reform bill
On Tuesday, the Senate unanimously approved bipartisan legislation which I have introduced reforming the way the lieutenant governor is elected in Pennsylvania.
Under Senate Bill 761, the state's constitution would be amended to require gubernatorial candidates to select their running mate after the primary election – subject to the approval of their state committees – which is a process very similar to how our presidential candidates have selected their running mates for the past five decades.
The very troubled relationship between the governor and the lieutenant governor is no secret to any of us. Both the governor and lieutenant governor have both openly admitted that they rarely speak to one another for weeks at a time.
The state of Pennsylvania shouldn't continue to be stuck with the current dysfunctional system that we now see on the second floor of the State Capitol. This type of change to our current system allows for better leadership and collaboration which is exactly what Pennsylvania's residents need and deserve.
The bill will now move to the House of Representatives for consideration.
The earliest the bill could go into effect is 2022 since the constitution requires that it be approved in two consecutive sessions of the General Assembly and then approved by the voters of PA.
Should the measure pass, Pennsylvania would join thirteen other states that allow the candidate for governor to select the candidate for lieutenant governor.
Read more about this initiative from the Skook News here.
A recent article from PennLive highlighted the bipartisan support this measure has received from former lieutenant governors of Pennsylvania. Former Democratic Lieutenant Governor Mark Singel welcomed this type of reform, noting the flaws that exist in our current system, while former Republican Lieutenant Governor Robert Jubelirer mentioned the unified leadership that will arise if both the governor and lieutenant governor run on a shared vision.
You can read the article here.
Redistricting in Pennsylvania
On Tuesday, March 27, Senator Mike Folmer (R-Dauphin/Lebanon/York) will be holding a public hearing to discuss a number of proposed bills which seek to change how Pennsylvania's redistricting process is implemented.
The public hearing will be held at 9 a.m. in Hearing Room One of the North Office Building in Harrisburg.
Senator Folmer, who is viewed as an outsider to the party establishment, has made this issue a top priority for many years.
Senator Folmer believes in the importance of respecting the constitution, which grants the legislature with the authority to establish Congressional districts, as well as the necessity of having fair districts established through an open and transparent process.
Protecting victims of domestic violence
On Wednesday, the Senate passed several bills – all of which I supported – aimed at protecting victims of domestic violence against their abusers.
It is critical that we come together to ensure the safety and protection of individuals and their families who have suffered the emotional, physical and psychological traumas of domestic abuse and violence.
The bills that were passed are listed below:
Senate Bill 449, which permits Magisterial District Judges in cases of domestic violence, to use a risk assessment tool to determine whether a defendant poses a danger to a victim when determining bail.
Senate Bill 313, which provides victims of domestic violence in Pennsylvania with certain exemptions when terminating a shared telephone plan contract if it is with an abuser.
Senate Bill 500, which requires the court in protection from abuse (PFA) petitions to direct the police, sheriff or court-approved designees to accompany the plaintiff to his or her residence before or during service of the PFA petition or order if the plaintiff claims the assistance is necessary to protect the plaintiff's safety.
Senate Bill 501, which enhances safety for all parties involved in Protection From Abuse (PFA) orders and convictions of misdemeanor crimes of domestic violence that require relinquishment of firearms.
Senate Bill 502, which provides for extensions to Protection from Abuse Act ("PFA") orders.
Senate Bill 919, which amends the Housing Authorities Law to allow a victim of domestic or sexual violence to be relocated
Senate Bill 1011, which amends the state constitution to grant victims inherent rights.
Bills passed by the Senate
The Senate passed the following bills this week:
Senate Bill 1002, which designates the Army SPC Christine L. Mayes Memorial Bridge and the Sgt. Edward John Parada Memorial Bridge in Indiana County.
House Bill 1845, which designates the bridge located on State Route 2026, known as the North Branch Blacklick Creek, Buffington Township, Indiana County, the Second Lieutenant Theodore P. Pytash Bridge.
Senate Bill 792, which relates to fertilizer applications and practices.
Senate Bill 135, which permits the use of a leashed tracking dog to track white-tailed deer to recover an animal which has been legally harvested or wounded.
Discussing agriculture issues with the Kutztown and Tri Valley High School FFA organizations
On Tuesday, I met with students belonging to the Kutztown and Tri Valley High School FFA organizations to discuss agricultural education and key issues currently facing our agriculture industry.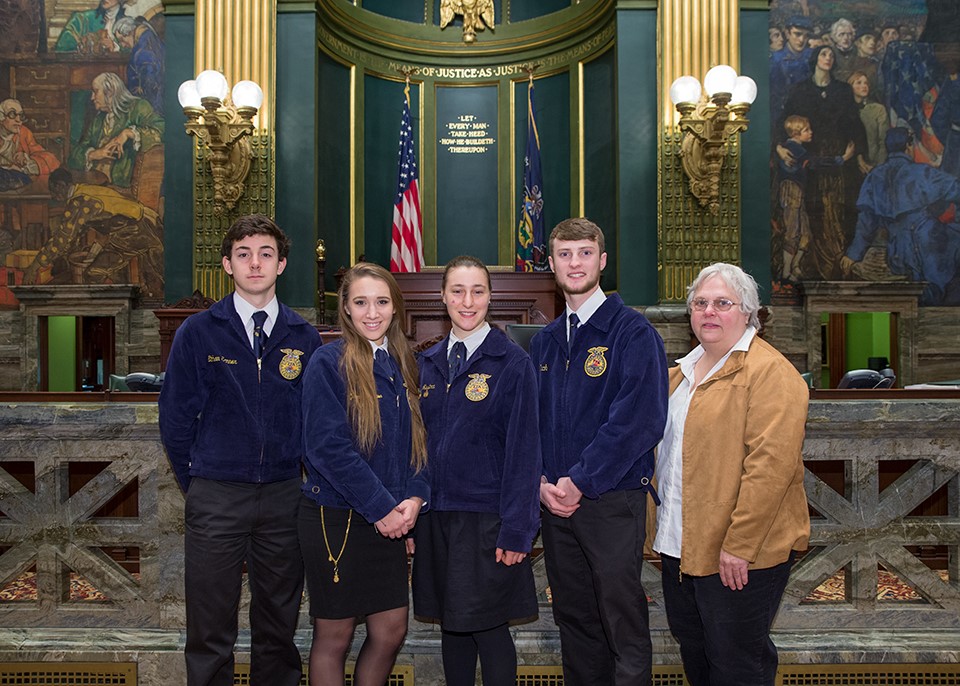 During this meeting, the students shared with me their personal experiences with the FFA and how it has helped them to gain a hands-on learning experience about agriculture in Pennsylvania and enhance their interest in pursuing future career opportunities in the industry.

Pottsville Area High School students visit the State Capitol
I welcomed Pottsville Area High School students to the State Capitol on Tuesday.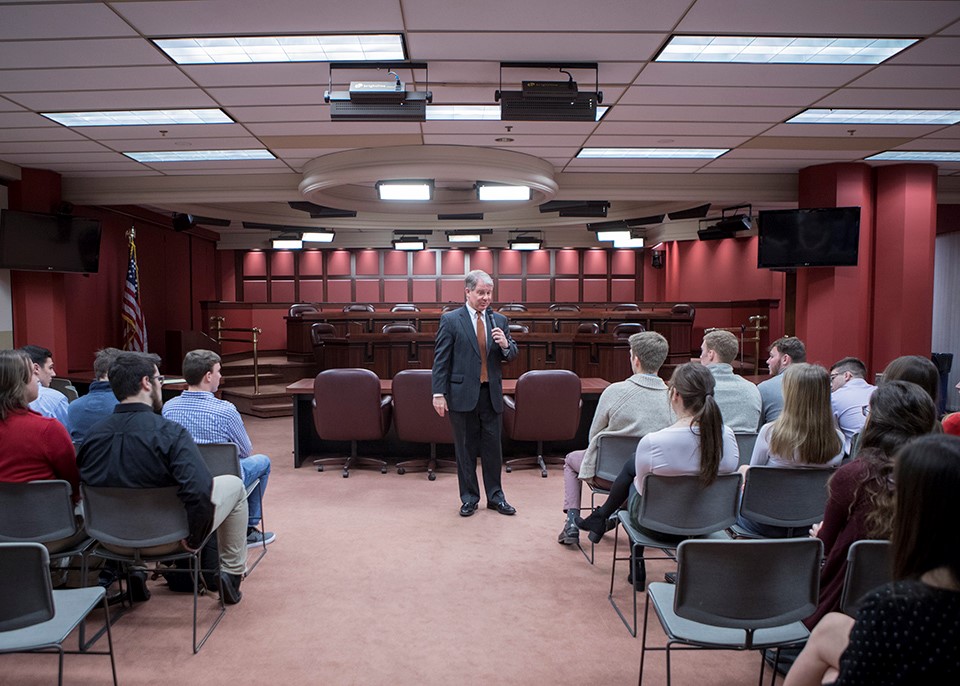 During their visit to the State Capitol, I shared my personal experiences as a legislator, as well as some of the top legislative initiatives my colleagues and I are currently working on this session, including school property tax elimination and eliminating fraud and wasteful spending in state government.

On deck
The Senate is scheduled to convene on Monday, March 26 at 1 p.m. You can watch session live and view the voting calendar on my website.