Follow Sen. Argall on Twitter for Senate happenings – @SenatorArgall
For photos from Sen. Argall, follow him on Instagram

In this email update:
Budget hearing update: Corrections Secretary says no state prison closures currently planned
Tremont flooding helped inspire Restore Pennsylvania Plan
Medicaid work requirements in the spotlight
Schuylkill Keep It Pretty roast scheduled for March 21
The fight for property tax elimination continues
Visiting with Cub Pack 777
---
Budget hearing update: Corrections Secretary says no state prison closures currently planned
The Senate Appropriations Committee recently wrapped up its third and final week of budget hearings with various department and agency leaders. The hearings are a critical part of the budget process and help lawmakers get answers to questions regarding the performance of state programs and the use of taxpayer dollars.
Full video and summaries of the hearings are available here.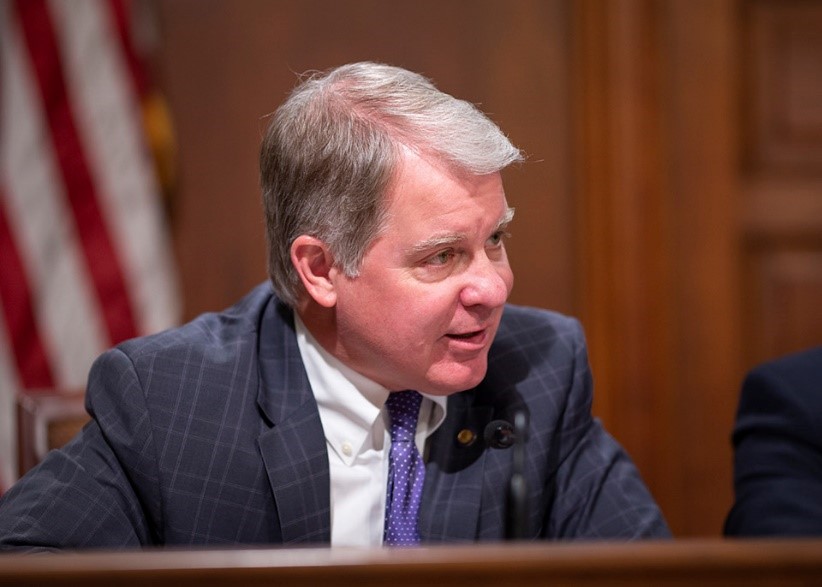 One of the highlights was a line of questioning with Department of Corrections Secretary John Wetzel about how declining prison population will affect prison closures in coming years. Secretary Wetzel stated that although the prison population is down, the system is in need of stability. Therefore, he did not predict that there would be any prison closures this year.
Last session my colleagues and I authored a new law to protect law enforcement networks in the case of a prison closure. The legislation created a clear process for consideration of proposed closures of state correctional institutions, as well as other structures that house state law enforcement staff, such as state police barracks.
Tremont flooding helped inspire Restore Pennsylvania Plan
The Governor returned for an event in Tremont, Schuylkill County, seven months after the devastating flooding. Representative Goodman, Representative Tobash, county commissioners and I met with the governor to tour flood damage from last year and talk about the need to find aid to communities for repairs and how to work together to try to prevent future floods.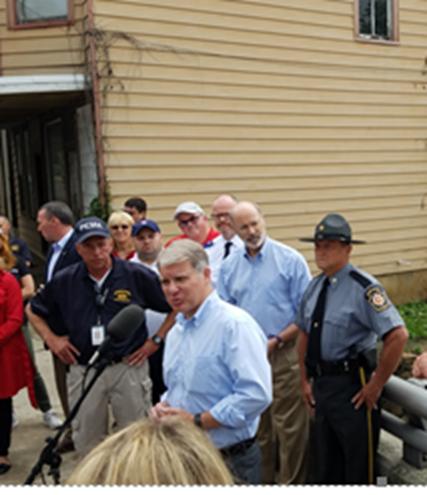 Medicaid work requirements in the spotlight
Senator Martin and I are working on legislation that would help break the poverty cycle by creating work requirements for Medicaid similar to those in welfare programs at the federal level and other states.
The Department of Human Services has determined that nearly a half a million Medicaid recipients are between 18 and 64 years of age, are able-bodied, are not caring for a family member, and are not pregnant. We do not want to place new burdens on people who legitimately are unable to work. We are not trying to drag somebody out of a treatment facility or force great-grandma to work in a coal mine. Work requirements are not callous or mean-spirited. In reality, they will only lead to lower costs to taxpayers and more people climbing the economic ladder and achieving independence and self-sufficiency.
Although our effort to create work requirements for Medicaid has received some criticism during the Senate Appropriation budget hearings, we believe that it is only right that Medicaid has work requirements just as other welfare programs do. Both SNAP and TANF have work requirement provisions.
The Pennsylvania Manufacturers' Association included a great article on our effort to require work requirements for Medicaid in their bulletin. Check it out here.
Schuylkill Keep It Pretty roast scheduled for March 21
On Thursday, March 21st Schuylkill Keep it Pretty (SKIP) will be roasting me in the name of supporting their organization and keeping our region clean! SKIP is a non-profit corporation that was established in 1986 to assist in litter clean ups.
I have supported SKIP for many years and invite you to join me while I get roasted, all in the name of a great cause.
The event will be held at the Saint Nicholas Hall in Pottsville and will begin at 5:30 p.m. The MC of the event will be Representative Jerry Knowles. Frank Schoeneman, Sonny Fenstermacher, and Micah Gursky will be roasting me. If you'd like more information you can reach out to Darlene Dolzani at 570-449-4760.
Hope to see you there!
The fight for property tax elimination continues
I continue to hear from community residents about how they are sick and tired of the unfair, antiquated, onerous property taxes that are literally taxing people out of their homes. In spite of the numerous special interests working against us in this fight, eliminating this deeply hated tax remains my highest legislative priority.
In order to take the next steps toward property tax elimination, I recently re-introduced Senate Bill 76 along with Senators Folmer, Schwank, Yudichak, Scavello, Boscola and Phillips-Hill. My allies on both sides of the aisle continue to meet with the 80 + citizens' groups that first crafted SB 76 several years ago in order to discuss the best path forward.
We came close to achieving this goal in the Senate in 2015. The vote was 24 for and 24 against, but the Lieutenant Governor at the time decided to protect the status quo and voted against our bill. I believe now is the right time to reintroduce this bill, especially after the 2017 Referendum on property taxes. The results found that 56 of Pennsylvania's 67 counties voted in favor and this includes 69 percent in Schuylkill County and 77 percent in Berks County.
I want to personally thank the bill's prime sponsors, whom I mentioned above, as well as our co-sponsors: Senators DiSanto, Baker, Aument, Mensch, Alloway, White, Browne and Martin. This will be a difficult task, but at the request of so many, we have again stepped up to put the final nail in the school property tax coffin.
Home ownership should not be punished with excessive taxation which causes nothing but job loss, the outmigration of our residents, and the very real fear that you could lose your home.
Visiting with Cub Pack 777
Last week I chatted with the boys and girls of Cub Pack 777 in Tamaqua. Twenty years ago, I was a volunteer leader with this unit. Today those same boys are lawyers and engineers and fathers of future cub scouts.
I've said it many times, but one of the very best decisions my parents ever made was to sign me up as a Cub Scout. Scouting has made all of the difference in the world in my life.
If I would have missed the opportunity to "cross the bridge" from Cubs to the Scout troop, I would have missed out on making lifetime friends, numerous opportunities to travel (both locally and abroad), and the chance to learn the leadership and public speaking skills that I use every day as my job as your State Senator.
I appreciated the chance to share my experiences with Cub Pack 777 and learn about how the organization is still helping to shape the next generation of future leaders today!