In this email edition:
One-Year Anniversary of Governor Wolf's Emergency Declaration
The Importance of our Local Coal Refuse Plants
Pennsylvania Lags Behind in Vaccinating Seniors
Pennsylvania Unemployment Update
Tamaqua CRIZ Update
Town Hall on Utility Assistance in Northern Schuylkill County
March Argall Report: Telephone Town Hall Focuses on the Covid-19 Vaccine Rollout in Pennsylvania
Coronavirus Emergency Order Day 364
One-Year Anniversary of Governor Wolf's Emergency Declaration
This Saturday, March 6th, will mark one year since Governor Wolf first declared a state of emergency due to the COVID-19 pandemic. One person should never be able to unilaterally wield emergency powers for this length of time within our system of checks and balances. This is why I voted in favor of a constitutional amendment to limit the length of any future emergency declarations without approval from the legislature.
We've all dealt with tremendous challenges throughout the past year. Many of us know friends, family members, or neighbors who contracted this terrible disease, and some who lost their battle with COVID-19. Many of us also know people who have lost their job and waited for months to receive unemployment compensation or watched the small business they worked so hard to build crippled by the long-term shutdown of our economy.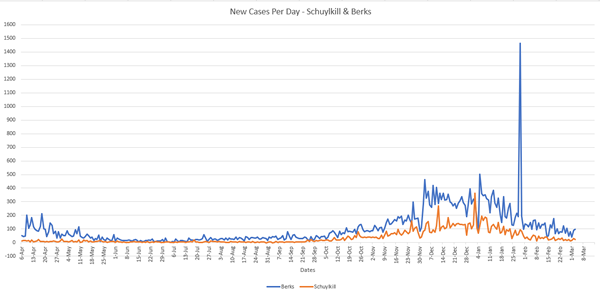 Note: The February spike in Berks County was due to a backlog of tests being reported on one day.
The Importance of our Local Coal Refuse Plants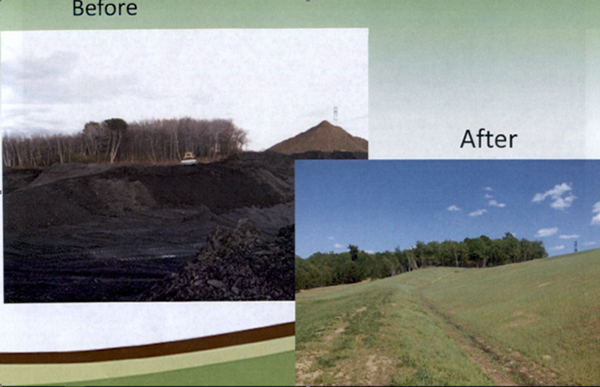 A recent study on Pennsylvania's coal refuse industry shows the impact these plants can have on restoring our environment. The conclusions were based on a measure I championed with Senator John Yudichak (I-Luzerne/Carbon) during last year's budget process.
In 2018, six local coal refuse plants removed over 3.5 million tons of waste coal:
Rausch Creek Generation (Tremont): 369,593 tons
Schuylkill Energy Resources (Shenandoah): 1,526,819 tons
Gilberton Power Company (Frackville): 723,885 tons
Wheelabrator Frackville Energy Company (Frackville, now closed): 521,062 tons
Northeastern Power Company (McAdoo, now closed): 256,878 tons
Panther Creek Energy (Nesquehoning): 159,995 tons
The measure I championed should preserve at least 3,000 Pennsylvania jobs. The progress that coal refuse plants have made in restoring the environment in Pennsylvania cannot be overstated, turning black and grey wastelands into forests and meadows once again. I will continue to fight for these local jobs and the significant environmental and economic benefits they bring to our communities.
Pennsylvania Lags Behind in Vaccinating Seniors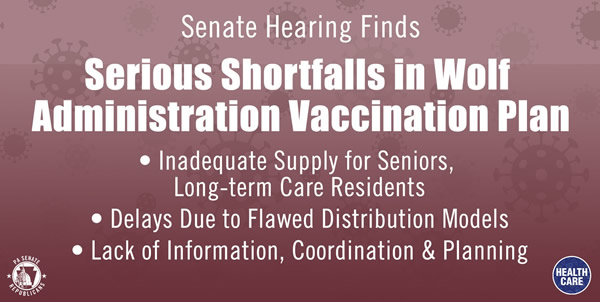 According to a recent analysis by PennLive, Pennsylvania is trailing most other states at the important task of vaccinating senior citizens. As of March 1st, 28.2% of Pennsylvania residents over the age of 65 have received at least one shot. According to the article, our state is behind 30 others in the country who provide similar data.
The article cites multiple representatives from senior advocacy groups who raised concerns about the lack of a comprehensive plan to distribute vaccines, as well as the unorganized system for scheduling appointments that has left many confused and frustrated. One thing is certain: Pennsylvania must do better at getting vaccines to residents who want to receive it.
Pennsylvania Unemployment Update
This week, the U.S. Bureau of Labor Statistics released a yearly report on annual unemployment averages across the country. Pennsylvania's yearly average unemployment rate doubled in 2020, jumping from 4.5% in 2019 to 9.1%. The United States average for 2020 was 8.1%. Our state's increase of 4.6% was the 8th largest in the country. Additionally, Pennsylvania's workforce participation ratio fell from 60.4% to 56.5% last year. This measure estimates the percentage of working-aged Pennsylvania residents who are employed or are actively seeking employment. To see the full report, visit this link.
These trends show the importance of supporting our economy and creating new jobs as we begin to move past the COVID-19 pandemic.
Tamaqua CRIZ Update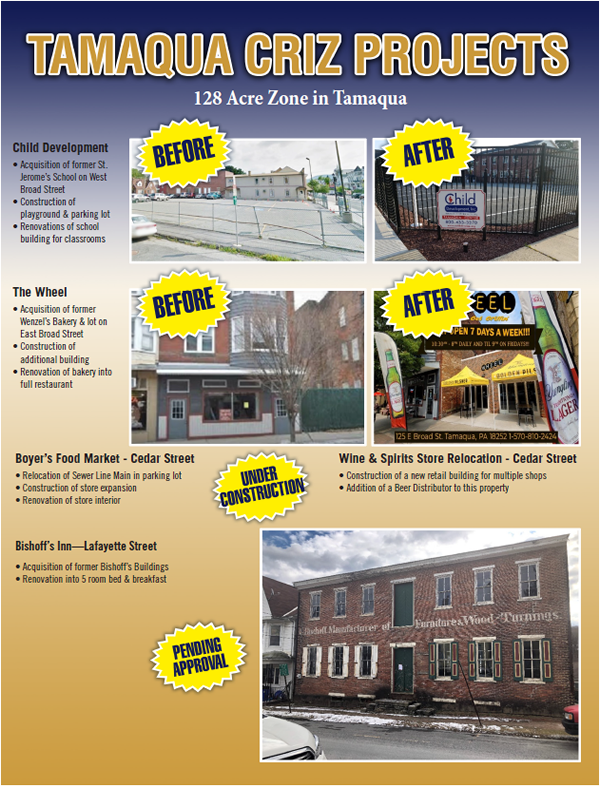 Tamaqua received a tremendous opportunity when it earned a coveted CRIZ pilot designation. Very simply, the CRIZ program is a way to keep state and local taxes paid by Tamaqua residents and businesses in Tamaqua, rather than sending them to Harrisburg. Tamaqua Borough is the only non-city awarded this major economic development tool.
I think this quote from Tony Odorizzi, the Solicitor of the CRIZ Authority, sums up the importance of this program best: "These CRIZ projects demonstrate to Harrisburg what those of us from town already knew – give us a chance, and we Tamaquans will roll up our sleeves and go to work to make something positive happen for our community. Since I started practicing in town, I have seen first-hand that the energy and determination of the people in this town who want GOOD things to happen, far exceeds the energy and lack of determination of those who do NOT want to see good things happen for our town."
Read more about the Tamaqua CRIZ program's successes here.
Town Hall on Utility Assistance in Northern Schuylkill County
There will be a virtual town hall this upcoming Thursday, March 11 at 6:00 PM to learn more about utility assistance programs available to consumers in Northern Schuylkill County, and how families struggling to make ends meet can prevent a utility shutoff. Participants will be able to ask questions and voice concerns about utility issues in their communities. This event will feature representatives from the Pennsylvania Utility Law Project, Schuylkill Community Action, and Mid Penn Legal Services. No advance registration is required to join.
To join by video conference, visit the following link: https://us02web.zoom.us/j/82351149679
To join by phone, call 301-715-8592 and use the following meeting ID: 823 5114 9679
March Argall Report: Telephone Town Hall Focuses on the Covid-19 Vaccine Rollout in Pennsylvania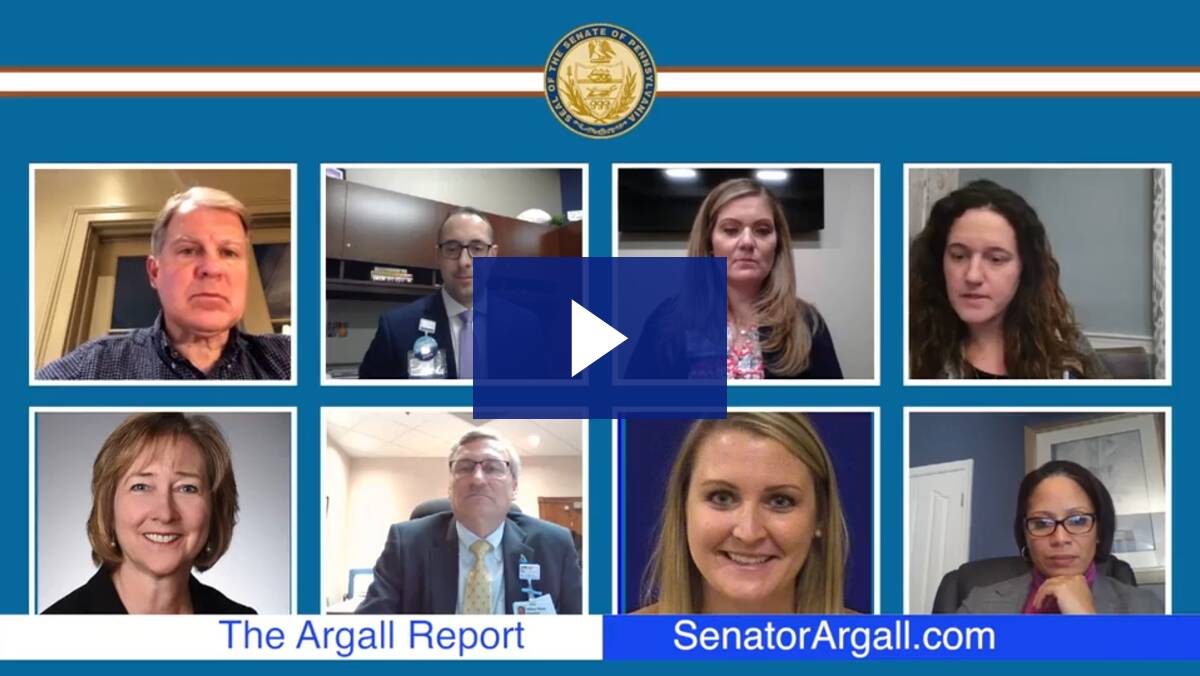 The March edition of my local TV program focuses on a recent telephone town hall on the rollout of the COVID-19 vaccine in Pennsylvania.
My goal is to protect people's health as much as humanly possible and at the same time, whenever possible, get people back to work. This is not a Democratic issue; this is not a Republican issue. This is a health issue.
The event featured healthcare professionals from St. Luke's University Health Network, Lehigh Valley Health Network, Geisinger/St. Luke's, Tower Health, and Penn State Health. Over 3000 residents from Schuylkill and Berks Counties joined in for the conversation on the phone or by streaming the event online.
This edition of the Argall Report will air on:
Blue Ridge Communications (Channel 13) every Monday at 10 a.m. and every Wednesday at 10:30 p.m.
Berks Community Television (Comcast – Channel 15 and Service Electric – Channel 19) on Thursday at 8 p.m. and Friday at 6 p.m.
Service Electric Cablevision: Hazleton, Mahanoy City; Shenandoah – on Hazleton's WYLN TV 35 Channel 507 and MetroCast Communications Channel 10. Please check local listings for air times.