State Lawmakers Push Back against Emergency Powers
Argall to Governor: Nominate a Non-Partisan Secretary of State
Senate Poised to Approve Constitutional Amendment Reforming Lieutenant Governor Selection
Joint Hearing on the Impact of the Census Delay
Governor's Tax Increases: Dead on Arrival
---
State Lawmakers Push Back against Emergency Powers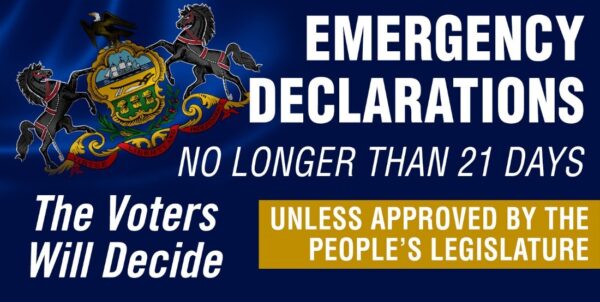 One of my constant refrains throughout the pandemic has been the need for collaboration between the legislature and the Governor. As this article from the New York Times states, many lawmakers from around the country agree with me!
One example cited is a proposal from Democratic leaders in the New York State Senate to strip some emergency powers from Democratic Governor Andrew Cuomo after he admitted to withholding data on nursing home deaths. The piece also references examples in Ohio and Idaho where Republican-majority legislatures have moved to check the power of Republican governors.
This is not a partisan issue, but an issue of check and balances. No one person should be able to wield sweeping powers for months on end with no checks and balances in place, as Governor Wolf has for almost a full year during the COVID-19 pandemic. This is why I voted in favor of a constitutional amendment to limit the length of any future emergency declarations without approval from the legislature.
Argall to Governor: Nominate a Non-Partisan Secretary of State
After the recent resignation of Kathy Boockvar from her position as Secretary of the Commonwealth, which administers the state's elections, I penned a letter to Governor Wolf requesting that her replacement be a non-partisan professional. As the chair of the Senate State Government Committee, I will lead the review of any nominations for this vacant post the Governor puts forth.
My letter cited a recommendation from an Election Reformers Network report that stated, "the problem of secretary of state conflict of interest exists in the context of a country facing accelerating partisanship and rapid destruction of political norms, where armed confrontation over election-related concerns is an increasingly imaginable scenario. This context demands that we address risks and potential sources for flashpoints and conflicts."
To read the full letter, visit this link.
Senate Poised to Approve Constitutional Amendment Reforming Lieutenant Governor Selection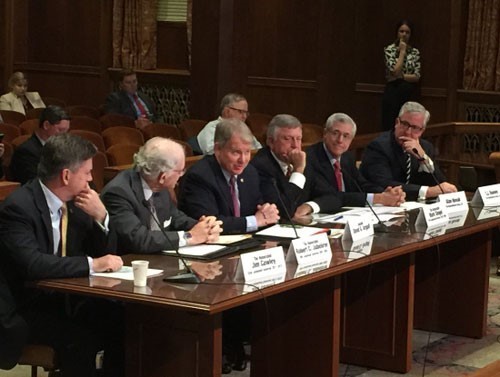 From Left to Right: Jim Cawley (R), Robert Jubelirer (R), me, Mark Singel (D), Alan Novak (R), T.J. Rooney (D)
A constitutional amendment reforming the selection of the lieutenant governor in Pennsylvania is now poised to be approved by the Senate after the legislation was passed by a bipartisan vote of 23-1 in the Senate Appropriations Committee. Once this amendment is voted on by the Senate, it would need to be approved by the House of Representatives before being placed on the ballot for approval by Pennsylvania voters.
This amendment is widely supported on both sides of the aisle, as evidenced by the above picture from 2017 where I was joined by a bipartisan group of 3 former Lieutenant Governors, Jim Cawley, Robert Jubelirer, and Mark Singel, and 2 former Chairmen of the State Party Committees, Alan Novak and T.J. Rooney, in support of this amendment.
As I stated in a recent interview with KDKA, this constitutional amendment would be a step forward for good government to eliminate future conflicts between governors and their lieutenant governors, as we have seen too often here in the past. Read more here.
Joint Hearing on the Impact of the Census Delay
The Senate State Government Committee, which I chair, held a joint hearing with the House State Government Committee this week exploring the potential impacts that could arise from the delay of the delivery of 2020 census data. The Census Bureau recently announced that this decade's census data, which would typically be available in March, will not be available until the end of September. Legislative redistricting has constitutional timelines that begin with the official reporting of census data. Any delay in receipt of this data will impact the process of drawing voting district lines for both the General Assembly and Congress.
We heard from officials who had insight into the delay from both a national and a state perspective. Watch the hearing below.
Governor's Tax Increases: Dead on Arrival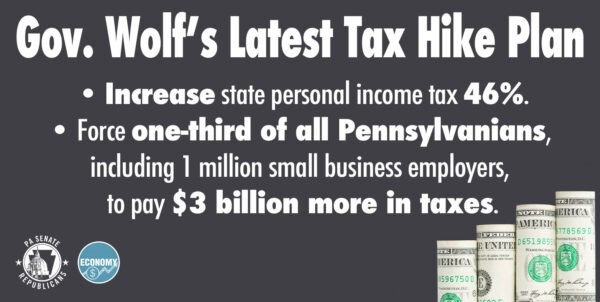 I have one question for Governor Wolf after hearing his proposal for one of the biggest tax and spending increases in Pennsylvania history: have our small businesses in Berks and Schuylkill County not suffered enough?
Under the Governor's proposal, Pennsylvania's personal income tax rate would increase by almost 50% as residents continue to struggle with the economic downturn caused by the pandemic and the long-term shutdown of our economy. One group that specifically would be dramatically affected by this tax increase is the one million small business owners that operate in our state.
How does the Governor think a small diner in Pine Grove or Port Clinton or Womelsdorf can afford a 50% tax increase? They've already been struggling for months! This proposal clearly shows how out of touch he is with Pennsylvania citizens.
As if one tax increase wasn't enough, Governor Wolf also proposed a new tax on Marcellus Shale production. Here's what my Democratic colleague, Representative Pam Snyder (D-Greene/Fayette/Washington), had to say about the Governor's latest plan: "Targeting a single industry with another layer of taxes – our oil and gas industry that employs tens of thousands of Pennsylvanians – is a nonstarter…This is not just a tax on the oil and gas industry, it would be a tax on our pandemic recovery." I agree 100 percent with Representative Snyder and the bipartisan opponents of this tax increase.
My prediction regarding the Governor's proposed tax increases: Dead on arrival.
View my full remarks on Governor Wolf's budget proposal at the following link: https://pasen.wistia.com/medias/aagf16q7j8