Follow Sen. Argall on Twitter for Senate happenings – @SenatorArgall
For photos from Sen. Argall, follow him on Instagram

In this email update:
2018-19 state budget hearings underway
Pennsylvania seniors pay twice their share in property taxes
Achieving savings through school district health care consolidation
Questions still remain on the departure of the Secretary of State
Why are taxpayers paying for vacant state office spaces?
Examining enrollment at PASSHE universities
Redistricting in Pennsylvania
Latest Argall Report highlights revitalization efforts in Pottsville
Schuylkill Community Action receives donations for Repair Fund Program
---
2018-19 state budget hearings underway
This week kicked off the first of three weeks of the 2018-19 state budget hearings for the Senate and House Appropriations Committees.
As a member of the Senate Appropriations Committee, my colleagues and I will be asking vital questions to the top leaders of the state's agencies and departments in order to assess how they are utilizing the funds appropriated to them.
Earlier this month, the governor unveiled his $33.2 billion state budget proposal.
Below is a summary of the governor's proposed General Fund spending for each of the state's departments and agencies: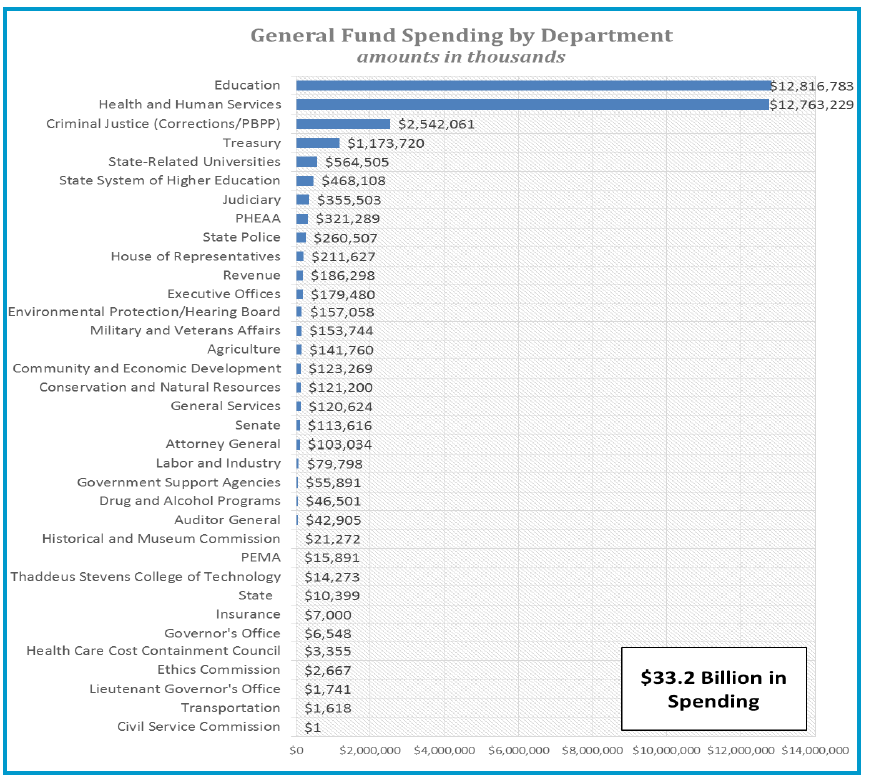 In addition to gaining insight from the departments and agencies on the governor's budget plan, we will also be examining the impact that this year's state budget will have on the growth of our economy, particularly with regard to the employment rate in Pennsylvania.
According to the most up-to-date information on unemployment in Pennsylvania, 9 counties have unemployment rates below 4 percent, and 27 other counties have unemployment rates under 5 percent. A map is pictured below indicating the unemployment rates for each county:

Pennsylvania seniors pay twice their share in property taxes
During the Senate Appropriations Committee budget hearing with the Independent Fiscal Office (IFO), I asked them why our seniors are paying a large share of property taxes when they only account for approximately 23 percent of the population in Pennsylvania.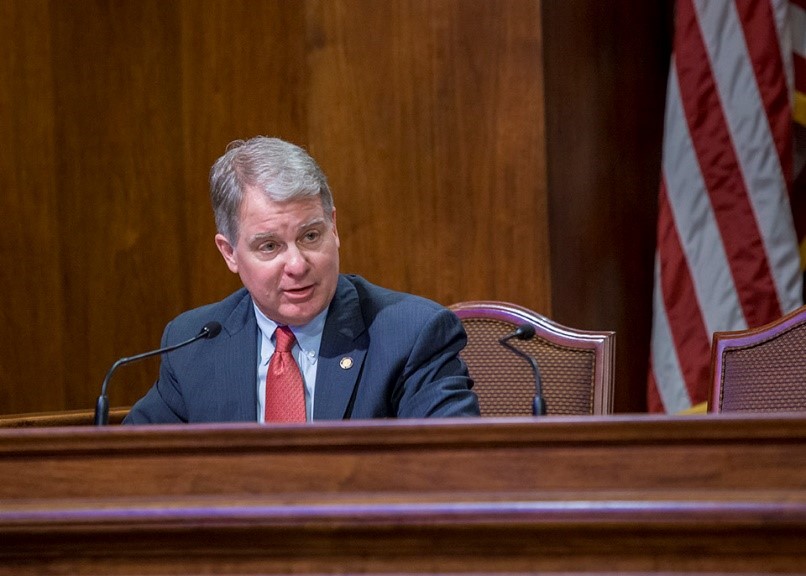 I have worked closely with the IFO on school property tax elimination, and a December report they issued noted that Pennsylvania residents age 60 and older accounted for 43.8 percent of all property taxes that are paid by individual homeowners.
This number to me is far too high and reaffirms my notion that the biggest beneficiaries of school property tax elimination would be our senior citizens.
Watch my comments here.
Senator Schwank (D-Berks) followed up with questions about the school property tax, particularly regarding the reliance of a sales tax and personal income tax and its long term implications on our ability to fund schools.
You can watch her comments here.
Achieving savings through school district health care consolidation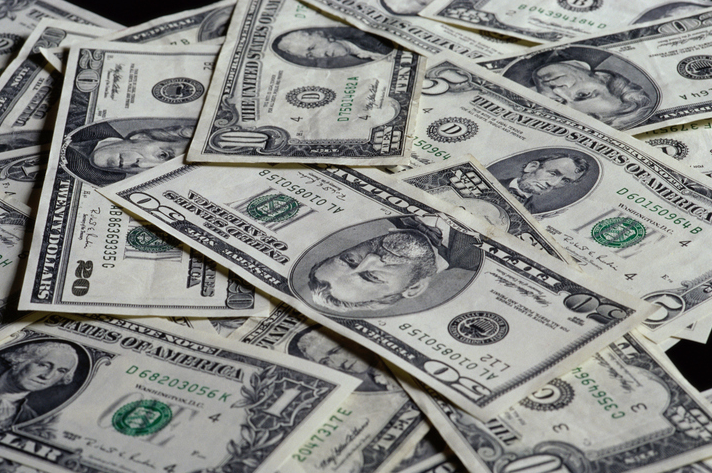 "Many people often ask us for money, not too many show us how to save," was a key point I raised during Tuesday's budget hearing with the PA Intermediate Units.
Several of my colleagues and I introduced a legislative proposal requiring the Legislative Budget & Finance Committee (LBFC) to examine the potential cost savings Pennsylvania taxpayers would incur if school district health plans were consolidated into regional or statewide insurance plans.
The report provided by the LBFC noted that a $200 million savings can occur each year by merging school district health care plans.
During the hearing, I pointed out that while looking at the statewide picture, $200 million may only seem to some like a fraction, but for the school districts that I represent such as Fleetwood, Tulpehocken and Hamburg, $200 million is considered a lot of money! Dr. Jill Hackman, Executive Director of the Berks County IU #14, testified at the hearing and could also attest to my statement.
Given the fact that both school districts and IUs are often asking us for more money, I asked the heads of the state's IUs that were present at this hearing what they can do to help us achieve these savings, rather than raise taxes.
Listen to my comments here.
Senator Eichelberger also mentioned the potential for cost savings through school district consolidation and collaboration. Watch his comments here.
Questions still remain on the departure of the Secretary of State
During Wednesday's budget hearing with the Acting Secretary of State, Robert Torres, I started off by asking why he is sitting in front of the Appropriations Committee rather than the Secretary that the Senate had confirmed. He declined to answer that question.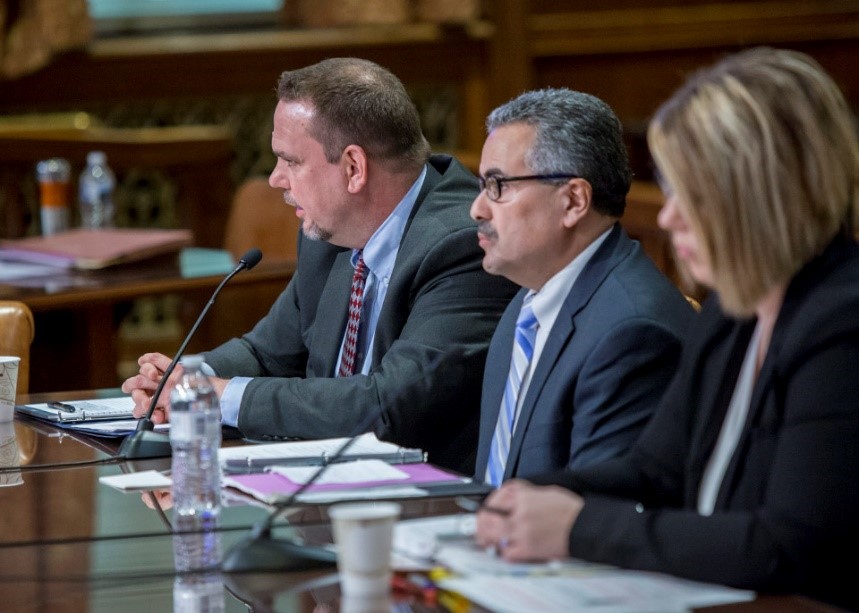 The abrupt departure of Secretary Pedro Cortes in October 2017 continues to raise many questions.
According to various news sources, Secretary Cortes was forced to leave his position as Secretary of State – a course of action that has apparently left him perplexed, with little information and explanation from the Wolf Administration.
One of the main duties of the Secretary of State, and the department as a whole, is to oversee elections and ensure the integrity of our democratic election process.
I asked Acting Secretary Torres if the resignation or firing of Secretary Cortes was related to the following two incidents:
The unsuccessful attempt made by Russian hackers to gain access to the state's election systems prior to the 2016 presidential election; and
The number of foreign nationals in PA who were registered to vote and cast their ballots, despite not yet becoming U.S. citizens during the 2016 presidential election.
The Acting Secretary did not shed any light on these questions.
Watch what happened here.
Why are taxpayers paying for vacant state office spaces?
During the budget hearing with Auditor General Eugene DePasquale, he mentioned that it was a great idea to examine how vacant state office spaces are being utilized across Pennsylvania – an initiative that Senator Vulakovich and I are working on.
Under our proposal, the Joint State Government Commission studied how the Department of General Services utilized space within the Commonwealth in both leased and owned buildings, garages, storage facilities and all other property. The JSGC also compared how the state procures, leases, and utilizes space from the private sector in the hopes of finding efficiencies in current policies.
In their report, the JSGC noted that over the last 4 years, leased office space has been reduced by about 590,000 square feet and we reduced the number of state employees by about 1500. While this is a step in the right direction, the problem still exists that even with the reduction in real estate, we are still paying for vacant office space across the state. This doesn't make sense.
Watch my comments here.
Examining enrollment at PASSHE universities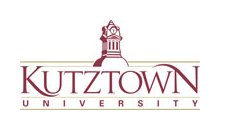 The issue of enrollment at PASSHE universities was my main focus during Thursday's Senate Appropriations Committee's budget hearing with the Pennsylvania State System of Higher Education (PASSHE).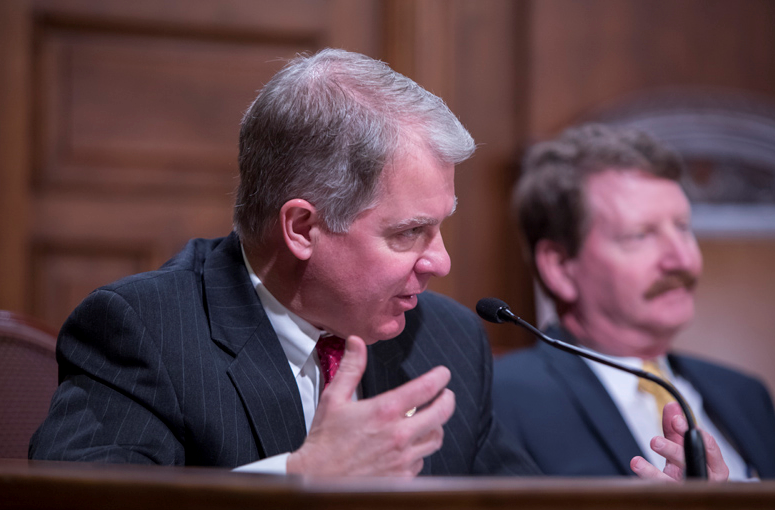 I noted that the Kutztown University faculty recently invited me to a meeting to discuss the future of the university.
Senate Resolution 34 requires an independent study of the long-term viability and sustainability of the Pennsylvania State System of Higher Education (PASSHE). The resolution was unanimously adopted by the Senate on April 18, 2017.
The goal of this study is to help us understand, from an unbiased perspective, factors that are causing a decline in enrollment at certain universities, what the urgent needs are at universities and how we can move forward to ensure Pennsylvania's students receive an affordable, quality education and degree.
During the hearing with leaders from PASSHE, I asked them to explain what some of the driving forces behind the declines in enrollment we are seeing at some PASSHE universities.
Listen to my question and PASSHE's answers here.
Redistricting in Pennsylvania
Earlier this week, the State Supreme Court issued their own congressional district map after the governor refused to consider the map that was presented by the legislative leadership.
The current situation is very confusing to all of us – four Democratic State Supreme Court judges, by a four to three vote, have completely ignored the constitutional concept of separation of powers. They are now trying to act as judge, governor and legislator.
Their plan is almost as "gerrymandered" as the plan they seek to replace. The key difference is that their plan seems guaranteed to elect more Democrats to Congress.
In a recent article from Capitolwire, the article highlights the State Supreme Court's map which leans much more favorably towards Democrats than what is presented in the 2011 map. Based on the appearance of the court's map, it appears as though Tufts University Professor Moon Duchin, the governor's map analyst, had it backwards when he criticized the House and Senate map by saying, "it's extremely unlikely to have come about by chance."
Common Cause Pennsylvania also relayed their concerns suggesting that the congressional district map provided by the State Supreme Court violates the Voting Rights Act of 1965. Read more about this from WITF here.
I have been consistent in my position on this issue: I hope the U.S. Supreme Court soon ends the confusion and gives us one clear standard – rather than the current hodgepodge of competing judicial decisions in Wisconsin, Maryland, North Carolina, Pennsylvania, and beyond.
Latest Argall Report highlights revitalization efforts in Pottsville
Revitalizing our communities is critical in order to boost economic growth by creating more local jobs, attracting more businesses and enhancing property values in the community.
The latest edition of the Argall Report highlights the revitalization efforts of the Pottsville Area Development Corporation, Pottsville Business Association, and the City of Pottsville.
During a series of meetings, we heard positive news regarding the development of a new parking garage, as well as a possible new movie theater, and more visitors to Yuengling's historic brewery which is already one of the most visited sites in the region.
I look forward to the future developments that will bring more visitors, and even more importantly, more much-needed jobs to the Pottsville downtown.
Watch the Argall Report here.
Schuylkill Community Action receives donations for Repair Fund Program
Schuylkill Community Action (SCA) recently received $30,000 in donations for its Repair Fund Program. The purpose of the Repair Fund Program is to rehabilitate and fix properties so that they become eligible for the SCA weatherization program.
Ateeco Inc. in Shenandoah (the makers of the delicious Mrs. T's Pierogies) donated $20,000 to the SCA, and Miners Bank, donated $10,000.
Read more about the donation from the Republican Herald here.
You can read more about Schuylkill Community Action here.