Follow Sen. Argall on Twitter for Senate happenings – @SenatorArgall
For photos from Sen. Argall, follow him on Instagram

In this email update:
Senate Appropriations Budget hearings begin
School Safety Report: The Importance of protecting our students
Medical Costs: Senate Resolution 20
Celebrate Love Your Dog Month
---
Senate Appropriations Budget hearings begin
This week marked the first of three weeks of state budget hearings through the Senate Appropriations Committee. To see the upcoming schedule or learn more about the governor's proposed state budget, please visit www.SenatorArgall.com/Budget for more information.
One of the issues I focused on in the Department of Revenue hearing was the sales tax for craft brewers. The microbrewery industry has seen phenomenal growth throughout the state from big cities to small towns. I asked the Secretary if a tax imposed on brewers could stifle future growth.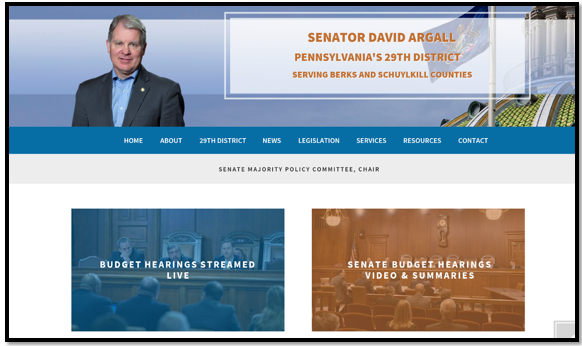 You can watch all of the Senate Appropriations Committee's budget hearing live or re-watch the hearings via my website's two callboxes at www.senatorargall.com
Speaking of beer…did you see the segment on NBC's Today Show on the oldest Brewery in America right here in the 29th District? The Today Show travelled to Pottsville to visit America's oldest brewery: Yuengling.
190 years after the company's founding and six generations of Yuenglings later, the four Yuengling sisters (Debbie, Wendy, Jennifer and Cheryl) are now preparing this Schuylkill County treasure for the future. You can watch the full report at the link provided here.

School Safety Report: The Importance of protecting our students
Nothing is more important than creating a safe environment for young people. A new grant program launched for this school year is designed to build stronger partnerships to boost safety and reduce the risk of violence.
The grants will be offered as part of a program that was included in this year's state budget to improve school safety and combat community violence. A total of $7.5 million will be awarded statewide during this fiscal year through June 30th to support community violence prevention programs.
During a series of Senate Majority Policy public hearings in 2018 on the subject of school violence which I chaired, this funding was strongly supported by a bipartisan coalition of local schools, state senators and representatives, and communities throughout the state. You can watch all of the roundtables that took place on my website at www.senatorargall.com.
Thus, you can imagine our shock when the Governor suggested cutting this funding. Here's a prediction: We will restore this funding, on a bipartisan basis, during the upcoming budget debates.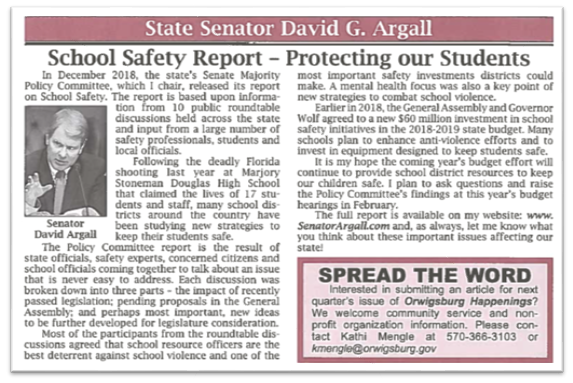 The above news clip is from a recent edition of the Orwigsburg Happenings. If you'd like more information, you can access the Senate Majority Policy Committee's full report here.
Medical Costs: Senate Resolution 20
Recently Senate Resolution 20 passed in the Pennsylvania Senate. This resolution asks the Supreme Court to delay the consideration of a procedural rule change and directs the Legislative Budget and Finance committee to conduct an extensive study to determine the effects of this proposed amendment and to determine if such changes are warranted.
Ten years ago the Pennsylvania General Assembly passed the MCare Act. This act was intended to address a variety of issues including the medical malpractice crisis. By reining in the costs of excessive litigation and out-of-line awards, Pennsylvania was able to stabilize insurance rates and stem the loss of medical practitioners and facilities.
Unfortunately, just prior to 2019 the Pennsylvania Supreme Court Rules of Civil Procedure Committee proposed to return to the "pre MCare" rule. That is why this resolution is vital—to ensure that we can get more information on this proposed change. This resolution will give the legal community, the medical community, the business community, and the public ample opportunity to weigh in with statistics, trends, arguments, and philosophies. The Civil Rules Procedural Committee can also put forward its reasoning for change, but the jury will be the public at large rather than a small segment of the legal community.
The resolution passed in a bipartisan vote of 31-18. This resolution will have a large impact on health care costs in the future.
Celebrate Love Your Dog Month
The Secretary of Agriculture is reminding Pennsylvanians that February is "Love Your Dog Month" and encouraging dog owners to make sure their dogs are licensed. Licensing helps bring lost pets home and ensures that dogs and the public stay safe.
Licenses are available through country treasurers' offices, and many counties offer licenses through sub-agents like veterinarian offices or online. The fee for an annual dog license is $6.50, or $8.50 if the animal is not spayed or neutered. Lifetime licenses are available for dogs that have permanent identification like a microchip or tattoo. Older adults and persons with disabilities may be eligible for discounts.
Pennsylvania law requires a current license for all dogs at least three months old, but according to estimates from the Department of Agriculture's Bureau of Dog Law Enforcement, fewer than half of all dogs in the commonwealth are licensed, although rates vary by county. Owners who fail to license their dogs could face a fine of up to $300 for each unlicensed dog.
To find your county treasurer, dog warden, and a database of shelter and kennel inspections, visit www.licenseyourdogpa.com or call the Bureau of Dog Law Enforcement at 717-787-3062.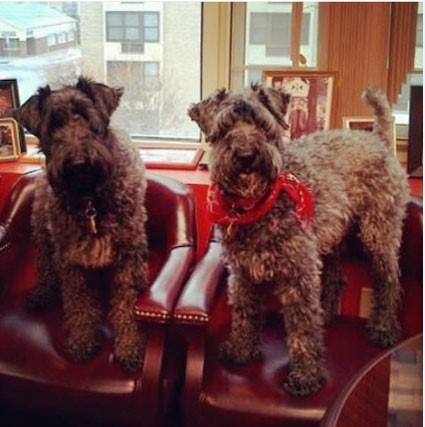 Public Service Announcement from Maggie and Wolfie: "Be sure that your canine companion has their license. A dog license can help your pup get back home if they ever get lost, but as you can also see they're quite the fashion statement!"