In this email edition:
Constitutional Amendment Limiting Emergency Declarations to be Decided by Voters
Telephone Town Hall on COVID-19 Vaccine Rollout
Bipartisan Vaccine Joint Task Force
Economist: Full Job Recovery from Pandemic May Take 15+ Years
COVID-19 Relief Bill Signed into Law
Lawmakers Receive Update on PASSHE Redesign Efforts
Coronavirus Emergency Order Day 351
Constitutional Amendment Limiting Emergency Declarations to be Decided by Voters
Voters in the May 18 primary election will decide whether future emergency declarations should be limited to 21 days unless an extension is approved by the General Assembly. The question will appear on the ballot this spring after the Senate and the House of Representatives passed the proposed constitutional amendment in two consecutive legislative sessions.
The change would prevent the kind of situation we have seen during the COVID-19 emergency, in which the governor has used the emergency declaration to suspend laws, shut down businesses and spend money without the authorization of the General Assembly.
The bill would not impact a governor's ability to respond quickly to emergencies, nor would it jeopardize federal emergency aid. It would only ensure that the governor and the General Assembly work together to respond to a crisis and ensure all Pennsylvanians are represented during an extended state of emergency.
The bill also provides for a constitutional amendment prohibiting the denial of equal rights based on race or ethnicity, bringing the Pennsylvania Constitution in line with the U.S. Constitution.
Telephone Town Hall on COVID-19 Vaccine Rollout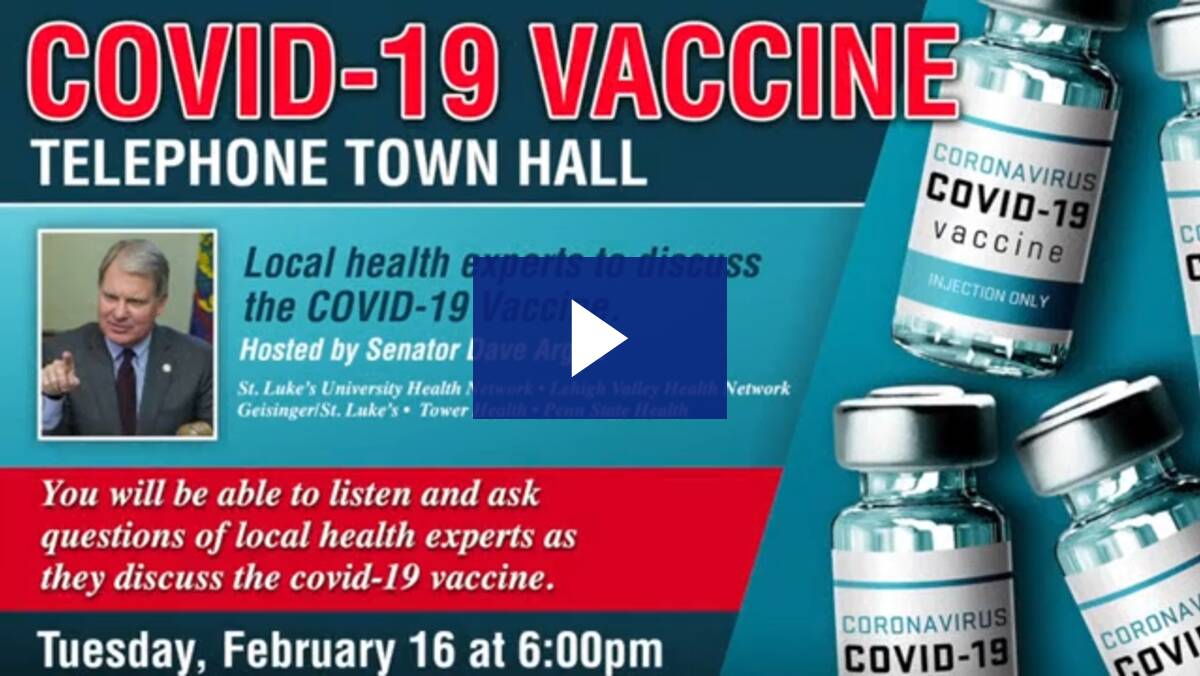 Earlier this week, I held a telephone town hall to discuss the troubled rollout of the COVID-19 vaccine in Pennsylvania. The event featured healthcare professionals from St. Luke's University Health Network, Lehigh Valley Health Network, Geisinger/St. Luke's, Tower Health, and Penn State Health. Over 3000 residents from Schuylkill and Berks Counties joined in for the conversation on the phone or by streaming the event online.
We took many questions on topics such as why Pennsylvania's distribution process has been lacking so far, how to schedule an appointment to receive the vaccine, and what potential health impacts could be of concern after receiving the vaccine.
We cannot treat the pandemic lightly. The first two Schuylkill County residents who passed away from this dreadful disease were people I had known for decades. I understand the terrible impact that this pandemic is having on both our health and our livelihoods.
I want to thank all the medical professionals across Pennsylvania who are making sacrifices to keep us safe. Their dedication deserves our gratitude.
Read more about my town hall here.
Bipartisan Vaccine Joint Task Force
Last week, Governor Wolf announced a bipartisan, bicameral task force to assist with the troubled rollout of the COVID-19 vaccine in Pennsylvania. This move comes after weeks of bipartisan criticism of how the Wolf Administration has handled this critically important process thus far. According to Becker's Hospital Review, Pennsylvania currently ranks 44th in the country by percentage of COVID-19 vaccines administered.
While the Governor has vetoed 13 bills regarding COVID-19 and has failed to work with the Legislature for much of the pandemic, this announcement could be a significant step forward. As Governor Wolf himself stated in his remarks announcing this new task force, "we know they (the Legislature) are the eyes, ears, and voices for Pennsylvanians. The feedback they receive from their local communities is extremely important, particularly as the commonwealth continues to improve upon this once-in-a-generation vaccine rollout."
Read more about this new task force here.
Economist: Full Job Recovery from Pandemic May Take 15+ Years
A recent analysis by the Economist on the US job market ended with some rather concerning conclusions. After last month's report indicated that employment fell due to the waning effects of stimulus packages and a surge in COVID-19 cases, projections anticipated a slight bounce back in February. The article noted that although things are trending in a positive direction, all non-farm jobs lost during the pandemic would not come back until 2037 if current trends continue. Job creation remains my top priority as our economy continues to recover from the pandemic and the prolonged shutdown of our economy.
Read more here.
COVID-19 Relief Bill Signed into Law
Last week, the Senate and the House of Representatives gave final approval to a bill that would provide financial relief for restaurants, schools, employers, and tenants impacted by the COVID-19 pandemic. The $912 million package allocates $569.8 million for Rental and Utility Assistance and $197 million for education programs through the use of federal funding, as well as $145 million in state funds to support Pennsylvania's struggling hospitality industry.
Much of the funding in the COVID-19 relief package is targeted to individuals, employers and institutions that have not benefited from previous pandemic support programs.
The bill, which drew bipartisan support, was signed into law as Act 1 of 2021 last week. Guidelines on how to receive funding for rental and utility assistance, education funding and grants for restaurants and hospitality businesses are expected to be available in the weeks ahead.
Lawmakers Receive Update on PASSHE Redesign Efforts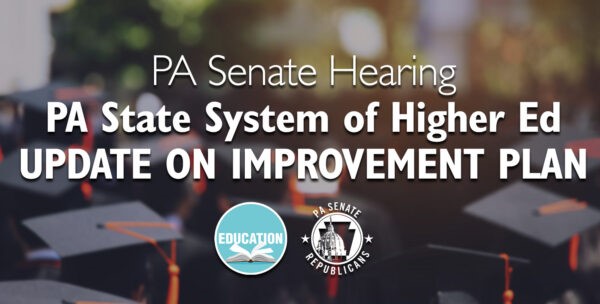 The Senate Appropriations Committee and the Senate Education Committee held a public hearing with PASSHE Chancellor Dan Greenstein this week to discuss changes to the system, including integrating several universities and leveraging their collective strengths to boost career readiness for system graduates. I asked Chancellor Greenstein about how the COVID-19 pandemic has affected enrollment and the finances of PASSHE. View my full exchange with him here.
The General Assembly approved a bill last year that allows the Pennsylvania State System of Higher Education (PASSHE) to modernize its operations in the face of declining enrollment and new financial pressures.
PASSHE is expected to present its system redesign proposal in April of this year, to be followed by a public comment period and phased implementation set for fall of 2022. The changes are expected to include uniting several universities within geographic regions, while keeping all campuses open, retaining programs and accreditation for students, and expanding learning opportunities for students.
PASSHE includes 14 different universities across Pennsylvania, including Kutztown University, Bloomsburg University, Millersville University, Shippensburg University, and West Chester University among others. Learn more here.