Congratulations to the Newlyweds!
Congressional Map Advances; Public Hearing Friday Afternoon
Governor Wolf's Historic Number of Vetoes Creates Local Frustration
Senate President Pro Tempore Calls for Impeachment of Philadelphia District Attorney
Watch my Interview on Election Audits, Voter ID, and Lieutenant Governor Reform
Free COVID-19 Tests Available
More Natural Gas Funding for Local Projects?
---
Congratulations to the Newlyweds!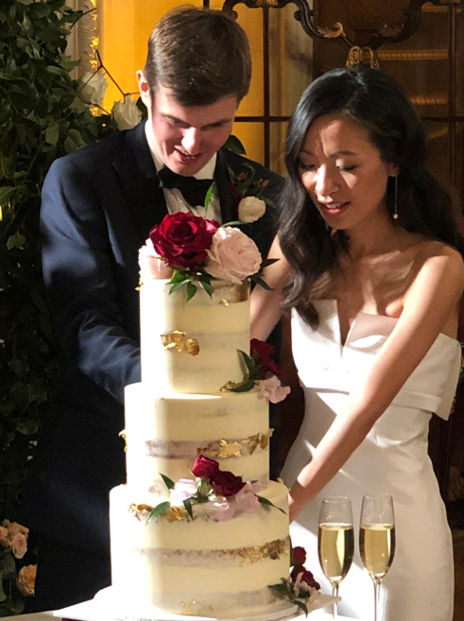 On Saturday, my wife Beth and I celebrated the marriage of our son AJ (Arthur John) and Frances Zhang.
To celebrate this happy occasion, below is the toast that I offered which celebrated our local heritage as well as their future:
In 2014 AJ and I visited the small home of a shoemaker, Thomas Argall, my great, great, great grandfather, who emigrated from a tiny seaside town in Cornwall, at the tip of southwestern England. There, we met a very distant cousin…so distant that you have to go back to the 1820s to find a common ancestor. His name…. Ian Henry Arthur Argall. My wife has often commented that the Argalls have demonstrated a spectacular lack of imagination when naming their sons.
When I asked Cousin Ian why in the world anyone would want to leave such a beautiful seaside village behind for the coal fields of eastern PA in 1848 he had a very simple answer: The Irish potato famine had come across the sea and devastated Cornwall. They had large families and they were starving. Literally starving. And also, if that wasn't bad enough, the tin mines which supported the local economy had run out of available tin and there were no jobs. Hello, Pottsville PA!
There's one earlier precedent: My mother's family came to eastern PA in search of religious liberty—they had been forced to leave Silesia, along the German/Polish border, in the 1720s and 30s. They braved a long voyage for several terrible weeks on a sailing vessel where many people died, short on food and water.
From what I have learned from Beth's mother, Betty, whom we are so pleased to welcome today, her family and her husband Lowell's family faced similar decisions in arriving here from Germany and Ireland.
And then, Judge Chen's parents and Frances' parents faced many of the same decisions a few centuries later.
Dr. And Mrs. Zhang, It must have required incredible bravery to make that decision. We're very glad you did!
Because of those decisions, we are gathered here today.
The last precedent was equally important, but it didn't require nearly as much bravery. When I asked Beth to marry me, it was the smartest, most important decision of my life. Many important things resulted from that decision, including the latest in a long line of Arthur Argalls and his sister, Elise.
I believe that AJ and Frances have made an equally intelligent decision.
In the language of my Welsh Grandmother, the wife and mother of two other Arthur Argalls—to AJ and Frances: Our toast:
Boro Hwyl. (Booro Hi'el.) Good Luck!
Bendith duw arnoch chi. (Ben-deeth' dew ar'-nock key.) God bless you!
AJ and Frances, I know you will continue to build upon this heritage of brave, intelligent decisions. I know you won't forget where you came from!
And Frances, this one is just for you, in the language of AJ's German ancestors — especially my mom who would have loved you as much as Beth and I and the latest Arthur and Elise do: Wilkommen in unserer Familie. Welcome to our family!
Congressional Map Advances; Public Hearing Friday Afternoon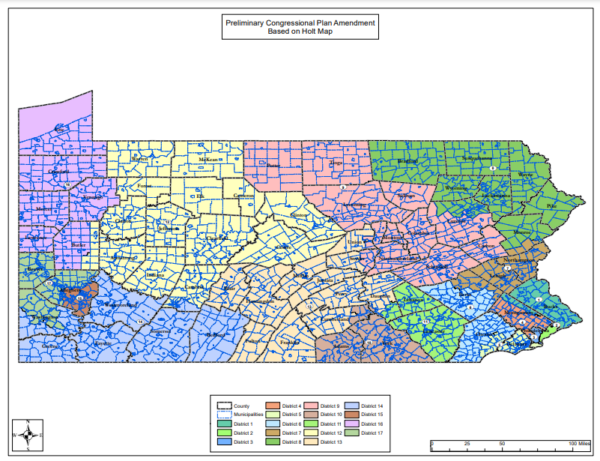 The proposed congressional district map passed by the House
A proposed congressional district map was passed by the Senate State Government Committee, which I chair, this week. Amendments are expected before a final version is passed by the Senate. Bipartisan negotiations are continuing in the hopes that a compromise can be reached.
It is important to continue to move this bill through the legislative process to meet the deadlines set by the Department of State and the courts, in order to avoid delaying the primary election. Read more here.
The Senate State Government Committee will be holding a hearing on Friday from 3 p.m. to 5 p.m. reviewing the two congressional maps recently endorsed by Governor Wolf. Livestream the hearing or learn more about it here.
Governor Wolf's Historic Number of Vetoes Creates Local Frustration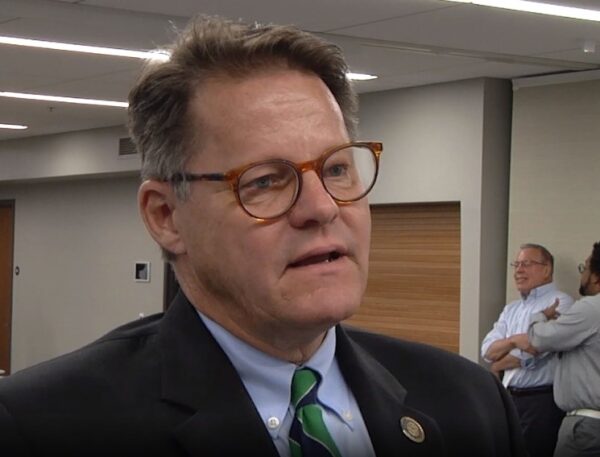 Rep. Tim Twardzik, R-Schuylkill
A recent article from the Republican Herald discusses the public frustration with Governor Wolf's record-setting use of his veto powers throughout his tenure as governor. Rep. Tim Twardzik noted how even bills with bipartisan support are frequently vetoed by this governor.
Read the full article here.
Senate President Pro Tempore Calls for Impeachment of Philadelphia District Attorney
Referencing the large spike in violent crime in Philadelphia, Senate President Pro Tempore Jake Corman sent a letter this week to House leadership asking that they begin impeachment proceedings against Philadelphia County District Attorney Larry Krasner.
In the letter, Senator Corman references how 2021 set an all-time record for homicides in the city and noted that District Attorney Krasner has not stepped up efforts to prosecute violent criminals. At a recent press conference, District Attorney Krasner stated that the city did not have a crisis of lawlessness, a statement which received an aggressive push back from other city officials.
The letter notes how District Attorney Krasner's office has dismissed more violent gun cases every single year since he was elected. It's clear that more needs to be done to address this tragic situation.
Read the full letter below.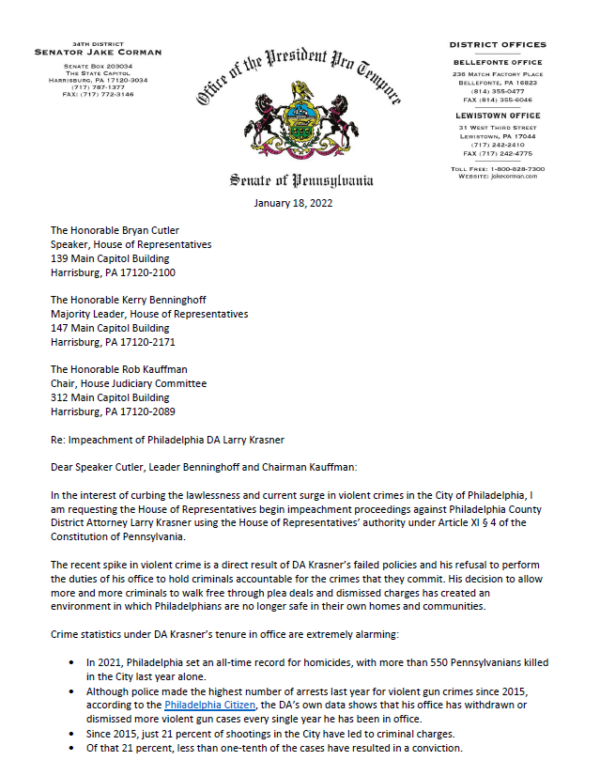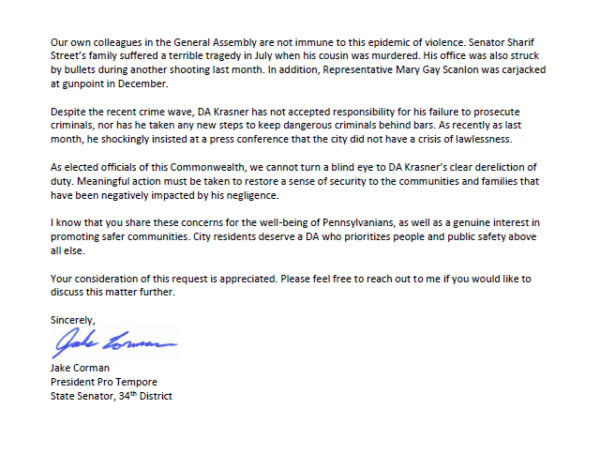 Watch my Interview on Election Audits, Voter ID, and Lieutenant Governor Reform
I was interviewed on PCN this week to discuss one of my bills, Senate Bill 106, a constitutional amendment which would reform the process of electing the lieutenant governor so it aligns with how the Vice President is elected on the federal level.
This bill was amended in the House to include other proposed changes to the constitution, including one that would establish procedures for auditing elections and another that would require state-issued ID to vote.
Watch the full interview on PCN's website.
Free COVID-19 Tests Available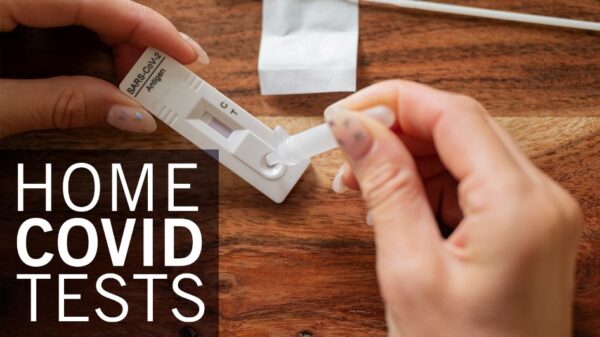 As Pennsylvania continues to grapple with a spike in COVID-19 cases, the federal government announced the launch of a new website where free, at-home tests can be requested. Simply visit the website and provide your name and address, and a maximum of four rapid tests will be shipped to you.
Visit www.covidtests.gov to get your tests today.
More Natural Gas Funding for Local Projects?
After a significant, pandemic-related slump in 2020, Marcellus Shale impact fees greatly increased in 2021. This fee on natural gas producers in Pennsylvania was signed into law in 2012. The money collected funds many important programs in Pennsylvania, including the Growing Greener program, water and sewer infrastructure grants, soil and water conservation districts, and county and municipal governments where shale gas development occurs.
This money will help support many important projects in Schuylkill and Berks County, including the ongoing efforts to clean up the Schuylkill River. Read more here.