Follow Sen. Argall on Twitter for Senate happenings – @SenatorArgall
For photos from Sen. Argall, follow him on Instagram

In this email edition:
Property Tax Podcast
Fighting for Farmers
New Eagle Scout Induction
Swearing-in New Elected Officials
Fracking Poll Results
New Argall Report: Local Highway Funding
A Year in Review
---
Property Tax Podcast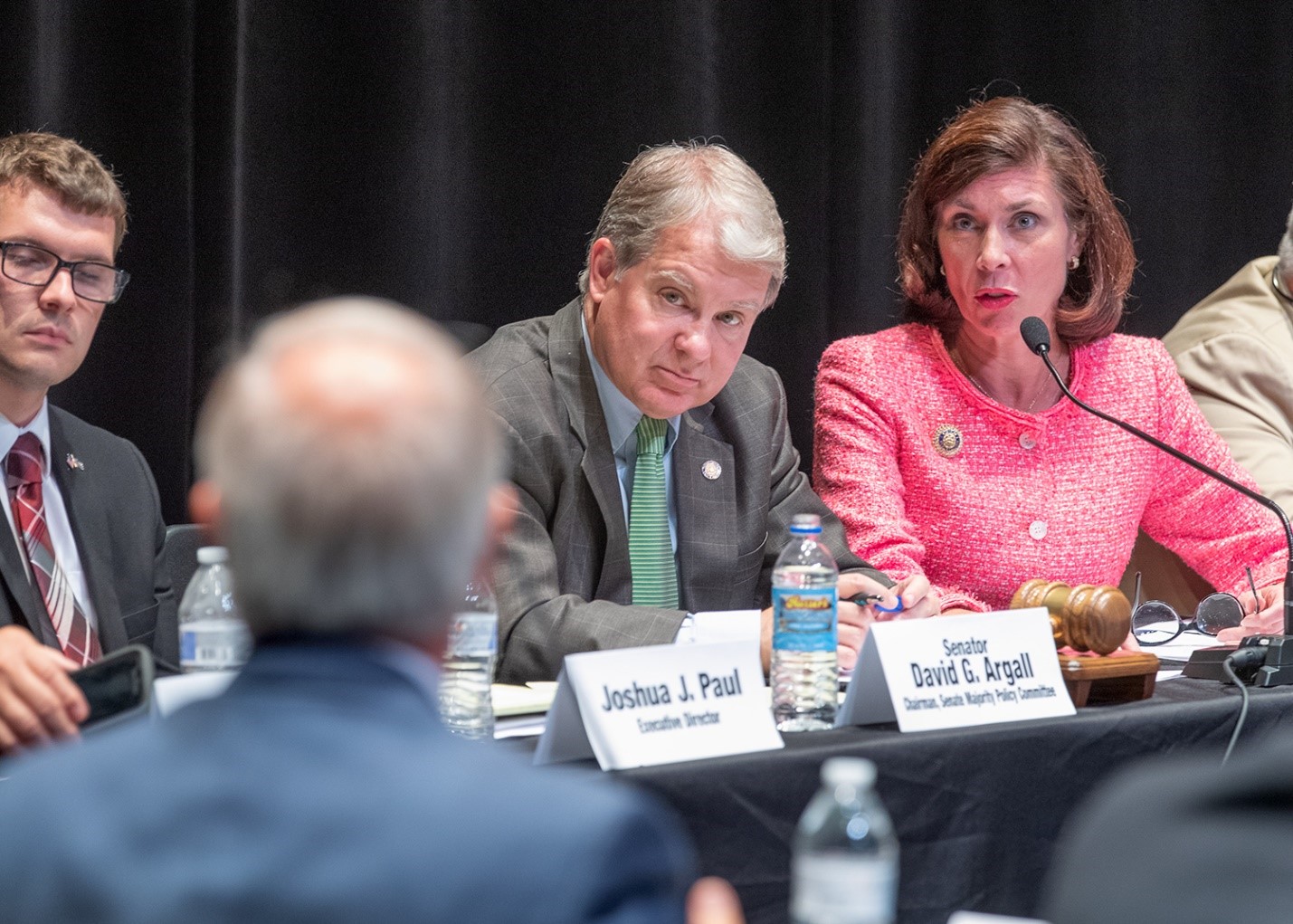 Senator Kristin Philips-Hill (R-York) recently invited me to talk about the number 1 issue in Schuylkill and Berks Counties: unfair school property taxes. We talked about the 5 plans proposed by the bipartisan property tax workgroup. You can listen to the podcast here.
Despite all the odds, despite the powerful interests stacked against us….many people just won't give up…and I'm proud to be in the trenches with them on this important issue, every step of the way!
Fighting for Farmers
Next Tuesday, Senator Vogel (R-Beaver and Butler) and I will chair a Senate Majority Policy Committee hearing on the recently passed Farm Bill package. The hearing will be held at the Farm Show Complex in Harrisburg during the annual farm show.
The new Farm Package is designed to help many farmers sustain and grow the largest industry in the state: agriculture.
The annual Pennsylvania Farm Show is being held from January 4th until January 11th. There are many fun activities, exhibits, shows, and great food. It is must for Pennsylvanians to see. You can read more about it here.
New Eagle Scout Induction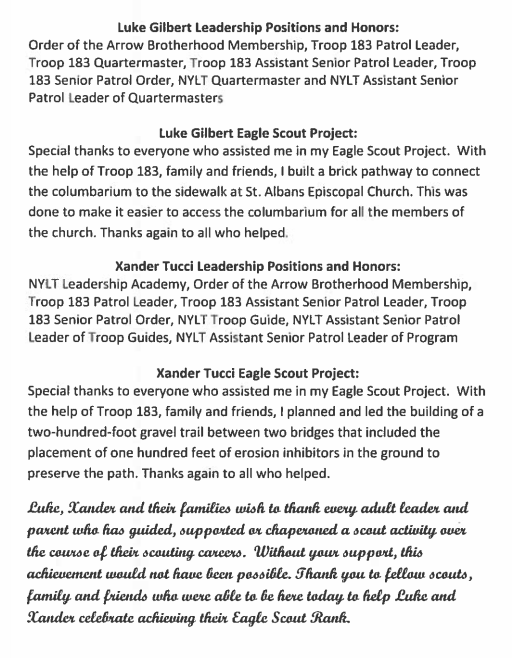 Last Saturday, I attended the swearing-in of two new eagle scouts for Troop 183 in Blandon: Alexander Tucci and Luke Gilbert earned the honor of becoming Eagle Scouts. Congratulations to these two young men on this honor!
Swearing in New Elected Officials
This week in Pottsville and Reading, new and returning elected officials were sworn in for Schuylkill and Berks Counties. I would like to congratulate them all!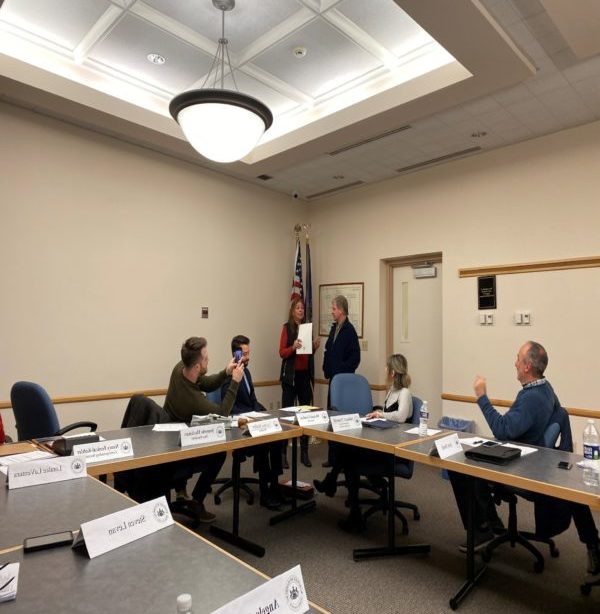 Also, I congratulated Jeanette Heckman on her retirement from Hamburg City Council. It was a pleasure working with her in the past and I wish her a great retirement!
Fracking Poll Results
I recently asked the residents of the 29th District whether or not they would support a constitutional amendment to eliminate hydraulic fracturing/fracking in Pennsylvania. I ask these monthly poll questions through my social media pages as well as through my weekly E-newsletter to gain better insight on the thoughts and opinions of the people of Schuylkill and Berks Counties.
Those that support a ban on hydraulic fracturing/fracking argue that it would reduce water pollution. Though most of the water that is used in fracking is collected, some of it can escape into the environment which in turn could pollute reservoirs, lakes, and other bodies of water. Hydraulic fracturing is also a loud process which may be a nuisance to the surrounding communities. Some also believe that by encouraging the development of Pennsylvania's natural gas, it may discourage investments in other forms of energy such as renewables.
Those who oppose a ban on hydraulic fracturing/fracking argue that Pennsylvania should create more jobs here and extract natural gas from the state's massive supply in order to reduce our energy imports from overseas producers like Russia and China. Since there is less reliance on foreign nations for energy, consumers can expect cheaper, more stable prices since the source of the energy is here in America. Because natural gas emits less carbon dioxide into the atmosphere as opposed to other fossil fuels, it has also been argued that using this fuel is cleaner for the environment and does not dramatically affect air quality. Representative Pam Snyder (D-Greene) recently said to reporters from the Capital Star, "It sounds really nice when people say we're going to do away with coal, we're going to do away with gas. But we're not going to bring you any replacement jobs, we're not going to tell you how high your electric bills will go."
With 202 in-district responses, you can see the results below: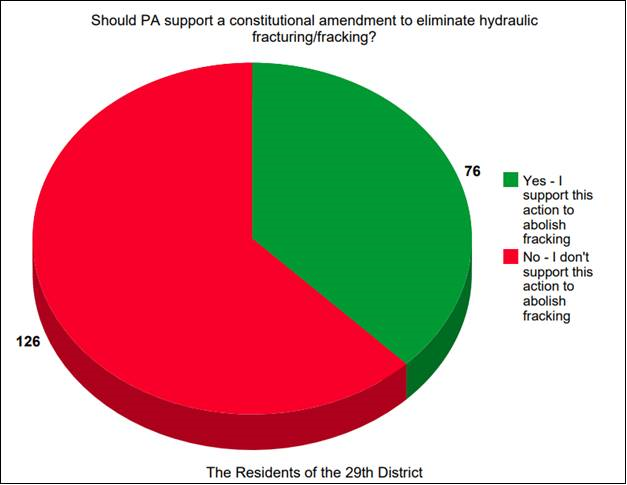 New Argall Report: Local Highway Funding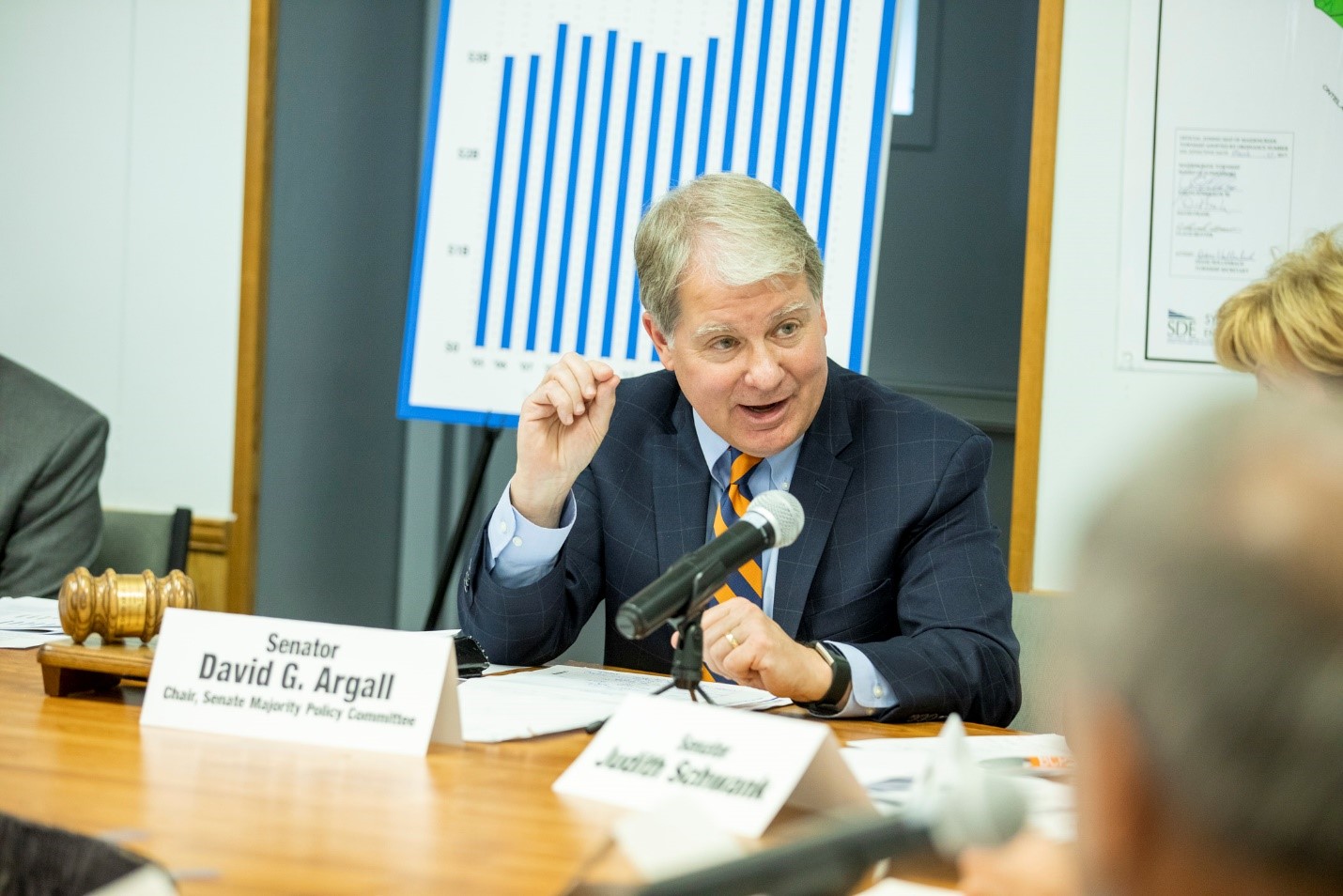 In the past few years, many promises were made by PennDOT to the people of Berks and Schuylkill Counties. Now, without legislative review or approval, PennDOT has adopted a new policy that focuses more funds on interstate highways rather than major local improvements on Routes 61, 222, and 422 that were promised years ago. Major projects in our area are being slashed. Hundreds of millions of dollars are at stake.
This edition of the Argall Report features testimony from state lawmakers, PennDOT, the Berks County Planning Commission, the Schuylkill Chamber of Commerce, the Schuylkill County Planning Office, and the Northeastern Pennsylvania Alliance (NEPA). You can watch it here.
A Year in Review
2019 was a very busy year for me many of us. Here are just a few highlights:
This year's state budget was passed on time with no tax increases, and included legislation which Senator Yudichak (I-Luzerne/Carbon) and I introduced to aid our struggling coal waste energy producers as well as another tax credit to fight blight in our communities, big and small.
I worked with Senator Judy Schwank (D-Berks) to begin a trial for automated speed cameras on active work zones on I-78 to save the lives of highway construction workers and travelers.
I have introduced a bill to institute common-sense work requirements for able-bodied Medicaid recipients, as well as one that would require legislative approval before Pennsylvania could join the Regional Greenhouse Gas Initiative.
I was the leader of a bipartisan property tax workgroup which aimed to find a compromise plan to help all who struggle under this archaic tax system.
The Majority Policy Committee, which I chair, held many hearings across the state exploring issues such as property tax elimination, the census, Medicaid work requirements, clean energy and repeat DUI offenders.