In this email edition:
---
Poll Workers Needed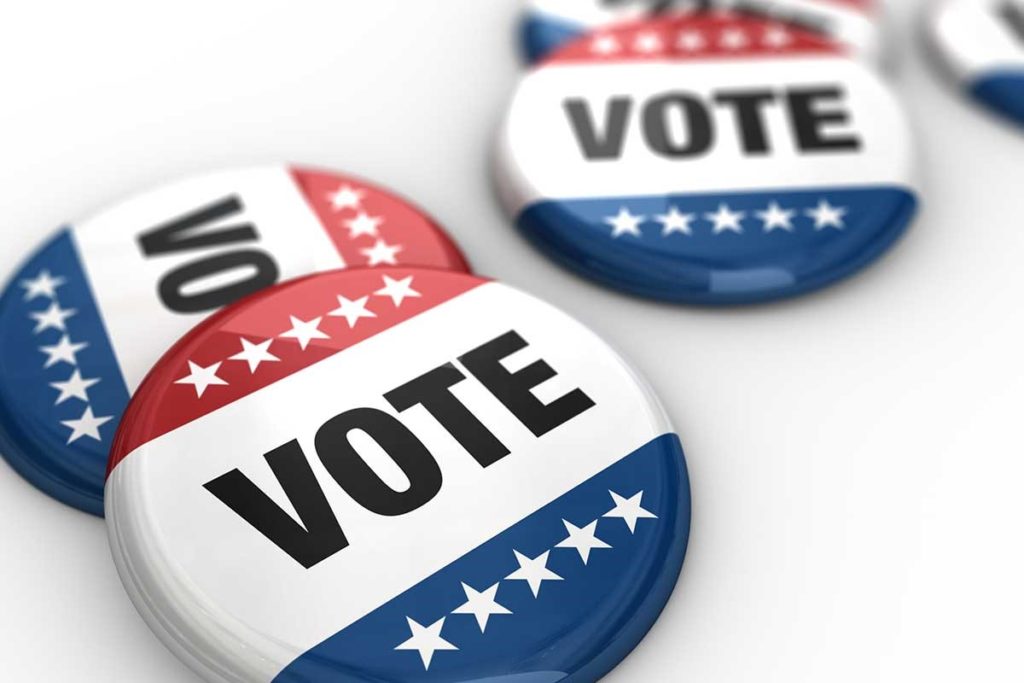 The coronavirus pandemic will significantly impact our upcoming primary elections. Not only has the date been pushed back to June 2nd due to the ongoing crisis, but there is a critical need for more poll workers. If you are available June 2nd, consider being a poll worker. You can find more information here: https://www.votespa.com/Resources/Pages/Be-a-Poll-Worker.aspx
Representative Knowles: Residents Frustrated, Angry Over Unresponsive, Unreachable Unemployment Office
More than 2 million Pennsylvania residents have found themselves out of work due to the COVID-19 pandemic. Far too many of them have gone nearly two months without a paycheck. This week, Rep. Jerry Knowles (R-Berks/Carbon/Schuylkill) said the time is now for Gov. Tom Wolf to prioritize Pennsylvania's unemployed and get their benefits to them immediately.
"The level of frustration and anger among residents who have reached out to us for assistance or answers has been overwhelming," said Knowles. "I have tried to do all that I can to assist those seeking help with unemployment compensation. We have been both a punching bag and a shoulder to cry on. As your state representative, I accept this difficult challenge. My responsibility is to make sure the people who make up the 124th District are safe, healthy and happy."
"COVID-19 can best be described as a bully that is controlling our lives. I appreciate the efforts from Gov. Wolf and his administration to combat the virus. Trust me, it isn't an easy job. However, the lack of transparency in the governor's decision-making process has hurt us more than has helped us."
Knowles said that it is essential that the governor understand his responsibility, as he is directly responsible for the operations of the Pennsylvania Department of Labor and Industry. Constituents are telling him that they have filed for unemployment but have not received a penny, and others are baffled because they cannot get through to the Department of Labor and Industry's website. The links that people are instructed to use to file an unemployment compensation claim don't perform properly.
In fact, funding for a new system was appropriated years ago, according to a recent news report, and the department knew that the system was seriously outdated. Despite this fact, the system was never fixed.
Knowles also expressed frustration because many of the people who have filed for unemployment compensation are those who want to work and could do so safely, but the governor's restrictive mitigation measures prevent them from doing so.
"Businesses across the Commonwealth are struggling under the COVID-19 state of emergency, and the governor's list of 'life-sustaining' business is the crux of the problem. We expect consistency and transparency for the businesses and workers of Pennsylvania," he said.
"My House Republican colleagues and I voted to approve Senate Bill 613, which the governor vetoed. The legislation was about planning for the future, not just planning for the moment. In addition, this legislation was not about opening up businesses; it was about bringing fairness to the process."
"Our businesses and the millions of people they employ deserve the opportunity to innovate and adjust their businesses to the challenges we are all facing right now, rather than be forced to sit out and watch their livelihoods fall apart," Knowles added. "Unemployment has risen to beyond record levels. People are losing their savings and net worth more with the passing of each day. We need to put a stop to it immediately. Gov. Wolf must make this his top priority."
Senator Mastriano: A Governor with No Oversight is Dangerous
The disaster declaration by Governor Wolf, while necessary, has given the Governor extreme amounts of power. Senator Doug Mastriano (R-Adams) recently spoke about the unprecedented and dangerous amount of power the Governor is currently wielding.
"The current decision-making process is not working. There has been no dialogue between the Governor and lawmakers, whatsoever," said Mastriano. "I cannot recall any Governor in our history who has exercised so much power, with so little accountability or transparency as Governor Wolf. The Governor has not worked with the General Assembly, nor sought to build a coalition with Pennsylvanians, to come up with a plan to intelligently guide us through these times."
"We are a constitutional republic, where power is divided amongst three branches of government, and checks and balances should be in place to prevent any branch from wielding so much authority," said Mastriano. "It is the constitutional responsibility of the General Assembly to provide oversight over the actions of the executive branch, especially during this crisis. We need to restore accountability, oversight and transparency before more damage is done."
Here is a video of the Senators recent comments: https://pasen.wistia.com/medias/3co2biam5t
Argall: Letter to Attorney General Barr to Ensure OUR Rights are Protected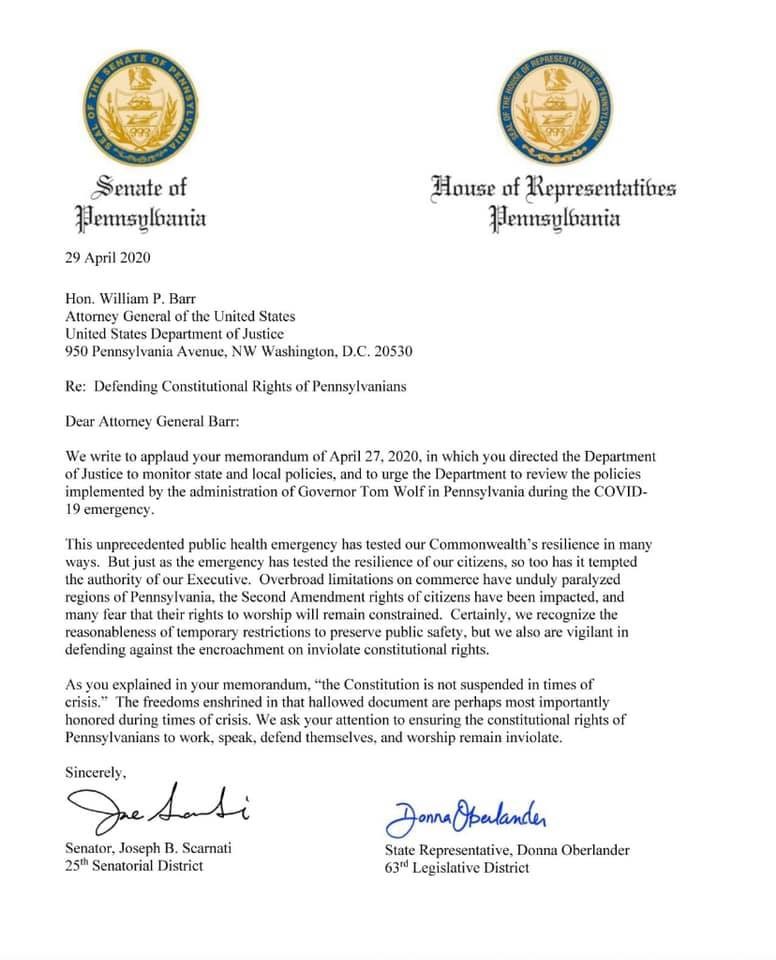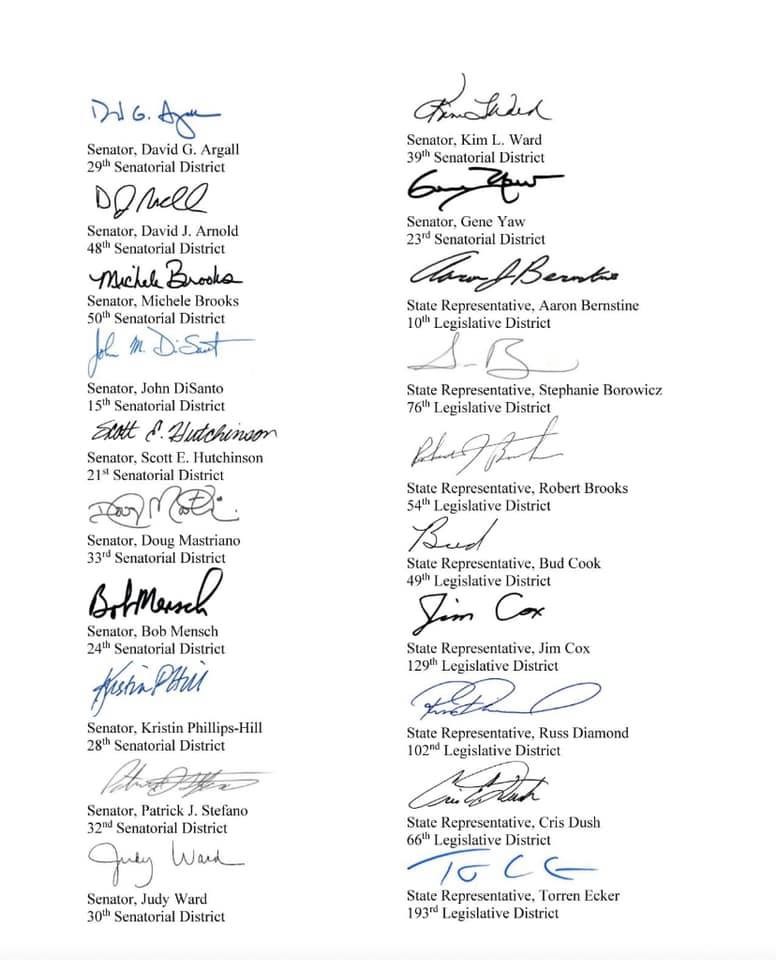 US Attorney General Barr announced last week he was asking the Department of Justice to monitor state and local governments to ensure there are no violations of our constitutionally guaranteed rights as lockdowns continue across the country. I joined members of the State Senate and House to call on the AG to look into the actions Governor Wolf has taken to respond to the COVID-19 pandemic.
Senator Corman: Critical Need for More Oversight of Governor Wolf
"Oversight is an extremely important part of our job, and we are going through an unprecedented time of executive power," Senate Majority Leader Jake Corman, R-Centre, said this week. "We need to review and look at how the administration is using this unprecedented power"
Efforts to check the executive branch began earlier this month when lawmakers passed bills to open some of the businesses that Wolf shuttered in March. The governor has already vetoed one such bill, which would have expanded the list of businesses that can operate during the emergency.
The Senate has begun a series of public hearings to question top Wolf administration officials on the state's pandemic response to probe the state's handling of unemployment compensation claims, its regulation of nursing homes and personal care homes, which have been the source of more than half of the state's COVID-19 fatalities, and the PA Liquor Control System.
You can read more here: https://www.penncapital-star.com/covid-19/in-volley-of-votes-gop-house-and-senate-try-to-force-wolf-to-pull-back-the-curtain-on-covid-19-response/
Helpful Links
Here are services and information that you may need:
COVID-19 Guides
Food Assistance
Financial Guides
PennDOT COVID-19 Changes