EMAIL SUBJECT: Coronavirus News & Information
Governor Vetoes Massive Jobs Program
Lawmakers to the Governor: Common sense is needed now more than ever
Business Exemption Submission Period Ends
List of Life-Sustaining Businesses Updated; Up to 31,000 Businesses Submit Waiver Requests
State Business Loan Program Reaches Maximum; New Loan Program Created to Help Businesses
Social Security Recipients Will Automatically Receive Economic Impact Payments
---
Governor Vetoes Massive Jobs Program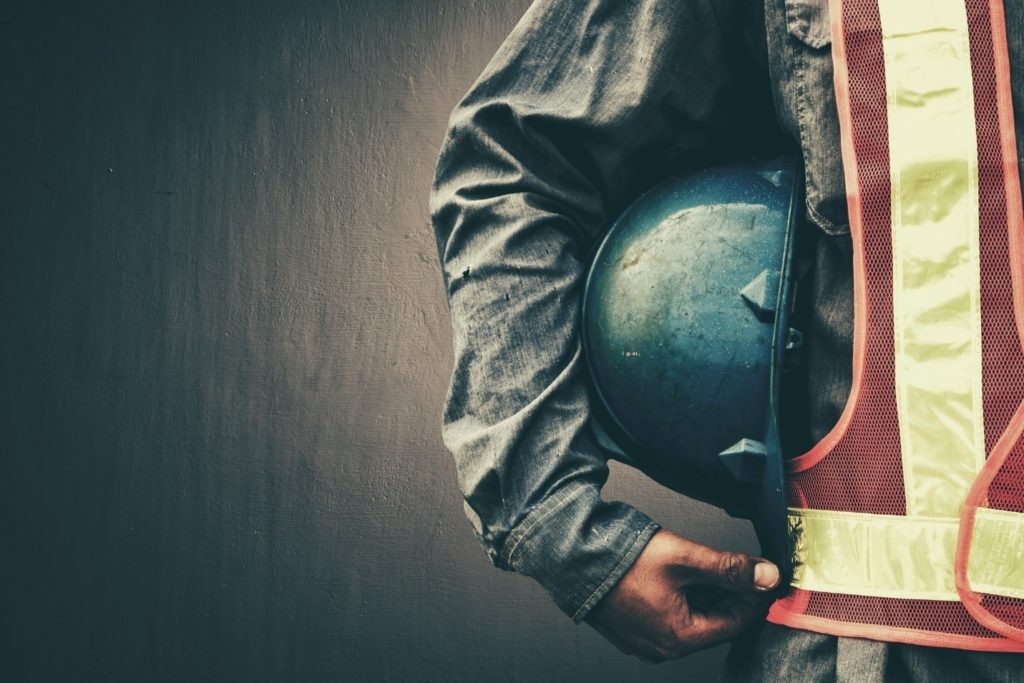 Recently, members from both parties in both the House and Senate came together to pass a bill that would provide thousands of jobs and would expand Pennsylvania's role as a national energy exporter.
HB 1100 received praise from labor and employer groups from across the Commonwealth. Unfortunately…the Governor vetoed the bill.
I agree with my bipartisan colleagues and I will vote to override the Governor's veto.
In the words of my friend Senator John Yudichak (Independent, Carbon and Luzerne)– "the veto of House Bill 1100 places Gov. Wolf on the side of anti-job, radical environmentalists who have maliciously mistreated the facts on this pro-worker, pro-jobs piece of legislation and places the governor's policies squarely in opposition to legislation that has the potential to attract thousands of prevailing wage jobs and billions of dollars in private investment to Pennsylvania when we need jobs more than ever."
In addition, here's what one union leader said about the terrible timing of the Governor's veto: "HB 1100 spurs the exact growth our county is in desperate need of at this very critical moment in our history. HB 1100 would promote manufacturing products from resources readily available right here in northeastern Pennsylvania, the very same products we are now currently importing from other countries that could and should be manufactured in the United States". – Warren Faust, President, Northeast PA Building and Construction Trades Council.
Our current efforts must focus on the containment of COVID-19 to mitigate its deadly health impacts. However, when the COVID-19 pandemic ends, we will need to rebuild our economy. HB 1100 will provide thousands of good-paying jobs. The Governor never should have vetoed this bill and I am hopeful that we will vote to override his veto. Read this article featuring three of my colleagues in the General Assembly for more information.
Lawmakers to the Governor: Common sense is needed now more than ever
As Pennsylvania continues to combat COVID-19, we are fighting a battle on multiple fronts. Mitigation measures are needed to protect our lives and our loved ones, but commonsense measures are needed to protect our livelihoods and economic stability. Pennsylvania needs a plan to both slow the spread of the virus now AND one to help our employers and employees return to a sense of normalcy in the near future.
This week, I, along with many of my colleagues in the Senate, sent a letter to Governor Wolf urging him to be transparent in all decisions regarding which businesses should be considered life sustaining and allowed to remain open. We also strongly encouraged him to begin working with us to develop a plan to help more Pennsylvanians get back to work.
In making these decisions, common sense should be what guides us. We have shuttered mom-and-pop stores that rely on the business of a handful of customers per day and could easily remain open with strict social distancing guidelines, while big box stores are open daily to packed crowds buying decorative pillows and lawn furniture. There seem to be no rhyme or reason to these decisions, and people are suffering as a result.
We have supported the Governor in his first steps to prevent the spread of this disease. Now I hope he will join us in creating a better vision for our state's future when the worst is behind us – and helping more Pennsylvanians safely get back to work!
Business Exemption Submission Period Ends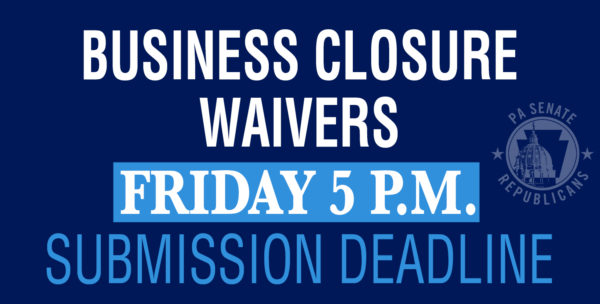 The Department of Community and Economic Development (DCED) announced that the exemption application process for businesses will close on Friday, April 3, 2020 at 5:00 PM.
DCED has asked that businesses do not apply for a waiver more than once, even if they have not received a response from a prior submission. You can get more information at the link provided here.
List of Life-Sustaining Businesses Updated; Up to 31,000 Businesses Submit Waiver Requests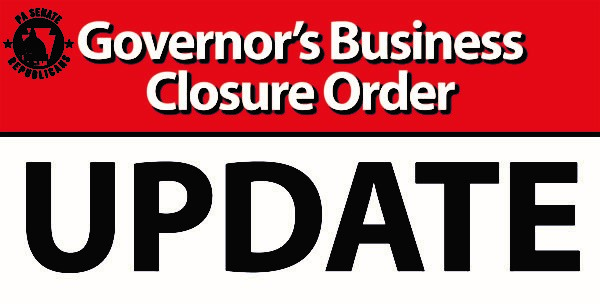 Governor Wolf must be open and transparent about his closings of small and large employers.
31,000 employers have submitted waivers so their employees can continue to earn a paycheck in Pennsylvania. Only about 4,000 have been approved at this time. There have been many cases of companies in the same industry receiving different results from the waiver process.
I'm calling on the Governor to immediately release a list of employers granted a waiver as well as a list of all those that were rejected. We need to ensure that every employer across Pennsylvania is treated fairly. No employee should lose their income due to a unilateral decisions made without due process or transparency.
State Business Loan Program Reaches Maximum; New Loan Program Created to Help Businesses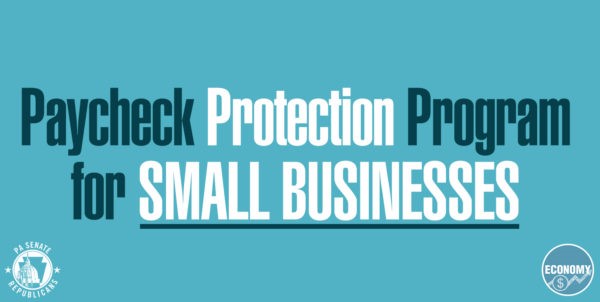 The COVID-19 Working Capital Access Program has reached its maximum level of funding and will no longer accept new applications. However, a new federal program will offer loans that can be forgiven to help affected small businesses and self-employed individuals cover operating costs during the pandemic.
The new Paycheck Protection Program will offer loans to cover payroll costs, mortgage interest, rent and utility costs over an eight-week period. No more than 25 percent of the loan may cover anything other than payroll costs, and loan payments will be deferred for six months for any amount that is not forgiven. Businesses must maintain their number of staff and level of payroll and quickly rehire any recently displaced employees in order to qualify for loan forgiveness.
The application period for small businesses and sole proprietors will open on April 3. Self-employed individuals and contractors can apply starting on April 10. Applications are available here.
More details about the program are available here.
Social Security Recipients Will Automatically Receive Economic Impact Payments
Many elderly Pennsylvanians have been inquiring if they will get a stimulus check from the recently passed CARES Act if they don't file a federal tax return:
The Treasury Department has decided that Social Security recipients DO NOT have to complete a short form tax return to receive their stimulus check.
You can get more information at the link provided here: