In this email edition:
Your Vote Matters: 2020 Election
Voting on November 3
Around the District- Local Leaders Recognized and More!
Top 50 Employers for Schuylkill and Berks Counties
Mover Over if you see an Accident or First Responders on the Road
Additional Funding Approved to Help Schools Meet Health and Safety Needs
Past Senator: George Schall Jr.
Coronavirus Emergency Order Day 238
Your Vote Matters: 2020 Election
As many of us prepare to participate in the November 3rd election, it is important to remember that Pennsylvania implemented several changes in election laws this year.
Below, I've listed information on important voting information, and links to resources to provide you with the information you will need to take part in this critical civic process.
I hope you find it useful. You can find more information here. If you need assistance, please don't hesitate to contact one of the County Election Bureau offices listed below.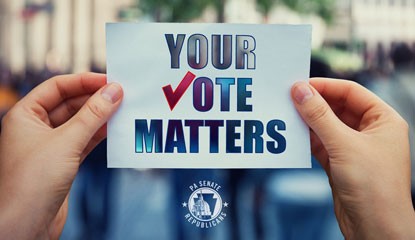 Voting on November 3
Polls will be open from 7 a.m. to 8 p.m.
The state Polling Place Search tool will help you locate your polling place.
Voters who are voting for the first time in their election district will be required to show an ID. Acceptable IDs for first-time voters:
Driver's license.
U.S. passport.
Military, student, or employee ID.
Voter registration card.
Firearm permit.
Current utility bill, bank statement, paycheck or government check.
Any ID issued by the Commonwealth or federal government.

Around the District- Local Leaders Recognized and More!
The past few weeks have been very busy around the district. Here are some highlights–
I attended John Michael Elchisak's Eagle Scout Court of Honor, where his hard work and dedication to his community was recognized. Congratulations to John!
Frackville resident Michael O'Connor was recognized by Pope Francis by being named a Knight of the Order of St. Sylvester. This prestigious order recognizes those who go above and beyond in their service to their church and their community. I was honored to attend the ceremony for Mr. O'Connor and again would like to share my congratulations with him for receiving this high honor. You can read more here.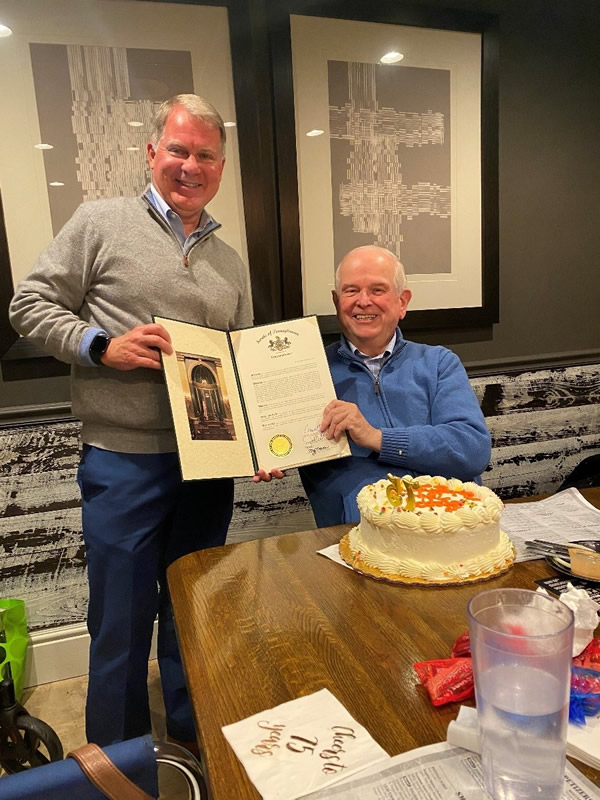 I want to wish a very happy and blessed 75th birthday to Bob Allen, pictured above. Bob was the mayor of Pottsville before being elected as a state representative in 1988, where he represented Schuylkill and Berks Counties until 2006. Bob is a good friend of mine from our days working together in the House of Representatives. You can read more about him here.
Last week, our popular former Congressman from St. Clair, Tim Holden was reappointed unanimously by the Senate as the Chairman of the Pennsylvania Liquor Control Board. He received bipartisan support and has served as the Chairman of the Board since 2015.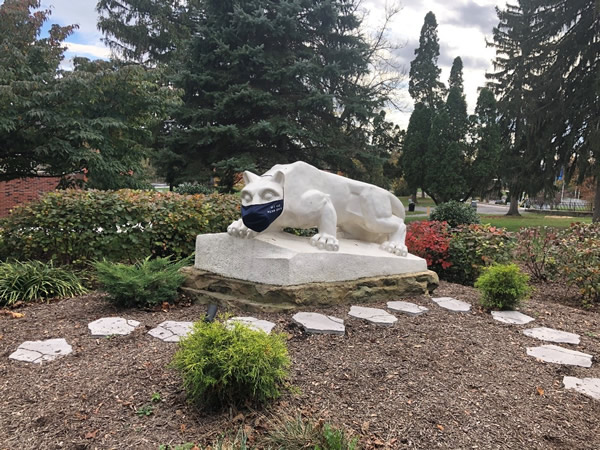 The Student Government Association at Penn State Schuylkill invited me for a discussion on State Government and current issues on Wednesday. It is always a pleasure to have the chance to share my experiences in government with the future leaders of Pennsylvania.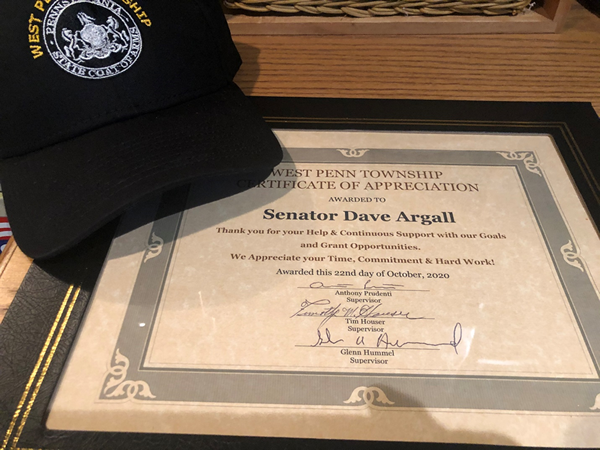 Lastly, I would like to thank West Penn Township for this certificate thanking me for helping them in their efforts to renovate J.E. Morgan Park. You can read about the grant they received for this project here.
Top 50 Employers for Schuylkill and Berks Counties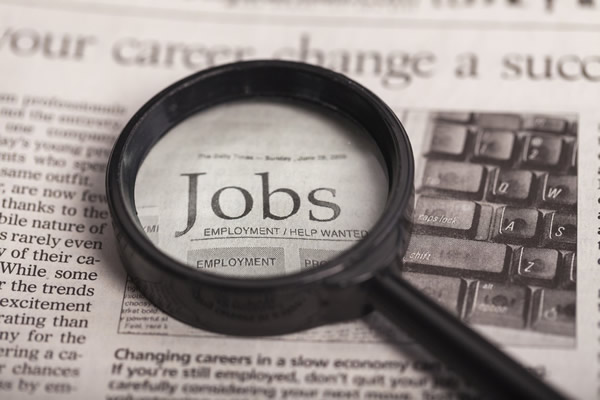 The Top 50 Employers in both Schuylkill and Berks Counties cover many diverse industries including private businesses, government, and healthcare institutions. The largest employer in Schuylkill County is Wal-Mart Associates, with its stores and distribution center, followed by State Government and SAPA Extrusions. In Berks County, the largest employers are East Penn Manufacturing, Reading Hospital and Carpenter Technology Corporation. You can see the full list here.
Move Over if you see an Accident or First Responders on the Road
The Senate unanimously passed legislation that will impose stiffer penalties on motorists who jeopardize the lives of our law enforcement, first responders, and the general public.
39 people across the United States, including two Pennsylvanians, lost their lives this year alone while tending to roadside incidents. With 350 reported crashes in Pennsylvania each day, motorists who refuse to slow down and move over are putting our first responders' lives in jeopardy.
This legislation, which I co-sponsored, was introduced after the tragic death of Tyler Laudenslager, a tow truck operator who was responding to an accident in Berks County. In addition to being a tow truck driver, Tyler was also a dedicated firefighter with the Halifax Fire Department.
Governor Wolf has stated that he intends to sign the bill into law.
https://www.abc27.com/news/local/general-assembly-approves-move-over-law-stiffer-penalties-than-steer-clear-law/
More information on Senate Bill 1281 here:
https://www.legis.state.pa.us/cfdocs/billInfo/billInfo.cfm?sYear=2019&sInd=0&body=S&type=B&bn=1281
Additional Funding Approved to Help Schools Meet Health and Safety Needs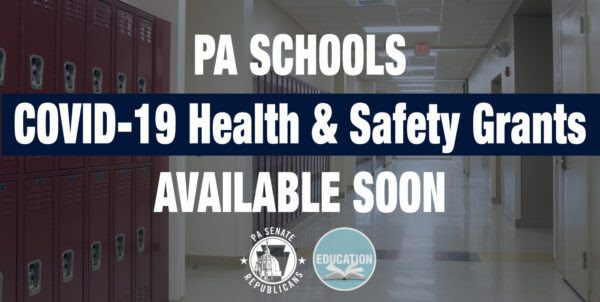 Local schools will be able to apply soon for additional grant funding to protect the health and safety of students, teachers and school employees during the COVID-19 pandemic. The grants were approved as part of the $200 million COVID-19 Disaster Emergency School Health and Safety Grant program created through a bipartisan effort in May as part of Act 30 of 2020.
Eligible uses of the funding include:
the purchase of cleaning and sanitizing products.
training and professional development of staff on sanitation and infection prevention.
equipment purchases.
modifying school facilities to support appropriate social distancing of students and staff.
mental health services and supports.
educational technology for distance learning.
other health and safety programs, items or services.
The grant program is expected to open no later than Monday, November 2. Grant applications can be submitted on the Pennsylvania Commission on Crime and Delinquency's Egrants website.
Past Senator: George Schall Jr.—A Commute to Work I Do Not Envy!
One of my predecessors, Senator George Schall Jr., rode on horseback from Berks County to Harrisburg every time the Senate was in session from 1824-1828. The trip took him two days to complete. You can read more about him and his trips to Harrisburg here.